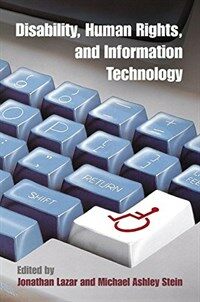 000
00000cam u2200205 a 4500
001
000045919606
005
20171103152341
008
171102s2017 pau b 001 0 eng d
010

▼a

2017005986
020

▼a

9780812249231 (hardcover)
035

▼a

(KERIS)REF000018305711
040

▼a

PU/DLC

▼b

eng

▼c

PU

▼e

rda

▼d

DLC

▼d

211009
050

0

0

▼a

HM851

▼b

D57 2017
082

0

0

▼a

004.087

▼2

23
084

▼a

004.087

▼2

DDCK
090

▼a

004.087

▼b

D611
245

0

0

▼a

Disability, human rights, and information technology /

▼c

edited by Jonathan Lazar and Michael Ashley Stein.
250

▼a

1st edition.
260

▼a

Philadelphia :

▼b

PENN University of Pennsylvania Press,

▼c

c2017.
300

▼a

xi, 345 p. ;

▼c

24 cm.
490

1

▼a

Pennsylvania studies in human rights
504

▼a

Includes bibliographical references and index.
505

0

0

▼t

Standards bodies, access to information technology, and human rights /

▼r

Judy Brewer --

▼t

Accessible ICTs and the opening of political space for persons with disabilities /

▼r

Janet E. Lord --

▼t

Web accessibility for people with cognitive disabilities : a legal right? /

▼r

Peter Blanck --

▼t

Intersection of human rights, social justice, the internet, and accessibility in libraries : access, education, and inclusion /

▼r

Paul T. Jaeger, Brian Wentz, and John Carlo Bertot --

▼t

Public financing of information technology and human rights for people with disabilities /

▼r

Deborah Kaplan --

▼t

Using provincial laws to drive a national agenda : connecting human rights and disability rights laws /

▼r

Ravi Malhotra and Megan A. Rusciano --

▼t

Access to justice /

▼r

Fredric I. Lederer --

▼t

Open government and digital accessibility /

▼r

Timothy Elder --

▼t

E-books and human rights /

▼r

Jim Fruchterman --

▼t

Accessibility and online learning /

▼r

Mary J. Ziegler and David Sloan --

▼t

Who owns captioning? /

▼r

Raja Kushalnagar --

▼t

Information privacy and security as a human right for people with disabilities /

▼r

Jonathan Lazar, Brian Wentz, and Marco Winckler --

▼t

How does inaccessible gaming lead to social exclusion? /

▼r

Joyram Chakraborty --

▼t

Pivot model of policy entrepreneurship : an application of European ideas in the global South /

▼r

G. Anthony Giannoumis, Mirriam Nthenge, and Jorge Manhique --

▼t

Accessibility infrastructure and the global South /

▼r

Joyojeet Pal --

▼t

ICT access, disability human rights, and social inclusion in India /

▼r

Sanjay S. Jain.
650

0

▼a

Information technology

▼x

Social aspects.
650

0

▼a

Computers and people with disabilities.
650

0

▼a

People with disabilities

▼x

Civil rights.
650

0

▼a

Discrimination against people with disabilities.
650

0

▼a

People with disabilities

▼x

Services for

▼x

Government policy.
650

0

▼a

Accessible Web sites for people with disabilities.
650

0

▼a

Communication devices for people with disabilities.
650

0

▼a

Assistive computer technology

▼x

Law and legislation.
650

0

▼a

Right to internet access.
700

1

▼a

Lazar, Jonathan.
700

1

▼a

Stein, Michael Ashley.
700

1

2

▼a

Brewer, Judy.

▼t

Standards bodies, access to information technology, and human rights.

▼i

Container of (work).
830

0

▼a

Pennsylvania studies in human rights.
945

▼a

KLPA
---
Holdings Information
No.
Location
Call Number
Accession No.
Availability
Due Date
Make a Reservation
Service

No.

1

Location

Main Library/Western Books/

Call Number

004.087 D611

Accession No.

111781130

Availability

Available

Due Date

Make a Reservation

Service
Contents information
Table of Contents
Standards bodies, access to information technology, and human rights / Judy Brewer
Accessible ICTs and the opening of political space for persons with disabilities / Janet E. Lord
Web accessibility for people with cognitive disabilities : a legal right? / Peter Blanck
Intersection of human rights, social justice, the internet, and accessibility in libraries : access, education, and inclusion / Paul T. Jaeger, Brian Wentz, and John Carlo Bertot
Public financing of information technology and human rights for people with disabilities / Deborah Kaplan
Using provincial laws to drive a national agenda : connecting human rights and disability rights laws / Ravi Malhotra and Megan A. Rusciano
Access to justice / Fredric I. Lederer
Open government and digital accessibility / Timothy Elder
E-books and human rights / Jim Fruchterman
Accessibility and online learning / Mary J. Ziegler and David Sloan
Who owns captioning? / Raja Kushalnagar
Information privacy and security as a human right for people with disabilities / Jonathan Lazar, Brian Wentz, and Marco Winckler
How does inaccessible gaming lead to social exclusion? / Joyram Chakraborty
Pivot model of policy entrepreneurship : an application of European ideas in the global South / G. Anthony Giannoumis, Mirriam Nthenge, and Jorge Manhique
Accessibility infrastructure and the global South / Joyojeet Pal
ICT access, disability human rights, and social inclusion in India / Sanjay S. Jain.