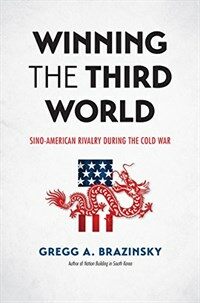 000
00000cam u2200205 a 4500
001
000045919585
005
20171103103400
008
171102s2017 ncu b 001 0 eng d
010

▼a

2016042808
020

▼a

9781469631707 (cloth : alk. paper)
020

▼z

9781469631714 (ebook)
035

▼a

(KERIS)REF000018169624
040

▼a

NcU/DLC

▼b

eng

▼c

NcU

▼e

rda

▼d

211009
043

▼a

n-us---

▼a

a-cc---

▼a

a------

▼a

f------
050

0

0

▼a

E183.8.C5

▼b

B679 2017
082

0

0

▼a

327.73051

▼2

23
084

▼a

327.73051

▼2

DDCK
090

▼a

327.73051

▼b

B827w
100

1

▼a

Brazinsky, Gregg.
245

1

0

▼a

Winning the Third World :

▼b

Sino-American rivalry during the Cold War /

▼c

Gregg A. Brazinsky.
260

▼a

Chapel Hill :

▼b

University of North Carolina Press,

▼c

c2017.
300

▼a

xii, 425 p. ;

▼c

25 cm.
490

1

▼a

The new Cold War history
504

▼a

Includes bibliographical references and index.
505

0

▼a

The emergence of a rivalry, 1919-1950 -- The burdens of status, 1950-1954 -- From Geneva to Bandung -- Advancing the peace offensive, 1955-1958 -- The cultural competition, 1955-1964 -- China's radicalization and the American response, 1958-1963 -- The diplomatic campaign, 1963-1966 -- Insurgency and counterinsurgency, 1961-1968 -- The economic competition, 1962-1968 -- Competition and cooperation, 1968-1979.
650

0

▼a

Cold War.
651

0

▼a

United States

▼x

Foreign relations

▼z

China.
651

0

▼a

United States

▼x

Foreign relations

▼y

1945-1989.
651

0

▼a

China

▼x

Foreign relations

▼z

United States.
651

0

▼a

China

▼x

Foreign relations

▼y

20th century.
830

0

▼a

New Cold War history.
945

▼a

KLPA
---
Holdings Information
No.
Location
Call Number
Accession No.
Availability
Due Date
Make a Reservation
Service

No.

1

Location

Main Library/Western Books/

Call Number

327.73051 B827w

Accession No.

111781108

Availability

Available

Due Date

Make a Reservation

Service
Contents information
Author Introduction
그렉 브라진스키
(지은이)
2005년 코넬 대학교에서 역사학 박사학위를 받았으며, 현재 조지 워싱턴 대학교 국제관계대학원의 부교수이다. 조지워싱턴 대학교 내에서 냉전 시기를 연구하는 the Cold War Graop의 책임자로 활동하면서 냉전시기 미국의 동아시아 정책에 대한 전문가로 명성을 쌓고 있다. 한국의 광복, 정부 수립, 한국전쟁, 이승만 정권, 박정희 정권 등 1945년 이후의 한국에 대해 주로 연구해 와싿. 현재는 한국전쟁이 한국과 중국, 미국의 사회, 문화에 미친 영향, 냉전 시기 아시아에서 미국의 국가 형성 정책 등을 연구 중이다. 한국에 대해 애정이 많은 미국인으로 한국어를 유창하게 구사하며 자신이 직접 직은 한국 이름인 배투호로 불리기를 좋아한다. 공저로 Staging Growth-Modernization, Development and the Cold War, 『대한민국 건국의 재인식』, The Dynamics of Democratization-Dictatorship, Development and Diffusion, The Cold War in East Asia, 1945~1991이 있다.
Information Provided By: :

Table of Contents
The emergence of a rivalry, 1919-1950
The burdens of status, 1950-1954
From Geneva to Bandung
Advancing the peace offensive, 1955-1958
The cultural competition, 1955-1964
China''s radicalization and the American response, 1958-1963
The diplomatic campaign, 1963-1966
Insurgency and counterinsurgency, 1961-1968
The economic competition, 1962-1968
Competition and cooperation, 1968-1979.