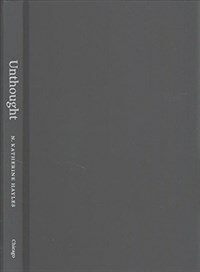 000
00000cam u2200205 a 4500
001
000045914035
005
20170906165421
008
170906s2017 ilu b 001 0 eng d
010

▼a

2016036767
020

▼a

9780226447742 (cloth : alk. paper)
020

▼a

9780226447889 (pbk. : alk. paper)
020

▼z

9780226447919 (e-book)
035

▼a

(KERIS)REF000018137358
040

▼a

ICU/DLC

▼b

eng

▼c

ICU

▼e

rda

▼d

DLC

▼d

211009
050

0

0

▼a

BF311

▼b

.H395 2017
082

0

0

▼a

154.2

▼2

23
084

▼a

154.2

▼2

DDCK
090

▼a

154.2

▼b

H421u
100

1

▼a

Hayles, Katherine,

▼d

1943-.
245

1

0

▼a

Unthought :

▼b

the power of the cognitive nonconscious /

▼c

N. Katherine Hayles.
260

▼a

Chicago ;

▼a

London :

▼b

The University of Chicago Press,

▼c

c2017.
300

▼a

xi, 250 p. ;

▼c

23 cm.
504

▼a

Includes bibliographical references and index.
505

0

▼t

Prologue: transforming how we see the world --

▼g

The cognitive nonconscious and the costs of consciousness.

▼t

Nonconscious cognitions: humans and others --

▼t

Interplays between nonconscious cognition and consciousness --

▼t

The cognitive nonconscious and the new materialisms --

▼t

The costs of consciousness: Tom McCarthy's Remainder and Peter Watts's Blindsight --

▼g

Cognitive assemblages.

▼t

Cognitive assemblages: technical agency and human interactions --

▼t

Temporality and cognitive assemblages: finance capital, derivatives, and high-frequency trading --

▼t

Intuition, cognitive assemblages, and politico-historico affects: Colson Whitehead's The intuitionist --

▼t

The utopian potential of cognitive assemblages.
650

0

▼a

Cognition.
650

0

▼a

Cognition

▼x

Social aspects.
650

0

▼a

Cognition

▼x

Philosophy.
650

0

▼a

Sociotechnical systems.
650

0

▼a

Subconsciousness.
650

0

▼a

Cognition in literature.
945

▼a

KLPA
---
Holdings Information
No.
Location
Call Number
Accession No.
Availability
Due Date
Make a Reservation
Service

No.

1

Location

Main Library/Western Books/

Call Number

154.2 H421u

Accession No.

111778037

Availability

Available

Due Date

Make a Reservation

Service
Contents information
Table of Contents
Prologue: transforming how we see the world
The cognitive nonconscious and the costs of consciousness. Nonconscious cognitions: humans and others
Interplays between nonconscious cognition and consciousness
The cognitive nonconscious and the new materialisms
The costs of consciousness: Tom McCarthy''s Remainder and Peter Watts''s Blindsight
Cognitive assemblages. Cognitive assemblages: technical agency and human interactions
Temporality and cognitive assemblages: finance capital, derivatives, and high-frequency trading
Intuition, cognitive assemblages, and politico-historico affects: Colson Whitehead''s The intuitionist
The utopian potential of cognitive assemblages.