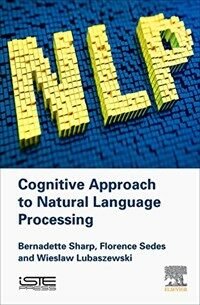 000
00000nam u2200205 a 4500
001
000045913196
005
20170824160816
008
170824s2017 enka b 001 0 eng d
020

▼a

9781785482533
035

▼a

(KERIS)BIB000014561975
040

▼a

YDX

▼b

eng

▼c

YDX

▼d

N$T

▼d

IDEBK

▼d

N$T

▼d

EBLCP

▼d

OPELS

▼d

TEFOD

▼d

OCLCF

▼d

MERER

▼d

MERUC

▼d

UAB

▼d

222001

▼d

211009
082

0

4

▼a

410.285

▼2

23
084

▼a

410.285

▼2

DDCK
090

▼a

410.285

▼b

C6762
245

0

0

▼a

Cognitive approach to natural language processing /

▼c

edited by Bernadette Sharp, Florence Sèdes, Wiesław Lubaszewski.
260

▼a

London, UK :

▼b

ISTE Press ;

▼a

Kidlington, Oxford, UK :

▼b

Elsevier,

▼c

c2017.
300

▼a

xiii, 220 p. :

▼b

ill. ;

▼c

24 cm.
504

▼a

Includes bibliographical references and index.
650

0

▼a

Computational linguistics.
650

0

▼a

Natural language processing (Computer science).
650

0

▼a

Psycholinguistics.
700

1

▼a

Sharp, Bernadette.
700

1

▼a

Sèdes, Florence.
700

1

▼a

Lubaszewski, Wiesław.
945

▼a

KLPA
---
Holdings Information
No.
Location
Call Number
Accession No.
Availability
Due Date
Make a Reservation
Service

No.

1

Location

Science & Engineering Library/Sci-Info(Stacks2)/

Call Number

410.285 C6762

Accession No.

121241276

Availability

Available

Due Date

Make a Reservation

Service
Contents information
Table of Contents
1. Delayed Interpretation, Shallow
 Processing and Constructions: the Basis of the "Interpret Whenever Possible? Principle.
2. Can the Human Association Norm Evaluate Machine-Made Association Lists? 
3. How a Word of a Text Selects the Related Words in a Human Association Network.
4. The Reverse Association Task.
5. Hidden Structure and
 Function in the Lexicon.
6. Transductive Learning Games for Word Sense Disambiguation.
7. Use Your Mind and Learn to Write: The Problem of Producing Coherent Text.
8. Stylistic Features Based on 
Sequential Rule Mining for Authorship Attribution.
9. A Parallel, Cognition-oriented Fundamental Frequency Estimation Algorithm.
10. Benchmarking n-grams, 
Topic Models and Recurrent Neural Networks by Cloze Completions, EEGs and Eye Movements.
Information Provided By: :