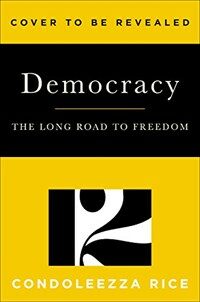 000
00000cam u2200205 a 4500
001
000045912479
005
20170818175819
008
170817s2017 nyuaf b 001 0deng d
010

▼a

2016056710
020

▼a

9781455540181 (hardback)
020

▼a

9781455571192 (large print)
020

▼z

9781455540198 (ebook)
020

▼z

9781478964575 (audio download)
020

▼z

9781478964582 (audio book)
035

▼a

(KERIS)REF000018333688
040

▼a

DLC

▼b

eng

▼e

rda

▼c

DLC

▼d

211009
043

▼a

n-us---
050

0

0

▼a

JC421

▼b

.R49 2017
082

0

0

▼a

321.8

▼2

23
084

▼a

321.8

▼2

DDCK
090

▼a

321.8

▼b

R495d
100

1

▼a

Rice, Condoleezza,

▼d

1954-.
245

1

0

▼a

Democracy :

▼b

stories from the long road to freedom /

▼c

Condoleezza Rice.
250

▼a

First Edition.
260

▼a

New York :

▼b

Twelve,

▼c

c2017.
300

▼a

viii, 486 p., [8] p. of plates :

▼b

ill. ;

▼c

24 cm.
504

▼a

Includes bibliographical references (p. 449-466) and index.
505

0

▼a

Prologue -- The American Experience -- Russia -- Martial Law and the Origins of Polish Democracy -- Ukraine, "A Made Up Country?" -- Kenya -- Colombia -- Middle East -- When Tyrants Fall -- Democracy in Retreat -- The Pursuit of Happiness -- "Democracy Is the Worst Form of Government, Except for All the Others" -- Epilogue.
520

▼a

"From the former secretary of state and bestselling author -- a sweeping look at the global struggle for democracy and why America must continue to support the cause of human freedom. From the end of the Cold War and the collapse of the Soviet Union to the ongoing struggle for human rights in the Middle East, Condoleezza Rice has served on the front lines of history. As a child, she was an eyewitness to a third awakening of freedom, when her hometown of Birmingham, Alabama, became the epicenter of the civil rights movement for black Americans. In this book, Rice explains what these epochal events teach us about democracy. At a time when people around the world are wondering whether democracy is in decline, Rice shares insights from her experiences as a policymaker, scholar, and citizen, in order to put democracy's challenges into perspective. When the United States was founded, it was the only attempt at self-government in the world. Today more than half of all countries qualify as democracies, and in the long run that number will continue to grow. Yet nothing worthwhile ever comes easily. Using America's long struggle as a template, Rice draws lessons for democracy around the world -- from Russia, Poland, and Ukraine, to Kenya, Colombia, and the Middle East. She finds that no transitions to democracy are the same because every country starts in a different place. Pathways diverge and sometimes circle backward. Time frames for success vary dramatically, and countries often suffer false starts before getting it right. But, Rice argues, that does not mean they should not try. While the ideal conditions for democracy are well known in academia, they never exist in the real world. The question is not how to create perfect circumstances but how to move forward under difficult ones. These same insights apply in overcoming the challenges faced by governments today. The pursuit of democracy is a continuing struggle shared by people around the world, whether they are opposing authoritarian regimes, establishing new democratic institutions, or reforming mature democracies to better live up to their ideals. The work of securing it is never finished"--

▼c

Provided by publisher.
600

1

0

▼a

Rice, Condoleezza,

▼d

1954-.
650

0

▼a

Democracy

▼x

History.
650

0

▼a

Democratization.
650

0

▼a

Democratization

▼x

Government policy

▼z

United States.
650

0

▼a

World politics

▼y

1989-.
650

0

▼a

Cabinet officers

▼z

United States

▼v

Biography.
651

0

▼a

United States

▼x

Foreign relations

▼y

2001-2009.
945

▼a

KLPA
---
Holdings Information
No.
Location
Call Number
Accession No.
Availability
Due Date
Make a Reservation
Service

No.

1

Location

Main Library/Western Books/

Call Number

321.8 R495d

Accession No.

111777391

Availability

Available

Due Date

Make a Reservation

Service
Contents information
Author Introduction
콘돌리자 라이스
(지은이)
부시 행정부 1기 백악관 국가안보보좌관이자 2기 행정부의 흑인 여성 최초 국무장관. 1954년 인종차별이 심한 앨라배마주 버밍햄에서 교육자 부모 사이의 무남독녀로 태어났다. 1963년 극우단체 KKK단의 폭발 사고로 유치원 급우를 잃는 등 흑인 민권 운동의 소용돌이 속에 있었지만 부모의 강력한 지원과 보호 아래 유복하게 성장했다. 아버지가 콜로라도주 덴버로 전근하면서 고교생 라이스는 바로 덴버대학의 대학 과정을 밟기 시작했다. 당초 음악을 전공했으나 매들린 올브라이트 전 미국국무장관의 아버지인 조세프 코벨 교수의 스탈린 강의를 들은 뒤 옛 소련 및 동유럽 정치학으로 전환해 19세 때 학사, 26세 때 소련 및 동유럽 전공으로 박사 학위를 취득했다. 국무부에서 인턴 근무를 마친 후 1981년 26세에 스탠퍼드대 교수가 된 라이스는 곧 소련 분야에서 학자로서의 명성을 얻었고 레이건 행정부 시절인 1986년 휴직 후 국방부 자문역을 맡아 1987년에는 합참의장의 전략핵 정책 고문 자격으로 소련과의 핵무기 감축 협상에 참여했다. 1989년에는 부시 전 대통령의 국가안보보좌관인 브렌트 스코크로프트(Brent Scowcroft)에 발탁돼 백악관 국가안보회의(NSC)의 소련 및 동유럽 담당 책임자로 임명됐다. 이때 부시 가문과 처음 인연을 맺었으며, 부시 전 대통령과 미하일 고르바초프 전 소련 대통령간의 전략무기 감축협상에 실무를 담당했고, 소련이 독일의 통일을 받아들이도록 설득하는 데도 일조했다. 부시 행정부 1, 2기를 통틀어 외교 정책에서 가장 큰 영향력을 발휘한 것으로 널리 알려져 있다. 국무장관에서 물러난 이후 스탠퍼드대 교수로 돌아온 콘돌리자 라이스는 1994년 '최연소, 첫 여성, 첫 흑인'이라는 진기록을 세우며 스탠퍼드대 부총장으로 취임하기도 했다.
Information Provided By: :

Table of Contents
Contents
Prologue
Introduction: Is democracy in retreat?
The American experience
Russia and the weight of history
Martial law and the origins of Polish democracy
Ukraine: "a made up country"?
Kenya: "Save our beloved country"
Colombia: the era of democratic security
The Middle East: can democracy exist in a cauldron? Iraq: when tyrants fall ; Egypt and Tunisia: when old men fail ; Arab monarchies: will they reform?
Are authoritarians so bad?
What democracy must deliver
"Democracy is the worst... except for all the others"
Epilogue: they will look to America
2016.