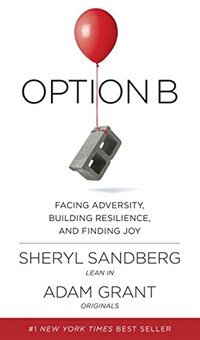 000
00000cam u2200205 a 4500
001
000045910664
005
20170718160812
008
170718s2017 nyua b 001 0 eng d
010

▼a

2016057738
020

▼a

9781524732684 (hardback)
020

▼z

9781524732691 (ebook)
035

▼a

(KERIS)REF000018294895
040

▼a

DLC

▼b

eng

▼e

rda

▼c

DLC

▼d

DLC

▼d

211009
050

0

0

▼a

BF575.G7

▼b

S256 2017
082

0

0

▼a

155.9/37092

▼2

23
084

▼a

155.937092

▼2

DDCK
090

▼a

155.937092

▼b

S213o
100

1

▼a

Sandberg, Sheryl.
245

1

0

▼a

Option B :

▼b

facing adversity, building resilience, and finding joy /

▼c

Sheryl Sandberg, Adam Grant.
250

▼a

First Edition.
260

▼a

New York :

▼b

Knopf,

▼c

c2017.
300

▼a

226 p. :

▼b

ill. ;

▼c

24 cm.
504

▼a

Includes bibliographical references and index.
520

▼a

"From Facebook's COO and Wharton's top-rated professor, the #1New York Timesbest-selling authors ofLean InandOriginals:a powerful, inspiring, and practical book about building resilience and moving forward after life's inevitable setbacks. After the sudden death of her husband, Sheryl Sandberg felt certain that she and her children would never feel pure joy again. "I was in 'the void,'" she writes, "a vast emptiness that fills your heart and lungs and restricts your ability to think or even breathe." Her friend Adam Grant, a psychologist at Wharton, told her there are concrete steps people can take to recover and rebound from life-shattering experiences. We are not born with a fixed amount of resilience. It is a muscle that everyone can build. Option B combines Sheryl's personal insights with Adam's eye-opening research on finding strength in the face of adversity. Beginning with the gut-wrenching moment when she finds her husband, Dave Goldberg, collapsed on a gym floor, Sheryl opens up her heart--and her journal--to describe the acute grief and isolation she felt in the wake of his death. But Option B goes beyond Sheryl's loss to explore how a broad range of people have overcome hardships including illness, job loss, sexual assault, natural disasters, and the violence of war. Their stories reveal the capacity of the human spirit to persevere. and to rediscover joy. Resilience comes from deep within us and from support outside us. Even after the most devastating events, it is possible to grow by finding deeper meaning and gaining greater appreciation in our lives. Option B illuminates how to help others in crisis, develop compassion for ourselves, raise strong children, and create resilient families, communities, and workplaces. Many of these lessons can be applied to everyday struggles, allowing us to brave whatever lies ahead. Two weeks after losing her husband, Sheryl was preparing for a father-child activity. "I want Dave," she cried. Her friend replied, "Option A is not available," and then promised to help her make the most of Option B. We all live some form of Option B. This book will help us all make the most of it"--

▼c

Provided by publisher.
520

▼a

"The author's experience with grief after the sudden death of her husband, combined with social science on resilience"--

▼c

Provided by publisher.
650

0

▼a

Grief.
650

0

▼a

Bereavement.
650

0

▼a

Loss (Psychology).
650

0

▼a

Resilience (Personality trait).
700

1

▼a

Grant, Adam M.
945

▼a

KLPA
---
Holdings Information
No.
Location
Call Number
Accession No.
Availability
Due Date
Make a Reservation
Service

No.

1

Location

Main Library/Western Books/

Call Number

155.937092 S213o

Accession No.

111776164

Availability

Available

Due Date

Make a Reservation

Service
Contents information
Author Introduction
셰릴 샌드버그
(지은이)
페이스북 최고운영책임자(COO)로 비즈니스계 리더이자, 전 세계 베스트셀러 《린 인》의 저자다. 여성들이 목표를 달성할 수 있도록 지원하는 비영리 조직인 LeanIn.Org의 의장이자, 역경에 맞서 삶의 의미를 찾고 회복탄력성을 기르려는 사람들을 돕기 위한 비영리 조직인 OptionB.Org의 설립자이기도 하다. 2012년 미국 <타임>지 선정 '세계에서 가장 영향력 있는 100인'에 올랐으며, 같은 해 <포브스> 선정 세계에서 가장 영향력 있는 여성 12위에 올랐다. <블룸버그 비즈니스위크>는 "미래의 여성 대통령 후보로 거론되는 인물"이라고 평가하기도 했다. 하버드대 경제학과와 하버드 경영대학원을 모두 최우등으로 졸업했다. 세계은행에서 연구조교로 근무했고, 매킨지에서 컨설턴트로 활약했으며, 미국 재무부 수석보좌관을 역임하기도 했다. 2001년부터 2008년까지 구글 글로벌 온라인 판매 및 운영 부회장을 역임했는데, 이 당시 구글의 애드워즈로 수익모델을 만들어 1년 만에 4배 이상의 매출을 올리는 성과를 거두었다. 2010년에는 테드(TED) 강연에 출연하여 '왜 여성 리더는 소수인가'라는 주제로, 여성이 직장에서 기회가 생겼을 때 자신도 모르게 주춤하며 뒤로 물러서는 현상을 지적하고, 여성이 당당하게 테이블에 앉고, 위험을 감수하고, 기회를 향해 달려들 수 있도록 격려했는데, 이 강연은 동영상 조회수 200만 회를 돌파하며 전 세계적으로 열광적인 반응을 얻었다.
애덤 그랜트
(지은이)
펜실베이니아대학교 와튼스쿨의 조직심리학 교수이며, 7년 연속으로 최고 등급의 평가를 받은 최연소 종신교수이다. 테드(TED)의 인기 강연자이며, 그가 쓴 책은 수백만 부가 팔렸다. 그의 강연 동영상은 2,500만 회 이상 조회되었고, 팟캐스트 'WorkLife with Adam Grant'는 최상위 인기 팟캐스트로 사랑을 받고 있다. 그의 개척자적인 연구조사 덕분에 수많은 사람이 동기부여와 관대함과 창의성에 대한 근본적인 여러 가설을 다시 생각하게 되었다. 세계에서 가장 영향력이 있는 경영 사상가 열 명 가운데 한 명으로 꼽히며, <포브스> 선정 40세 이하의 지도자 40인에 뽑혔다. 그는 또 탁월한 과학적 성취를 인정받아서 미국 심리학협회와 미국 국립과학재단으로부터 상을 받았다. 하버드대학교 심리학과를 수석 졸업하고 석사 학위를 받았으며, 미시간대학교에서 박사 학위를 받았다. 청소년 스프링보드 다이빙 선수로 올림픽 경기에 출전하기도 했다. 필라델피아에서 아내 그리고 세 아이와 함께 살고 있다. 저서로는 《오리지널스》《기브앤테이크》《옵션B》가 있다.
Information Provided By: :

Table of Contents
Introduction
Breathing again
Kicking the elephant out of the room
The platinum rule of friendship
Self-compassion and self-confidence
Bounding forward
Taking back joy
Raising resilient kids
Finding strength together
Failing and learning at work
To love and laugh again
Building resilience together.