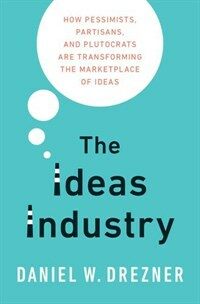 000
00000cam u2200205 a 4500
001
000045909769
005
20170706173546
008
170705s2017 nyua b 001 0 eng d
010

▼a

2016047087

▼z

2016049640
020

▼a

9780190264604 (hardback)
020

▼a

9780190264628 (epub)
035

▼a

(KERIS)REF000018278609
040

▼a

DLC

▼b

eng

▼e

rda

▼c

DLC

▼d

211009
050

0

0

▼a

AZ362

▼b

.D74 2017
082

0

0

▼a

001.1

▼2

23
084

▼a

001.1

▼2

DDCK
090

▼a

001.1

▼b

D778i
100

1

▼a

Drezner, Daniel W.
245

1

4

▼a

The ideas industry /

▼c

Daniel W. Drezner.
260

▼a

New York, NY :

▼b

Oxford University Press,

▼c

c2017.
300

▼a

xi, 344 p. :

▼b

ill. ;

▼c

25 cm.
504

▼a

Includes bibliographical references (p. 317-330) and index.
505

8

▼a

Machine generated contents note: -- Introduction: The Transmogrification -- Chapter 1: Do Ideas Even Matter? -- Chapter 2: How Pessimists, Partisans, and Plutocrats are Changing the Marketplace of Ideas -- Chapter 3: The Standard Indictment Against the Academy -- Chapter 4: The Disciplines: Why Economics Thrives While Political Science Survives -- Chapter 5: This is Not Your Father's Think Tank -- Chapter 6: The Booming Private Market for Public Ideas.
520

▼a

" The public intellectual, as a person and ideal, has a long and storied mythology. Writing in venues like the New Republic and Foreign Affairs, they are expected to opine on a broad array of topics, from foreign policy to literature to economics. Yet in recent years a new kind of thinker has supplanted that archetype: the thought leader. Equipped with one big idea, thought leaders focus their energies on TED talks more than highbrow periodicals. How did this shift happen? In The Ideas Industry, Daniel W. Drezner points to the roles of political polarization, heightened inequality, and eroding trust in authority as ushering in the change. In contrast to public intellectuals, thought leaders gain fame as single-idea merchants. Their ideas are often laudable and highly ambitious: ending global poverty by 2025, for example. But instead of a class composed of university professors and freelance intellectuals debating in highbrow magazines, thought leaders can bypass traditional gatekeepers to directly influence policymakers and the public. They are more immune to criticism--and in this century, the criticism of public intellectuals also counts for less. Three factors have reshaped the world of ideas: waning trust in expertise, increasing political polarization and rising levels of plutocracy. The erosion of trust has lowered the barriers to entry in the marketplace of ideas. Thought leaders don't need doctorates or fellowships to advance their arguments. Polarization is hardly a new phenomenon, but in contrast to their predecessors, today's intellectuals are more likely to enjoy the support of ideologically friendly private funders and be housed in ideologically-driven think tanks. Increasing inequality is a key driver: more than ever before, contemporary plutocrats fund intellectuals and policy shops that generate arguments that align with their own. There are downsides to the contemporary ideas industry, but Drezner argues that it is very good at broadcasting ideas widely and reaching large audiences of people hungry for new thinking. Both fair-minded and trenchant, The Ideas Industry will reshape our understanding of contemporary public intellectual life in America and the West."--

▼c

Provided by publisher.
520

▼a

"Daniel W. Drezner's The Ideas Industry traces the trajectory of the public intellectual from the early 20th century to its present form of the "thought leader." It will reshape our understanding of contemporary public intellectual life in America and the West"--

▼c

Provided by publisher.
650

0

▼a

Intellectual life

▼x

Political aspects.
650

0

▼a

Intellectuals

▼x

Political activity.
650

0

▼a

Learning and scholarship

▼x

Political aspects.
650

0

▼a

Research institutes

▼x

Political aspects.
650

0

▼a

Knowledge, Sociology of.
945

▼a

KLPA
---
Holdings Information
No.
Location
Call Number
Accession No.
Availability
Due Date
Make a Reservation
Service

No.

1

Location

Main Library/Western Books/

Call Number

001.1 D778i

Accession No.

111775668

Availability

Available

Due Date

Make a Reservation

Service
Contents information
Table of Contents
Introduction. The transmogrification
1. Do ideas even matter?
2. How pessimists, partisans, and plutocrats are changing the marketplace of ideas
3. The standard indictment against the academy
4. The disciplines : why economics thrives while political science survives
5. This is not your father''s think tank
6. The booming private market for public ideas
7. The promise and perils of intellectual brands
8. Is the ideas industry working?
9. Tweeting ideas : or, the requisite chapter on social media
Conclusion. The Dark Knight theory of the ideas industry.