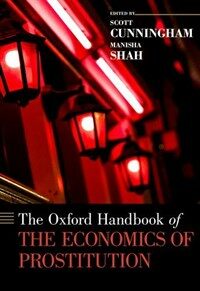 000
00000cam u2200205 a 4500
001
000045909734
005
20170706112732
008
170705s2016 nyua b 001 0 eng d
010

▼a

2016008321
020

▼a

9780199915248 (hardback)
035

▼a

(KERIS)REF000018031272
040

▼a

DLC

▼b

eng

▼c

DLC

▼e

rda

▼d

DLC

▼d

211009
050

0

0

▼a

HQ121

▼b

.O94 2016
082

0

0

▼a

338.4/73067

▼2

23
084

▼a

338.473067

▼2

DDCK
090

▼a

338.473067

▼b

O98
245

0

4

▼a

The Oxford handbook of the economics of prostitution /

▼c

edited by Scott Cunningham, and Manisha Shah.
246

3

▼a

Economics of prostitution
260

▼a

New York :

▼b

Oxford University Press,

▼c

c2016.
300

▼a

xi, 525 p. :

▼b

ill. ;

▼c

26 cm.
490

1

▼a

Oxford handbooks
504

▼a

Includes bibliographical references and index.
505

8

▼a

Machine generated contents note: -- I. INTRODUCTION -- 1. Introduction -- Scott Cunningham and Manisha Shah -- II. SUPPLY AND DEMAND -- 2. Examining the Role of Client Reviews and Reputation within Online Prostitution -- Scott Cunningham and Todd D. Kendall -- 3. Economic Theories and Empirics on the Sex Market -- Handie Peng -- 4. Sexual and Communication Networks of Internet-Mediated Prostitution -- Luis E. C. Rocha, Fredrik Liljeros, Petter Holme -- 5. Examining the Economics of Prostitution using Online Data -- Thomas J. Holt, Kristie R. Blevins, and Sarah Fitzgerald -- 6. Stigma and Risky Behaviors Among Clients of Prostitutes -- Marina Della Giusta, Maria Laura Di Tommaso, and Sarah L. Jewell -- 7. Empirical Analysis of the Impact of Legal Status on Versatility and Efficiency in Prostitution Markets -- Samuel Cameron -- III. PROSTITUTE BEHAVIOR IN DEVELOPING COUNTRIES -- 8. Transactional Sex in Malawi -- Sarah Baird and Berk Özler -- 9. Income, Income Shocks, and Transactional Sex -- Katherine LoPiccalo, Jonathan Robinson, and Ethan Yeh -- 10. Economics of Sex Work in Bangladesh -- Asadul Islam and Russell Smyth -- 11. The Details are in the Fineprint: Sex Work, Sex Workers, Definitional Complications of Identity -- Rohini Sahni and V. Kalyan Shankar -- IV. MEN WHO HAVE SEX WITH MEN -- 12. The Economics of Male Sex Work -- Trevon D. Logan -- 13. Male Sex Workers: HIV Risk and Behavioral Economics -- Omar Galárraga and Sandra G. Sosa-Rubí -- V. LAW AND POLICY -- 14. Bargaining, Coercion, and Entry in Prostitution Markets: Implications for Prostitution Law -- Samuel Lee and Petra Persson -- 15. Prostitution Policy -- G. Immordino and F.F. Russo -- 16. A Method for Determining the Size of the Underground Cash Economy for Commercial Sex in Seven US Cities -- Bilal Khan, Mitch Downey, Meredith Dank, and Kirk Dombrowski -- VI. HISTORY OF PROSTITUTION LAW -- 17. Nevada's Regulated Brothels -- Barbara G. Brents -- 18. Canadian Prostitution Law: History and Market Impacts -- Lauren Jones -- 19. "Sidewalk's Queens": The Economics of Popular Prostitutions in Fin-de-Siècle Paris -- Alexandre Frondizi and Simon Porcher -- VII. EXTERNALITIES (STDS & SEXUAL EXPLOITATION) -- 20. Demographic Change, Prostitution, and Sexually Transmitted Infection Rates in China -- Avraham Ebenstein and Ethan J. Sharygin -- 21. The Economics of Trafficking for Sexual Exploitation -- Niklas Jakobsson and Andreas Kotsadam -- 22. HIV/AIDS and Commercial Sex Work in the Developing World -- Pedro de Araujo.
520

▼a

" Prostitution bears the unique title of being both the "world's oldest profession" and one of the least understood occupations. Unlike most of the crime and family literature, prostitution appears to be have all the features of traditional markets: prices, supply and demand considerations, variety in the organizational structure, and policy relevance. Despite this, economists have largely ignored prostitution in their research and writings. This has been changing, however, over the last twenty years as greater access to data has enabled economists to build better theories and gain a better understanding of the organization of sex market. The Oxford Hanbook of the Economics of Prostitution fills the gap in our understanding. It brings together many of the top researchers in the field who explain how the prostitution markets are organized across space and time, the role of technology in shaping labor supply and demand, the intersection of prostitution with trafficking, and the optimal use of law enforcement. What makes the material unique is its explicit focus on economics as the primary methodology for organizing our understanding of prostitution. The Handbook brings to scholars' attention for the first time a collection of original writings on prostitution that provides an overview of what is known and what is not known in this area. Researchers with an interest in underground markets, labor economics, risky behaviors, marriage, and gender will find the book's contents illuminating and path breaking. "--

▼c

Provided by publisher.
520

▼a

"A study of the economics of sex work"--

▼c

Provided by publisher.
650

0

▼a

Sex-oriented businesses.
650

0

▼a

Prostitution

▼x

Economic aspects.
650

0

▼a

Prostitution

▼x

Government policy.
700

1

▼a

Cunningham, Scott,

▼d

1975-.
700

1

▼a

Shah, Manisha.
830

0

▼a

Oxford handbooks.
945

▼a

KLPA
---
Holdings Information
No.
Location
Call Number
Accession No.
Availability
Due Date
Make a Reservation
Service

No.

1

Location

Main Library/Western Books/

Call Number

338.473067 O98

Accession No.

111775586

Availability

Available

Due Date

Make a Reservation

Service
Contents information
Table of Contents
Machine generated contents note:
I. INTRODUCTION
1. Introduction
Scott Cunningham and Manisha Shah
II. SUPPLY AND DEMAND
2. Examining the Role of Client Reviews and Reputation within Online Prostitution
Scott Cunningham and Todd D. Kendall
3. Economic Theories and Empirics on the Sex Market
Handie Peng
4. Sexual and Communication Networks of Internet-Mediated Prostitution
Luis E.C. Rocha, Fredrik Liljeros, Petter Holme
5. Examining the Economics of Prostitution using Online Data
Thomas J. Holt, Kristie R. Blevins, and Sarah Fitzgerald
6. Stigma and Risky Behaviors Among Clients of Prostitutes
Marina Della Giusta, Maria Laura Di Tommaso, and Sarah L. Jewell
7. Empirical Analysis of the Impact of Legal Status on Versatility and Efficiency in Prostitution Markets
Samuel Cameron
III. PROSTITUTE BEHAVIOR IN DEVELOPING COUNTRIES
8. Transactional Sex in Malawi
Sarah Baird and Berk Özler
9. Income, Income Shocks, and Transactional Sex
Katherine LoPiccalo, Jonathan Robinson, and Ethan Yeh
10. Economics of Sex Work in Bangladesh
Asadul Islam and Russell Smyth
11. The Details are in the Fineprint: Sex Work, Sex Workers, Definitional Complications of Identity
Rohini Sahni and V. Kalyan Shankar
IV. MEN WHO HAVE SEX WITH MEN
12. The Economics of Male Sex Work
Trevon D. Logan
13. Male Sex Workers: HIV Risk and Behavioral Economics
Omar Galárraga and Sandra G. Sosa-Rubí
V. LAW AND POLICY
14. Bargaining, Coercion, and Entry in Prostitution Markets: Implications for Prostitution Law
Samuel Lee and Petra Persson
15. Prostitution Policy
G. Immordino and F.F. Russo
16. A Method for Determining the Size of the Underground Cash Economy for Commercial Sex in Seven US Cities
Bilal Khan, Mitch Downey, Meredith Dank, and Kirk Dombrowski
VI. HISTORY OF PROSTITUTION LAW
17. Nevada''s Regulated Brothels
Barbara G. Brents
18. Canadian Prostitution Law: History and Market Impacts
Lauren Jones
19. "Sidewalk''s Queens": The Economics of Popular Prostitutions in Fin-de-Siècle Paris
Alexandre Frondizi and Simon Porcher
VII. EXTERNALITIES (STDS & SEXUAL EXPLOITATION)
20. Demographic Change, Prostitution, and Sexually Transmitted Infection Rates in China
Avraham Ebenstein and Ethan J. Sharygin
21. The Economics of Trafficking for Sexual Exploitation
Niklas Jakobsson and Andreas Kotsadam
22. HIV/AIDS and Commercial Sex Work in the Developing World
Pedro de Araujo.