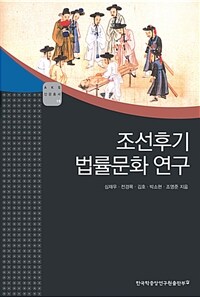 000
00000cam c2200205 c 4500
001
000045909573
005
20170703184253
007
ta
008
170703s2017 ggkad b 001c kor
020

▼a

9791158661762

▼g

94910
020

1

▼a

9788971057728 (세트)
035

▼a

(KERIS)BIB000014524950
040

▼a

211046

▼c

211046

▼d

211009
082

0

4

▼a

951.902

▼a

347.519

▼2

23
085

▼a

953.057

▼2

DDCK
090

▼a

953.057

▼b

2017
245

0

0

▼a

조선후기 법률문화 연구 /

▼d

심재우 [외]지음
260

▼a

성남 :

▼b

한국학중앙연구원출판부,

▼c

2017
300

▼a

266 p. :

▼b

삽화, 도표 ;

▼c

23 cm
440

0

0

▼a

AKS 인문총서 ;

▼v

15
500

▼a

공저자: 전경목, 김호, 박소현, 조영준
500

▼a

부록: 1. 분석 대상 검안 목록(표제 가나다 순), 2. 검안에 그려져 있는 살인 범죄의 범행 도구(청구기호 순)
504

▼a

참고문헌과 색인수록
536

▼a

이 책은 2015년도 한국학중앙연구원 한국문화심층연구사업 공동 연구 과제로 수행된 연구임

▼g

(AKSR2015-C01)
700

1

▼a

심재우

▼g

沈載祐,

▼e

저

▼0

AUTH(211009)55343
700

1

▼a

전경목

▼g

全炅穆,

▼e

저

▼0

AUTH(211009)79313
700

1

▼a

김호

▼g

金澔,

▼e

저

▼0

AUTH(211009)115150
700

1

▼a

박소현

▼g

朴昭賢,

▼e

저

▼0

AUTH(211009)34951
700

1

▼a

조영준

▼g

趙映俊,

▼e

저

▼0

AUTH(211009)82008
945

▼a

KLPA
---
Holdings Information
No.
Location
Call Number
Accession No.
Availability
Due Date
Make a Reservation
Service

No.

1

Location

Main Library/Law Library(Books/B1)/

Call Number

953.057 2017

Accession No.

111775574

Availability

Available

Due Date

Make a Reservation

Service
Contents information
Book Introduction
AKS 인문총서 15권. 조선후기의 역사상을 좀 더 풍부하게 하려고 그간 소홀하게 다뤄온 법률문화를 탐구하였다. 조선후기 사법전통과 법문화를 해명하는 데 필요한 여러 주제를 망라하기 위해 역사학뿐만 아니라 고문서학·문학·경제학 전문가 등 여러 분야 연구자들이 집필하였으며, 판례집·「추안급국안」·송사소설·검안 등 다양한 법률 기록을 분석하여 당시의 역사상을 담아냈다.

이 책은 크게 다섯 가지 부분에서 조선후기 법률문화를 조명하였다. 조선시대의 법, 범죄, 판례 연구에 관한 학제 간 분석을 통해 조선시대 사법 전통을 재조명하고 사회상에 대한 이해를 심화시키고 있다.
이 책은 조선후기의 역사상을 좀 더 풍부하게 하려고 그간 소홀하게 다뤄온 법률문화를 탐구하였다. 조선후기 사법전통과 법문화를 해명하는 데 필요한 여러 주제를 망라하기 위해 역사학뿐만 아니라 고문서학·문학·경제학 전문가 등 여러 분야 연구자들이 집필하였으며, 판례집·『추안급국안』·송사소설·검안 등 다양한 법률 기록을 분석하여 당시의 역사상을 담아냈다. 이 책은 크게 다섯 가지 부분에서 조선후기 법률문화를 조명하였다. 먼저, 조선시대 범죄 판례 자료의 가치와 현존 형사판례집의 특징을 개관하고, 지금까지 판례집을 활용한 범죄 및 사건사 연구의 성과와 과제를 살펴봄으로써 관련 연구의 현 수준을 조망하고 향후 과제를 제시했다. 다음으로, 『추안급국안』에 실린 역모사건의 사례를 분석하여 역모사건의 조사, 재판의 특징을 살펴보았다. 특히 1628년(인조 6) 12월에 일어난 소위 '송광유 옥사문서'를 중심으로 역모사건의 전개과정, 체포 및 심문과정, 당시의 사회상과 생활상을 추적했다. 세 번째로 연암 박지원이 지방관으로서 남긴 재판기록을 통해 그의 형정사상이 주자학의 자장(磁場) 안에 있었으며, 주자학적 교화론을 갱신한 것임을 밝혔다. 네 번째로 조선후기의 송사소설을 법문학적 관점에서 분석하여 사법제도의 실질적 운용과 모순에 대한 피지배층의 시각이나 그들의 법적 대응을 살펴보았다. 마지막으로, 서울대학교 규장각 소장 대한제국기 검안에 실린 도화(圖?) 약 200건 가운데, 살인의 도구인 흉기를 그린 약 100건을 비교·분석함으로써 당대의 검안 작성에서 나타난 특성과 그림의 신뢰도 등을 따져보았다. 아울러 각종 살인 도구의 개형과 실체를 통해 당대 생활사를 부분적으로 복원하였다. 이 책은 이처럼 조선시대의 법, 범죄, 판례 연구에 관한 학제 간 분석을 통해 조선시대 사법 전통을 재조명하고 사회상에 대한 이해를 심화시키고 있다.
Information Provided By: :

Author Introduction
전경목
(지은이)
한국학중앙연구원 한국학대학원 고문헌 전공 교수. 조선시대 고문서 연구를 통해 일상사를 규명하는 데 관심이 많다. 저서로는 『고문서를 통해서 본 우반동과 우반동김씨의 역사』, 『고문서, 조선의 역사를 말하다』 등이 있으며, 논문으로는 「숨은그림찾기: 유희춘의 얼녀 방매명문」, 「조선후기 소 도살의 실상」, 「조선후기 탄원서 작성과 수사법 활용」, 「양반가에서의 노비 역할」 등이 있다.
박소현
(지은이)
서울대학교 동양사학과를 졸업하고 미국 미시간대학교(The University of Michigan)에서 박사학위를 받았다. 2017년 현재 성균관대학교 동아시아학술원 부교수이다. 주요 연구로는 『중국 근대의 풍경』(공저), 『능지처참』(역서), "Law and Literature in Late imperial China and Chos?n Korea"(논문) 등이 있다.
심재우
(지은이)
서울대학교 인문대학 국사학과를 졸업하고 같은 대학에서 석사·박사학위를 받았다. 서울대학교 강사, 규장각한국학연구원 조교, 국립중앙박물관 학예연구사 등을 거쳐 현재 한국학중앙연구원 한국학대학원 인문학부 교수로 재직 중이다. 지은 책으로는 <네 죄를 고하여라: 법률과 형벌로 읽는 조선>, <조선 후기 국가권력과 범죄 통제: <심리록> 연구>, <조선 후기 법률문화 연구>(공저), <조선의 왕으로 살아가기>(공저), <단성 호적대장 연구>(공저) 등이 있다.
조영준
(지은이)
서울대학교 사회과학대학 경제학부 부교수. 서울대학교 경제학부 및 동 대학원을 졸업하였으며(경제학박사), 규장각한국학연구원 인문한국 연구교수, 한국학중앙연구원 한국학대학원 조교수·부교수 등을 역임했다. 주요 저술로 『조선 후기 왕실재정과 서울상업』, 『시폐(市弊): 조선후기 서울 상인의 소통과 변통』, 『한국의 장기통계 Ⅰ·Ⅱ』(공저), 『장돌뱅이의 조직과 기록』(공역) 등이 있다. 고문헌에 대한 심층적 이해를 기초로 하여, 경제학과 역사학의 접목을 통해 한국경제사를 입체적으로 조망하기 위해 애쓰고 있다.
Information Provided By: :

Table of Contents
조선후기 범죄와 판례 연구의 현황_심재우 
1. 머리말 
2. 조선시대의 범죄와 판례 
3. 판례를 활용한 범죄·사건사 연구의 성과 
4. 맺음말 

 조선시대 역모사건의 조사와 재판_전경목 
1. 머리말 
2. 역모사건 전개 과정 
3. 체포와 심문 과정 
4. 당시 사회상과 생활상 
5. 맺음말 

 연암 박지원의 형정론-주자학 교화론의 갱신_김 호 
1. 머리말 
2. 「명론」의 정치 
3. 무위이치(無爲而治) 
4. 법과 정리(情理) 
5. 정리(情理)와 생리(生理) 
6. 맺음말 

 법문학적 관점에서 본 조선후기 송사소설_박소현 
1. 머리말 
2. 문학사적 관점에서 본 송사소설 
3. 송사소설의 사회사?「와사옥안」을 중심으로 
4. 맺음말 

 검안에 수록된 흉기 그림의 기초 분석, 1895~1907_조영준 
1. 머리말 
2. 연구 목표와 분석 대상 
3. 검안에 그려진 흉기의 실체 
4. 실측의 정밀성과 객관성에 대한 검토 
5. 검안에 흉기를 그려 놓은 이유 
6. 맺음말