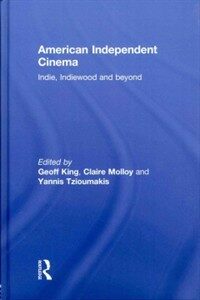 000
00000cam u2200205 a 4500
001
000045908712
005
20170623174952
008
170621s2013 nyua b 001 0 eng d
010

▼a

2012013701
020

▼a

9780415684286 (hardback : alk. paper)
020

▼a

9780415684293 (pbk. : alk. paper)
020

▼a

9780203143704 (e-book)
035

▼a

(KERIS)REF000016780948
040

▼a

DLC

▼c

DLC

▼d

DLC

▼d

211009
043

▼a

n-us---
048

▼a

791.43023092
050

0

0

▼a

PN1993.5.U6

▼b

A87553 2013
082

0

0

▼a

791.4302/3092

▼a

791.430973

▼2

23
084

▼a

791.43023

▼2

DDCK
090

▼a

791.43023

▼b

A5122
245

0

0

▼a

American independent cinema :

▼b

indie, indiewood and beyond /

▼c

edited by Geoff King, Claire Molloy and Yannis Tzioumakis.
260

▼a

New York :

▼b

Routledge,

▼c

2013.
300

▼a

xiv, 253 p. :

▼b

ill. ;

▼c

24 cm.
504

▼a

Includes bibliographical references and index.
505

0

▼a

Introduction -- Independent of what? sorting out differences from hollywood / Janet Staiger -- "Independent", "Indie" and "Indiewood": towards a periodisation of contemporary (post-1980) American independent cinema / Yannis Tzioumakis -- Thriving or in permanent crisis? Discourses on the state of indie cinema / Geoff King -- Quirky: buzzword or sensibility? / James MacDowell -- Movies for Hipsters / Michael Z. Newman -- Discerning independents: Steven Soderbergh and transhistorical taste cultures / Mark Gallagher -- Their own personal velocity: women directors and contemporary independent cinema / Michele Schreiber -- Last indie standing: the special case of Lions Gate in the new millennium / Alisa Perren -- Conglomerate Hollywood and American independent film / Thomas Schatz -- Reputational capital, creative conflict and Hollywood independence: the case of Hal Ashby / Philip Drake -- The limits of autonomy: Stanley Kubrick, Hollywood and independent filmmaking, 1950-53 / Peter Krämer -- Independent nature: wildlife films between Hollywood and indiewood / Claire Molloy -- In Hollywood, but not of Hollywood: independent Christian filmmaking / James Russell -- Welcome to the (neo) grindhouse! sex, violence and the indie film / Sarah Wharton -- Faux feal? C.S.A.: The Confederate States of America as the response to The Birth of a Nation / Novotny Lawrence -- Measuring online word-of-mouth: the initial reception of Inland Empire (2006) on the Web / Warren Buckland.
650

0

▼a

Independent films

▼z

United States

▼x

History and criticism.
650

0

▼a

Independent filmmakers

▼z

United States.
700

1

▼a

King, Geoff,

▼d

1960-.
700

1

▼a

Molloy, Claire.
700

1

▼a

Tzioumakis, Yannis.
945

▼a

KLPA
---
Holdings Information
No.
Location
Call Number
Accession No.
Availability
Due Date
Make a Reservation
Service

No.

1

Location

Main Library/Western Books/

Call Number

791.43023 A5122

Accession No.

111774797

Availability

Available

Due Date

Make a Reservation

Service
Contents information
Table of Contents
Introduction
Independent of what? sorting out differences from hollywood / Janet Staiger
"Independent", "Indie" and "Indiewood": towards a periodisation of contemporary (post-1980) American independent cinema / Yannis Tzioumakis
Thriving or in permanent crisis? Discourses on the state of indie cinema / Geoff King
Quirky: buzzword or sensibility? / James MacDowell
Movies for Hipsters / Michael Z. Newman
Discerning independents: Steven Soderbergh and transhistorical taste cultures / Mark Gallagher
Their own personal velocity: women directors and contemporary independent cinema / Michele Schreiber
Last indie standing: the special case of Lions Gate in the new millennium / Alisa Perren
Conglomerate Hollywood and American independent film / Thomas Schatz
Reputational capital, creative conflict and Hollywood independence: the case of Hal Ashby / Philip Drake
The limits of autonomy: Stanley Kubrick, Hollywood and independent filmmaking, 1950-53 / Peter Krämer
Independent nature: wildlife films between Hollywood and indiewood / Claire Molloy
In Hollywood, but not of Hollywood: independent Christian filmmaking / James Russell
Welcome to the (neo) grindhouse! sex, violence and the indie film / Sarah Wharton
Faux feal? C.S.A.: The Confederate States of America as the response to The Birth of a Nation / Novotny Lawrence
Measuring online word-of-mouth: the initial reception of Inland Empire (2006) on the Web / Warren Buckland.