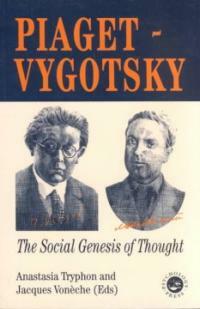 000
00000cam u2200205 a 4500
001
000045905706
005
20170517145858
008
170516s1996 enk b 001 0 eng d
010

▼a

97124855
020

▼a

0863774148 (pbk.)
020

▼a

086377413X
035

▼a

(KERIS)REF000006249349
040

▼a

DNLM

▼c

DNLM

▼d

DLC

▼d

211009
050

0

0

▼a

BF441

▼b

.P53 1996
082

0

0

▼a

153/.092/2

▼2

23
084

▼a

153.0922

▼2

DDCK
090

▼a

153.0922

▼b

P579
245

0

0

▼a

Piaget-Vygotsky :

▼b

the social genesis of thought /

▼c

edited by Anastasia Tryphon and Jacques Vonèche.
260

▼a

Hove, East Sussex, UK :

▼b

Psychology Press,

▼c

c1996.
300

▼a

viii, 215 p. ;

▼c

23 cm.
504

▼a

Includes bibliographical references and indexes.
505

0

▼a

Qu'est-ce que l'intelligence? / Robert H. Wozniak -- The role of abstract rationality in Vygotsky's image of mind / James V. Wertsch -- Structure and development : reflections by Vygotsky / René van der Veer -- Mechanisms of internalisation and externalisation of knowledge in Piaget's and Vygotsky's theories / Eduardo Marti -- Units of analysis in psychology and their interpretation / Jean-Paul Bronckart -- The social construction of rational understanding / Leslie Smith -- Construction and interpretation / Jens Brockmeier.
505

0

▼a

Social interaction and individual understanding in a community of learners / Ann L. Brown, Kathleen E. Metz, & Joseph C. Campione -- Relationships between the clinical method and the zone of proximal development in a constructivist approach to language acquisition / Ioanna Berthoud-Papandropoulou & Helga Kilcher -- Intentionality, communication, and language / Ignasi Vila -- Some impressions of a visit to Soviet psychologists / Jean Piaget.
600

1

0

▼a

Piaget, Jean,

▼d

1896-1980.
600

1

0

▼a

Vygotskiĭ, L. S.

▼q

(Lev Semenovich),

▼d

1896-1934.
600

1

2

▼a

Piaget, Jean,

▼d

1896-1980.
600

1

2

▼a

Vygotskiĭ, L. S.

▼q

(Lev Semenovich),

▼d

1896-1934.
650

0

▼a

Thought and thinking.
650

0

▼a

Thought and thinking

▼x

Social aspects.
650

0

▼a

Knowledge, Theory of.
650

1

2

▼a

Thinking.
650

2

2

▼a

Language.
650

2

2

▼a

Cognition.
650

2

2

▼a

Learning.
650

2

2

▼a

Psychological Theory.
700

1

▼a

Tryphon, Anastasia.
700

1

▼a

Vonèche, J. Jacques.
945

▼a

KLPA
---
Holdings Information
No.
Location
Call Number
Accession No.
Availability
Due Date
Make a Reservation
Service

No.

1

Location

Main Library/Western Books/

Call Number

153.0922 P579

Accession No.

111772784

Availability

Available

Due Date

Make a Reservation

Service
Contents information
Table of Contents
Qu''est-ce que l''intelligence? Piaget, Vygotsky and the 1920s crisis in psychology / Robert H. Wozniak
The role of abstract rationality in Vygotsky''s image of mind / James V. Wertsch
Structure and development. Reflections by Vygotsky / René van der Veer
Mechanisms of internalisation and externalisation of knowledge in Piaget''s and Vygotsky''s theories / Eduardo Martí
Units of analysis in psychology and their interpretation : social interactionism or logical interactionism? / Jean-Paul Bronckart
The social construction of rational understanding / Leslie Smith
Construction and interpretation : exploring a joint perspective on Piaget and Vygotsky / Jens Brockmeier.
Social interaction and individual understanding in a community of learners : the influence of Piaget and Vygotsky / Ann L. Brown, Kathleen E. Metz, Joseph C. Campione
Relationships between the clinical method and the zone of proximal development in a constructivist approach to language acquisition / Ioanna Berthoud-Papandropoulou and Helga Kilcher
Intentionality, communication and language / Ignasi Vila
Some impressions of a visit to Soviet psychologists / Jean Piaget.