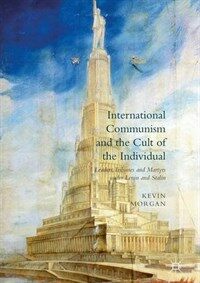 International communism and the cult of the iIndividual : leaders, tribunes and martyrs under Lenin and Stalin
000
00000cam u2200205 a 4500
001
000045905699
005
20180703150434
008
170516s2017 enka b 001 0 eng d
020

▼a

9781349717781 (hbk.)
020

▼a

9781349953370 (pbk.)
035

▼a

(KERIS)BIB000014485967
040

▼a

241047

▼c

211009

▼d

211009
050

4

▼a

HX313

▼b

.M585 2017
082

0

4

▼a

335.430947

▼2

23
084

▼a

335.430947

▼2

DDCK
090

▼a

335.430947

▼b

M848i
100

1

▼a

Morgan, Kevin.
245

1

0

▼a

International communism and the cult of the iIndividual :

▼b

leaders, tribunes and martyrs under Lenin and Stalin /

▼c

Kevin Morgan.
260

▼a

London :

▼b

Palgrave Macmillan,

▼c

c2017.
300

▼a

xii, 363 p. :

▼b

ill. ;

▼c

22 cm.
504

▼a

Includes bibliographical references (p. 339-347) and index.
600

1

0

▼a

Lenin, Vladimir Ilʹich,

▼d

1870-1924.
600

1

0

▼a

Stalin, Joseph,

▼d

1878-1953.
650

0

▼a

Communism

▼z

Soviet Union.
651

0

▼a

Soviet Union

▼x

Politics and government

▼y

1917-1936.
651

0

▼a

Soviet Union

▼x

Politics and government

▼y

1936-1953.
945

▼a

KLPA
---
Holdings Information
No.
Location
Call Number
Accession No.
Availability
Due Date
Make a Reservation
Service

No.

1

Location

Main Library/Western Books/

Call Number

335.430947 M848i

Accession No.

111772788

Availability

Available

Due Date

Make a Reservation

Service

No.

2

Location

Main Library/Western Books/

Call Number

335.430947 M848i

Accession No.

111793464

Availability

Available

Due Date

Make a Reservation

Service
Contents information
Author Introduction
케빈 모건
(지은이)
영국 카디프 대학교 도시 및 지역계획학부(거버넌스오 개발 전공) 교수다. 지역 혁신 네트워크 이론을 바탕으로 지역 개발 정책과 지역 분권 정책에 집중하다가, 2000년대 들어 같은 과 교수인 세계적인 농촌개발학자 테리 마스던Terry Marsden과 농식품 지리학자 조너선 머독Jonathan Murdoch의 영향으로 지역에서의 농업과 먹거리 문제에 관심을 갖게 되었다. 특히 학교 급식과 지속 가능한 먹거리 체계의 구축 방안에 관한 연구를 계속하고 있다. 저서로 필립 쿡Phillip Cooke과 함께 쓴 『결사체적 경제: 기업, 지역, 혁신』(1998), 『지역혁신전략』(1999), 테리 마스던 및 조너선 머독과 함께 쓴 『먹거리의 세계: 먹거리 사슬 속의 장소, 권력, 연원』(2006) 등이 있다.
Information Provided By: :

Table of Contents
1. Introduction: Wherever a Communist Party is at Work
2. Cult Developments, 1917-56
3. Cult Variations
4. Cults of Office
5. Cults of Circumstance
6. Cult Representations
7. Concluding Reflections: No Saviour from on High?.