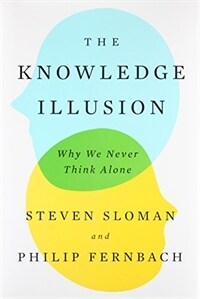 000
00000cam u2200205 a 4500
001
000045903436
005
20170420115254
008
170420s2017 nyua b 001 0 eng d
010

▼a

2016036297
020

▼a

9780399184352
035

▼a

(KERIS)REF000018259799
040

▼a

DLC

▼b

eng

▼e

rda

▼c

DLC

▼d

211009
050

0

0

▼a

B105.T54

▼b

S56 2017
082

0

4

▼a

153.42

▼2

23
084

▼a

153.42

▼2

DDCK
090

▼a

153.42

▼b

S634k
100

1

▼a

Sloman, Steven A.
245

1

4

▼a

The knowledge illusion :

▼b

why we never think alone /

▼c

Steven Sloman and Philip Fernbach.
260

▼a

New York :

▼b

Riverhead Books,

▼c

c2017.
300

▼a

296 p. :

▼b

ill. ; 24 cm.
504

▼a

Includes bibliographical references and index.
505

0

▼a

Ignorance and the community of knowledge -- What we know -- Why we think -- How we think -- Why we think what isn't so -- Thinking with our bodies and the world -- Thinking with other people -- Thinking with technology -- Thinking about science -- Thinking about politics -- The new definition of smart -- Making people smart -- Making smarter decisions -- Appraising ignorance and illusion.
650

0

▼a

Thought and thinking.
650

0

▼a

Knowledge, Sociology of.
700

1

▼a

Fernbach, Philip.
945

▼a

KLPA
---
Holdings Information
No.
Location
Call Number
Accession No.
Availability
Due Date
Make a Reservation
Service

No.

1

Location

Main Library/Western Books/

Call Number

153.42 S634k

Accession No.

111771092

Availability

Available

Due Date

Make a Reservation

Service
Contents information
Author Introduction
스티븐 슬로먼
(지은이)
마음을 연구하는 데 골몰해온 인지과학자. 1990년에 스탠포드 대학교에서 심리학 박사 학위를 받았고 지금은 브라운 대학교 심리학과에서 교수로 재직 중이다. 인지과학 저널《인식(Cognition)》의 편집장이기도 하다. 스티븐 슬로먼은 사람들이 세상을 사고하는 방식을 귀납적 추론, 확률 판단, 의사 결정 등으로 나누어 연구해왔다. 이런 그의 관심은 2005년 옥스퍼드 대학교 출판부에서 펴낸《인과 모델: 세상과 세상의 대안에 대해 어떻게 생각하는가?(Causal Models: How People Think About the World and Its Alternatives?)》에 담겨 있다. 최근에는 무지와 지식 공동체에 초점을 맞추어 연구를 진행 중이다. '설명 깊이의 착각'은 사람들이 자신이 실제로 이해하는 수준 보다 더 잘 안다고 생각했을 때 일어나는 결과다. 스티븐은 사람들이 자신의 지식과 타인의 지식을 혼동하는 것이 설명 깊이의 착각을 일으키는 원인이라고 생각한다. 우리가 안다고 생각하는 많은 것은 우리의 머릿속이 아니라 우리가 속한 지식 공동체에 담겨 있다. 스티븐은 이런 생각들을 정리해 자신의 제자이기도 한 필립 페른백과 함께 이 책을 썼다.
필립 페른백
(지은이)
윌리엄스 대학교에서 철학을 전공하고 브라운 대학교에서 인지과학 박사 학위를 받았다. 지금은 리즈 경영대학원에서 마케팅 조교수로 재직 중이다. 인과관계 추론, 확률 판단, 재정적 의사결정, 도덕적 판단을 포함해 소비자 행동 분야에 폭넓은 관심을 기울이고 있다. 필립의 연구는《제너럴(General)》,《저널 오브 컨슈머 리서치(Journal of Consumer Research)》,《매니지먼트 사이언스(Management Science)》 등 여러 심리학 저널에 실렸으며 <뉴욕 타임스>,《월스트리트 저널》,《하버드 비즈니스 리뷰》 같은 언론 매체에도 소개되었다. 박사 과정을 시작하기 전에는 보스턴에 위치한 사설 투자 회사 두 곳에서 전략 고문으로 일했다.
Information Provided By: :

Table of Contents
Ignorance and the community of knowledge
What we know
Why we think
How we think
Why we think what isn''t so
Thinking with our bodies and the world
Thinking with other people
Thinking with technology
Thinking about science
Thinking about politics
The new definition of smart
Making people smart
Making smarter decisions
Appraising ignorance and illusion.