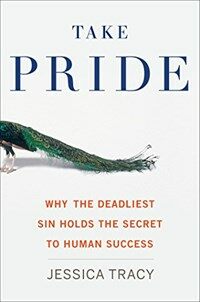 000
00000cam u2200205 a 4500
001
000045903287
005
20170420142848
008
170417s2016 mau b 001 0 eng d
010

▼a

2016004635
020

▼a

9780544273177 (hbk.)
020

▼a

9780544273085 (ebk.)
035

▼a

(KERIS)REF000018006133
040

▼a

DLC

▼b

eng

▼c

DLC

▼e

rda

▼d

DLC

▼d

211009
050

0

0

▼a

BF511

▼b

.T73 2016
082

0

4

▼a

152.4

▼2

23
084

▼a

152.4

▼2

DDCK
090

▼a

152.4

▼b

T761t
100

1

▼a

Tracy, Jessica L.

▼0

AUTH(211009)113087
245

1

0

▼a

Take pride :

▼b

why the deadliest sin holds the secret to human success /

▼c

Jessica Tracy.
260

▼a

Boston :

▼b

Houghton Mifflin Harcourt,

▼c

c2016.
300

▼a

xvi, 224 p. ;

▼c

24 cm.
504

▼a

Includes bibliographical references and index.
520

▼a

"A leading psychologist reveals how our most misunderstood emotion--pride--has shaped our minds and our culture, and shows how we can harness its power. Why did Paul Gauguin abandon middle-class life to follow the path of a starving artist? What inspired Bill Gates to give away so much of his hard-won fortune? How has Donald Trump succeeded so excessively, when his winning style could easily be his greatest liability? As the renowned emotion researcher Jessica Tracy reveals in Take Pride, each of these superachievers has been motivated by an oftenmaligned emotion: pride. Its dark, hubristic side is well known, but Tracy shows that pride is also essential for helping us become our best, brightest selves. By making us care about how others see us and how we see ourselves, pride makes us strive for excellence.In the right doses and the right contexts, it has been proven to boost creativity, motivate altruism, and confer status and power on those who display it. In Take Pride, Tracy explains why we came to feel pride and how we can make this double-edged emotion serve us--rather than the other way around"--

▼c

Provided by publisher.
650

0

▼a

Emotions.
650

0

▼a

Pride and vanity.
650

0

▼a

Social psychology.
945

▼a

KLPA
---
Holdings Information
No.
Location
Call Number
Accession No.
Availability
Due Date
Make a Reservation
Service

No.

1

Location

Main Library/Western Books/

Call Number

152.4 T761t

Accession No.

111770623

Availability

Available

Due Date

Make a Reservation

Service
Contents information
Author Introduction
제시카 트레이시
(지은이)
캐나다 브리티시 콜럼비아 대학교 심리학과 교수. 캘리포니아 대학교 데이비스캠퍼스에서 사회심리학으로 박사학위를 취득했다. 1997년 애머스트칼리지를 졸업하고 샌프란시스코의 작은 카페에서 바리스타로 일했던 그녀는 어느 날 자부심을 느끼고 싶다는 막연한 느낌에 사로잡혀 하던 일을 관두고 심리학자로 새로운 인생을 시작하였다. 그 이후로 자신을 움직이게 한 바로 그 감정, 프라이드 연구에 매진하여 현재는 자부심과 자존감 분야의 세계적인 권위자가 되었다. 이 책, 『프라이드』는 제시카 트레이시 교수의 십여 년간의 연구가 고스란히 담긴 첫 책으로, 그녀는 이 책을 통해 자부심이 인류 진화의 산물이자 인간의 본성이며 우리를 성공으로 이끄는 원동력이라고 이야기한다. 현재 캐나다 정부의 지원으로 감정과 자아 연구소(Emotion&Self Lab)를 운영 중이며 뉴욕 과학 아카데미의 제임스 매킨 커텔 상과 국제 자아 정체성 협회의 유능한 젊은 과학자 상을 수상했다. 자부심에 관한 그녀의 연구는 심리학 저널과 ABC, NPR, 「뉴욕타임스」, 「이코노미스트」, 「사이언티픽 아메리칸」 등 수백 개 언론에 소개되고 인용되었다.
Information Provided By: :

Table of Contents
The most human emotion
The nature of pride
A virtuous sin
Me, myself, and I
Like a boss
The carrot and the stick
The highest form
Take pride.