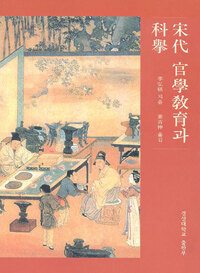 000
00000cam c2200205 c 4500
001
000045902954
005
20170418115751
007
ta
008
170417s2010 gnkj b VB 001c kor
020

▼a

9788962570311

▼g

93910
035

▼a

(KERIS)BIB000012191330
040

▼a

211006

▼c

211006

▼d

211009
041

1

▼a

kor

▼h

chi

▼h

eng
082

0

4

▼a

379.51

▼2

23
085

▼a

379.51

▼2

DDCK
090

▼a

379.51

▼b

2010z1
100

1

▼a

李弘祺
245

1

0

▼a

宋代 官學敎育과 科擧 /

▼d

李弘祺 지음 ;

▼e

姜吉仲 옮김
246

1

▼i

중국어번역표제:

▼a

宋代官學教育與科舉
246

1

9

▼a

Government education and examinations in Sung China
246

3

▼a

Song dai guan xue jiao yu yu ke ju
260

▼a

진주 :

▼b

경상대학교 출판부,

▼c

2010
300

▼a

379 p. :

▼b

가계도 ;

▼c

23 cm
500

▼a

부록: 1. 宋代登科人數表, 2. 10년 주기로 계산한 과거 등과인수, 3. 韓琦, 范仲淹의 교육개혁에 관한 建議 외
504

▼a

참고문헌(p. 341-362)과 색인수록
546

▼a

영어로 된 원저작을 중국어로 번역하고, 이것을 다시 한글로 번역
650

0

▼a

Education

▼z

China

▼x

History
650

0

▼a

Civil service

▼z

China

▼x

Examinations

▼x

History
651

0

▼a

China

▼x

History

▼y

Sung dynasty, 960-1279
700

1

▼a

강길중

▼g

姜吉仲,

▼e

역

▼0

AUTH(211009)27152
900

1

0

▼a

Lee, Thomas H. C.,

▼e

저
900

1

0

▼a

李弘祺,

▼e

저
900

1

0

▼a

Li, Hongqi,

▼e

저
945

▼a

KLPA
---
Holdings Information
No.
Location
Call Number
Accession No.
Availability
Due Date
Make a Reservation
Service

No.

1

Location

Main Library/Monographs(3F)/

Call Number

379.51 2010z1

Accession No.

111770671

Availability

In loan

Due Date

2023-06-26

Make a Reservation

Available for Reserve

Service
Contents information
Book Introduction
송대는 문신관료제가 근간을 이룬 사회로 관학교육이 학문의 발전에 중요한 위치를 점하였다. 그러므로 송대 관학과 서원제도는 이후 중국 학교제도의 기초를 이루었을 뿐만 아니라 과거제도의 정형화와 함께 형성된 중국의 사대부사회를 지속시켰다. 이 책은 이러한 점을 중시하여 관학교육과 과거제도의 관계 그리고 사회에 미친 영향에 대해 서술하고 있다.
이 책의 원제목은 "Governent Education and Examinations in Sung China"로 번역하면 "송대 관학교육과 과거"이다. 이 책은 홍콩 중문대학 출판사와 미국 St. Martinas 출판사에서 1985년 출판되었으며, 그 후 1987년 중문본(中文本)이 대만 연경(聯經) 출판사에서 출간되었다.
이 책의 저자인 이홍기(李弘祺)교수는 국립대만대학교를 졸업하고, 미국 Yale대학에서 박사학위를 취득하였다. 그 후 홍콩 중문(中文)교수를 거쳐 미국 뉴욕대학 중국학(역사)교수와 대만국립교통대학 인문사회대학 학장으로 재직하고 있는 저명한 송대 역사연구 학자이다.
송대는 문신관료제가 근간을 이룬 사회로 관학교육이 학문의 발전에 중요한 위치를 점하였다. 그러므로 송대 관학과 서원제도는 이후 중국 학교제도의 기초를 이루었을 뿐만 아니라 과거제도의 정형화와 함께 형성된 중국의 사대부사회를 지속시켰다. 이 책은 이러한 점을 중시하여 관학교육과 과거제도의 관계 그리고 사회에 미친 영향에 대해 서술하고 있다.
Information Provided By: :

Author Introduction
이홍기
(지은이)
臺灣大學을 졸업하고, 미국 Yale대학에서 역사학 박사 취득. 현재 뉴욕 시립대학 역사학과 및 대학원 박사 지도교수(2007-2009년 휴가) 및 대만 국립교통대학 講座敎授겸 人文大學學長. 또한, 東京大學東亞地域文化交流史硏究計劃의 국제고문(2005~2010), 北京大學 및 湖南大學 各座敎授(2007/11)로 활동하고 있다. 硏究成果 著書 : The New and the Multiple,Sung Senses of the Past(2004): Education in Traditional China, a History(2000):China and Europe, Images and Influences in the Sixteeth to Eighteenth Centuries(1992); Government Education and Examinations in Sunf China, 1985) 등 4권의 英文典書와 『中國 敎育史英文著作評介』(2005)등 12권의 中文著作을 출판하였다. 또한 근 100여 편에 달하는 학술논문을 발표하였다.
강길중
(옮긴이)
경희대학교 사학과 졸업 중국문화대학교(대만) 역사연구소 박사 미국 UC Berkeley대학교 객원교수 대만불광대학교 인문강좌교수, 국립경상대학교 인문대학 학장 해외지역연구소장, 경상대학교 교육부총장 겸 교무처장 현재 국립경상대학교 사학과 교수 著書 『韓中關係史硏究論叢』 , 북경대학교 한국학연구중심, 한국학총서, 홍콩, 2003. 『중국역사의 이해』 , 경상대출판부, 2004. 『高麗與宋金外交經貿關係史論』 , 대만, 文津출판사,2004. 『中國的歷史與文化』 , 경상대출판부, 2013. 『송대관료계층의 현실인식과 경세관』, 박이정, 2018. 飜譯 『中國文化與科擧制度』 , 중문출판사, 1994. 『우아함의 탄생』, 민음사, 2009. 『宋代官學敎育與科擧』 , 경상대출판부, 2010. 論文 「송대 관세의 징수체계와 그 재정적 비중」, 역사문화연구 22, 2005. 「北宋時期 社會經濟 發展과 商業:農業과 手工業 發展을 중심으 로」 , 역사문화연구, 27, 2007. 「宋代 文化形成과 人文學의 發展」 , 역사문화연구, 35, 2010. 「李?의 現實認識과 吏治法 改革論」 , 동양사학연구, 120, 2012. 「宋代科擧制度의改革論議와文化:宋代科擧制度的改革議論與其文化 特徵」 , 역사와 경계, 92, 2014. 「陳亮의 現實認識과 經世觀」 , 2015. 「范仲淹의 現實認識과 經世觀」 , 역사학연구, 63, 2016. 외 다수
Information Provided By: :

Table of Contents
제1부 서론 
제1장 송대 이전의 교육 
제2장 송대 교육 개론 
제3장 송대 교육의 연구: 문제와 목적 

제2부 송대 관학과 과거 
제4장 고등교육 
제5장 지방 관학 
제6장 과거고시 
제7장 관학 생활 

제3부 과거고시의 성질과 의의 
제8장 사회의 의의 공정 평등과 사회 유동 
제9장 도덕의 목적 

제4부 총평가 
제10장 관학 교육의 의의와 표현