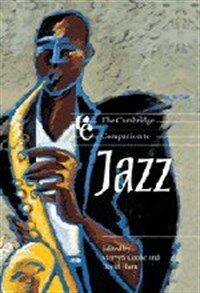 000
00000cam u2200205 a 4500
001
000045902455
005
20170410114937
008
170407s2002 enka b 001 0 eng d
010

▼a

2001052671
020

▼a

0521663202
020

▼a

9780521663205 (hbk.)
020

▼a

0521663881 (pbk.)
020

▼a

9780521663885 (pbk.)
035

▼a

(KERIS)REF000006675779
040

▼a

DLC

▼c

DLC

▼d

DLC

▼d

211009
050

0

0

▼a

ML3506

▼b

.C29 2002
082

0

0

▼a

781.65

▼2

23
084

▼a

781.65

▼2

DDCK
090

▼a

781.65

▼b

C178
245

0

4

▼a

The Cambridge companion to jazz /

▼c

edited by Mervyn Cooke and David Horn.
260

▼a

Cambridge ;

▼a

New York :

▼b

Cambridge University Press,

▼c

c2002.
300

▼a

xxii, 403 p. :

▼b

ill. ;

▼c

25 cm.
490

1

▼a

Cambridge companions to music
504

▼a

Includes bibliographical references (p. 357-376) and index.
650

0

▼a

Jazz

▼x

History and criticism.
700

1

▼a

Cooke, Mervyn.
700

1

▼a

Horn, David,

▼d

1942-.
830

0

▼a

Cambridge companions to music.
945

▼a

KLPA
---
Holdings Information
No.
Location
Call Number
Accession No.
Availability
Due Date
Make a Reservation
Service

No.

1

Location

Main Library/Western Books/

Call Number

781.65 C178

Accession No.

111770390

Availability

Available

Due Date

Make a Reservation

Service
Contents information
Author Introduction
머빈 쿡
(엮은이)
왕립 음악아카데미와 케임브리지 대학 킹스탈리지에서 공부했으며, 케임브리지 대학 피츠윌리엄 칼리지에서 6년 동안 음악 연구원과 지휘자로 활동했다. 현재 노팅엄 대학 음악 교수인 그는 피아노 연주자이며 작곡가이기도 하다. 그가 쓴 곡들은 BBC 제3라디오와 라디오 프랑스 전파를 타기로 했으며, 런던 사우스 뱅크 센터와 세인트존스 스미스 스퀘어에서 꾸준히 공연되고 있다. 지은 책으로는 <재즈 연대기>,<케임브리지 20세기 오페라 길잡이>등이 있다.
Information Provided By: :

Table of Contents
Chronology of jazz; The word 'jazz' Krin Gabbard; Part I. Jazz Times: 1. The identity of jazz David Horn; 2. The jazz diaspora Bruce Johnson; 3. The jazz audience Jed Resula; 4. Jazz and dance Robert Crease; Part II. Jazz Practices: 5. Jazz as musical practice Travis Jackson; 6. Jazz as cultural practice Bruce Johnson; 7. Jazz improvization Ingrid Monson; 8. Spontaneity and organization Pete Martin; 9. Jazz among the classics, and the case of Duke Ellington Mervyn Cooke; Part III. Jazz Changes: 10. 1959: the beginning of beyond Darius Brubeck; 11. Free jazz and the avant-garde Jeff Pressing; 12. Fusions and crossovers Stuart Nicholson; Part IV. Soundings: 13. Learning jazz, teaching jazz David Aka; 14. History and myth: the problem of early jazz David Sagar; 15. Analysing jazz Thomas Owens; Part V. Jazz Takes: 16. Valuing jazz Robert Walser; 17. The jazz business Dave Laing; 18. Images of jazz Krin Gabbard; Personalia.
Information Provided By: :