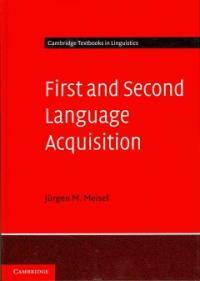 000
00000cam u2200205 a 4500
001
000045895866
005
20170222141432
008
170221s2011 enk b 001 0 eng d
010

▼a

2010051571
020

▼a

9780521552943 (hardback)
020

▼a

9780521557641 (paperback)
035

▼a

(KERIS)REF000016166113
040

▼a

DLC

▼b

eng

▼c

DLC

▼e

rda

▼d

DLC

▼d

211009
050

0

0

▼a

P118.2

▼b

.M45 2011
082

0

0

▼a

418.0071

▼2

23
084

▼a

418.0071

▼2

DDCK
090

▼a

418.0071

▼b

M515f
100

1

▼a

Meisel, Jürgen M.,

▼d

1944-.
245

1

0

▼a

First and Second Language Acquisition :

▼b

Parallels and Differences /

▼c

Jürgen M. Meisel, Universität Hamburg and University of Calgary.
260

▼a

Cambridge :

▼b

Cambridge University Press,

▼c

c2011.
300

▼a

xviii, 302 p. ;

▼c

25 cm.
490

1

▼a

Cambridge Textbooks in Linguistics
504

▼a

Includes bibliographical references and indexes (p. 270-294).
505

8

▼a

Machine generated contents note: 1. The quest for the LAD; 2. First language development - Universal Grammar as the centerpiece of the human language making capacity; 3. Obvious (observable) similarities and differences between first and second language acquisition - developmental sequences; 4. The initial state and beyond; 5. Developing grammatical knowledge - parameter setting and inductive learning; 6. Neural maturation and age - opening and closing windows of opportunities; 7. A (tentative) theory of language acquisition - L1, 2L1, and L2.
520

▼a

"Infants and very young children develop almost miraculously the ability of speech, without apparent effort, without even being taught - as opposed to the teenager or the adult struggling without, it seems, ever being able to reach the same level of proficiency as five year olds in their first language. This useful textbook serves as a guide to different types of language acquisition: monolingual and bilingual first language development and child and adult second language acquisition. Unlike other books, it systematically compares first and second language acquisition, drawing on data from several languages. Research questions and findings from various subfields are helpfully summarized to show students how they are related and how they often complement each other. The essential guide to studying first and second language acquisition, it will be used on courses in linguistics, modern languages and developmental psychology"--

▼c

Provided by publisher.
520

▼a

"This is an introduction to the study of the human Language Making Capacity. More accurately, it is a textbook presenting research questions and research results referring to specific manifestations of this capacity in monolingual and bilingual first language acquisition and child and adult second language acquisition. A more comprehensive treatment of this subject would have to address other aspects as well, for example, the genesis and change of languages, creolization and pidginization, language attrition and loss, impaired acquisition, and so forth"--

▼c

Provided by publisher.
650

0

▼a

Second language acquisition.
650

0

▼a

Language and languages

▼x

Study and teaching.
830

0

▼a

Cambridge Textbooks in Linguistics.
945

▼a

KLPA
---
Holdings Information
No.
Location
Call Number
Accession No.
Availability
Due Date
Make a Reservation
Service

No.

1

Location

Main Library/Western Books/

Call Number

418.0071 M515f

Accession No.

111767734

Availability

Available

Due Date

Make a Reservation

Service
Contents information
Table of Contents
Machine generated contents note: 1. The quest for the LAD; 2. First language development
Universal Grammar as the centerpiece of the human language making capacity; 3. Obvious (observable) similarities and differences between first and second language acquisition
developmental sequences; 4. The initial state and beyond; 5. Developing grammatical knowledge
parameter setting and inductive learning; 6. Neural maturation and age
opening and closing windows of opportunities; 7. A (tentative) theory of language acquisition
L1, 2L1, and L2.