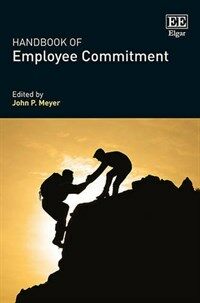 000
00000cam u2200205 a 4500
001
000045895861
005
20170222140520
008
170221s2016 enka b 001 0 eng d
010

▼a

2016938602
020

▼a

178471173X
020

▼a

9781784711733
035

▼a

(KERIS)REF000018257622
040

▼a

YDXCP

▼b

eng

▼c

YDXCP

▼e

rda

▼d

BTCTA

▼d

OCLCQ

▼d

AZK

▼d

CHVBK

▼d

OCLCO

▼d

OCLCF

▼d

DLC

▼d

211009
050

0

0

▼a

HF5549.5.M63

▼b

H356 2016
082

0

4

▼a

658.314

▼2

23
084

▼a

658.314

▼2

DDCK
090

▼a

658.314

▼b

H2363
245

0

0

▼a

Handbook of employee commitment /

▼c

edited by John P. Meyer..
260

▼a

Cheltenham, UK ;

▼a

Northampton, MA :

▼b

EE, Edward Elgar Publishing,

▼c

c2016.
300

▼a

xiv, 549 p. :

▼b

ill. ;

▼c

26 cm.
504

▼a

Includes bibliographical references and index.
520

▼a

A high level of employee commitment holds particular value for organizations owing to its impact on organizational effectiveness and employee well-being. This Handbook provides an up-to-date review of theory and research pertaining to employee commitment in the workplace, outlining its value for both employers and employees and identifying key factors in its development, maintenance or decline.Including chapters from leading theorists and researchers from around the world, this Handbook presents cumulated and cutting-edge research exploring what commitment is, the different forms it can take,
650

0

▼a

Employee motivation.
650

0

▼a

Autonomy (Psychology).
650

0

▼a

Organizational behavior.
650

0

▼a

Psychology, Industrial.
700

1

▼a

Meyer, John P.,

▼d

1950- .
945

▼a

KLPA
---
Holdings Information
No.
Location
Call Number
Accession No.
Availability
Due Date
Make a Reservation
Service

No.

1

Location

Main Library/Western Books/

Call Number

658.314 H2363

Accession No.

111767729

Availability

In loan

Due Date

2021-11-04

Make a Reservation

Available for Reserve

Service
Contents information
Table of Contents
Introduction
1. Employee commitment: an introduction and roadmap / J.P. Meyer
Part I Conceptualization of commitment
2. Commitment as a unidimensional construct / H.J. Klein and H. Park
3. Commitment as a multi-dimensional construct / N.J. Allen
4. Multiple foci of workplace commitments / T.E. Becker
Part II related constructs
5. A motivational model of employee attachment to an organization / M. Gagné and J. Howard
6. Organizational commitment and employee engagement: 10 key questions / S.L. Albrecht and O.J. Dineen
7. Job embeddedness, employee commitment and related constructs / B.C. Holtom
8. Organizational identification / R. van Dick
9. Psychological contracts / S.D. Hansen and Y. Griep
Part III foci of commitment
10. Occupational commitment / J.P. Meyer and J.A. Espinoza
11. Social commitments / C. Vandenberghe
12. The rise, decline, resurrection, and growth of union commitment research / P. Horsman, D.G. Gallaghar and E.K. Kelloway
13. Action commitments / J.P. Meyer and B.K. Anderson
Part IV consequences of commitment
14. Employee turnover and absenteeism / I.R. Gellatly and L.M. Hedberg
15. Employee commitment and performance / D.J. Stanley and J.P. Meyer
16. Counterproductive work behavior / B. Marcus
17. Employee commitment and well-being / A.C. Chris, E.R. Maltin and J.P. Meyer
18. Affective consequences of workplace commitments / H.J. Klein and C.T. Brinsfield
Part V drivers of commitment
19. Individual differences as causes of the development of commitment / M.E. Bergman and V.A. Jean
20. Person-environment fits as drivers of commitment / A.E.M. van Vianen, M.R.W. Hamstra and J. Koen
21. Strategic human resource management and organizational commitment / K. Jiang
22. Organizational leadership and employee commitment / M. Trivisonno and J. Barling
23. Employee empowerment and organizational commitment / H.K. Laschinger, E. Read and Z. Junhong
24. Perceived organizational support / F. Stinglhamber, G. Caesens, L. Clark and R. Eisenberger
25. Organizational justice and employee commitment: a review of contemporary research / D.R. Bobocel and F. Mu
Part VI commitment across cultures
26. Understanding commitment across cultures / S.A. Wasti
27. Commitment in Europe / J. Felfe and J. Wombacher
28. Employee commitment in China / A. Newman and D. Wang
29. An examination of the social-institutional, cultural, and organizational antecedents of commitment in India / V.L. Dhir, N.L. Bremner and S. Datta
30. Commitment in the Middle East / A. Cohen
31. Organizational commitment: a Latin American soap opera / L.M. Arciniega
Part VII methodological issues
32. A contemporary update on testing for measurement equivalence and invariance / R.J. Vandenberg and N.A. Morelli
33. Tracking change in commitment over time: the latent growth modeling approach / K. Bentein
34. Capturing the process of committing: design requirements for a temporal measurement instrument / W. van Olffen, O.N. Solinger and R.A. Roe
35. Person-centered research strategies in commitment research / A.J.S. Morin
Part VIII conclusion
36. Employee commitment: a back and moving forward / J.P. Meyer.