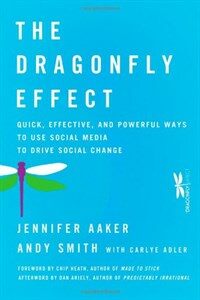 The dragonfly effect : quick, effective, and powerful ways to use social media to drive social change 1st ed
000
00000cam u2200205 a 4500
001
000045893369
005
20170119103405
008
170118s2010 caua b 001 0 eng d
010

▼a

2010024706
015

▼a

GBB078289

▼2

bnb
020

▼a

9780470614150 (hc)
020

▼a

0470614153 (hc)
035

▼a

(KERIS)REF000016258763
040

▼a

DLC

▼c

DLC

▼d

BTCTA

▼d

UKM

▼d

YDXCP

▼d

C#P

▼d

BWX

▼d

CDX

▼d

MNW

▼d

DLC

▼d

211009
050

0

0

▼a

HF5415.1265

▼b

.A25 2010
082

0

0

▼a

658.8/72

▼2

23
084

▼a

658.872

▼2

DDCK
090

▼a

658.872

▼b

A111d
100

1

▼a

Aaker, Jennifer Lynn.
245

1

4

▼a

The dragonfly effect :

▼b

quick, effective, and powerful ways to use social media to drive social change /

▼c

Jennifer Aaker, Andy Smith ; with Carlye Adler.
250

▼a

1st ed.
260

▼a

San Francisco :

▼b

Jossey-Bass,

▼c

c2010.
300

▼a

xxv, 211 p. :

▼b

ill. ;

▼c

22 cm.
504

▼a

Includes bibliographical references and index.
505

0

▼a

The dragonfly body: the system that keeps it airborne -- Wing 1: Focus: How to hatch a goal that will make an impact -- Wing 2: Grab attention: How to stick out in an overcrowded, overmessaged, noisy world -- Wing 3: Engage: How to make people connect with your goal -- Wing 4: Take action: How to empower others, enable them and cultivate a movement -- Onward and upward: You're flying! Now what?
520

▼a

"Proven strategies for harnessing the power of social media to drive social change Many books teach the mechanics of using Facebook, Twitter, and YouTube to compete in business. But no book addresses how to harness the incredible power of social media to make a difference. The Dragonfly Effect shows you how to tap social media and consumer psychological insights to achieve a single, concrete goal. Named for the only insect that is able to move in any direction when its four wings are working in concert, this book. Reveals the four "wings" of the Dragonfly Effect-and how they work together to produce colossal results. Features original case studies of global organizations like the Gap, Starbucks, Kiva, Nike, eBay, Facebook; and start-ups like Groupon and COOKPAD, showing how they achieve social good and customer loyalty. Leverage the power of design thinking and psychological research with practical strategies. Reveals how everyday people achieve unprecedented results-whether finding an almost impossible bone marrow match for a friend, raising millions for cancer research, or electing the current president of the United States. The Dragonfly Effect shows that you don't need money or power to inspire seismic change."--

▼c

Provided by publisher.
650

0

▼a

Internet marketing

▼x

Political aspects.
650

0

▼a

Social media

▼x

Political aspects.
650

0

▼a

Internet

▼x

Social aspects.
650

0

▼a

Social entrepreneurship.
650

0

▼a

Social responsibility of business.
650

0

▼a

Social change.
700

1

▼a

Smith, Andy,

▼d

1968-.
700

1

▼a

Adler, Carlye.
945

▼a

KLPA
---
Holdings Information
No.
Location
Call Number
Accession No.
Availability
Due Date
Make a Reservation
Service

No.

1

Location

Main Library/Education Reserves1/

Call Number

658.872 A111d

Accession No.

111766226

Availability

Available

Due Date

Make a Reservation

Service
Contents information
Table of Contents
Foreword by Chip Heath, author of Made to Stick and Switch.  

Preface.

 

Introduction: Why Reading This Book Is Worth the Investment.

 

The Dragonfly Body The System That Keeps It Airborne.

 

Wing 1: Focus: How to Hatch a Goal That Will Make an Impact.

 

Wing 2: Grab Attention: How to Stick Out in an Overcrowded, Overmessaged, Noisy World.

 

Wing 3: Engage: How to Make People Connect with Your Goal.

 

Wing 4: Take Action: How to Empower Others, Enable Them—and Cultivate a Movement.

 

Onward and Upward You're Flying! Now What?

 

Afterword by Dan Ariely, author of Predictably Irrational and The Upside of Irrationality.

 

Notes.

 

The Dragonfly Ecosystem.

 

About the Authors.

 

Index.
Information Provided By: :