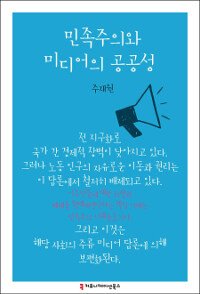 000
00000cam c2200205 c 4500
001
000045892761
005
20170124114915
007
ta
008
170116s2016 ulk b 000c kor
020

▼a

9791130472126

▼g

04300
020

▼a

9791130498003 (세트)
035

▼a

(KERIS)BIB000014266416
040

▼a

211048

▼c

211048

▼d

244002
082

0

4

▼a

302.23

▼2

23
085

▼a

302.23

▼2

DDCK
090

▼a

302.23

▼b

2016z8
100

1

▼a

주재원
245

1

0

▼a

민족주의와 미디어의 공공성 /

▼d

주재원 지음
260

▼a

서울 :

▼b

커뮤니케이션북스,

▼c

2016
300

▼a

xxiv, 97 p. ;

▼c

19 cm
440

0

0

▼a

한국언론정보학회지식총서
504

▼a

참고문헌 수록
---
Holdings Information
No.
Location
Call Number
Accession No.
Availability
Due Date
Make a Reservation
Service

No.

1

Location

Sejong Academic Information Center/Social Science/

Call Number

302.23 2016z8

Accession No.

151333151

Availability

Available

Due Date

Make a Reservation

Service
Contents information
Book Introduction
한국언론정보학회지식총서. 전 지구화로 국가 간 경제적 장벽이 낮아지고 있다. 그러나 노동 인구의 자유로운 이동과 권리는 이 담론에서 철저히 배제되고 있다. 이주민들에 대한 차별과 배제를 확대재생산하는 핵심 기제는 민족주의 이데올로기다. 그리고 이것은 해당 사회의 주류 미디어 담론에 의해 보편화된다. 그럼 한국은 어떠한가? 단일민족으로 종족적 민족주의 형성과 그 이면에 작용하는 미디어의 역할, 이를 극복하기 위한 대안을 모색해 본다.
전 지구화로 국가 간 경제적 장벽이 낮아지고 있다. 그러나 노동 인구의 자유로운 이동과 권리는 이 담론에서 철저히 배제되고 있다. 이주민들에 대한 차별과 배제를 확대재생산하는 핵심 기제는 민족주의 이데올로기다. 그리고 이것은 해당 사회의 주류 미디어 담론에 의해 보편화된다. 그럼 한국은 어떠한가? 2000년대 이후 급격히 유입한 이주민들을 제대로 감싸안고 있는가. 단일민족으로 종족적 민족주의 형성과 그 이면에 작용하는 미디어의 역할, 이를 극복하기 위한 대안을 모색해 본다.

■ 한국언론정보학회지식총서는
미디어를 거시적 · 구조적 · 비판적으로 성찰해 온 한국언론정보학회가 기획하고, 커뮤니케이션북스가 발행합니다. 달라진 미디어 환경을 살아가기 위해 대중이 알아야 할 다양한 현실과 문제에 새로운 인식을 제공합니다. 생활에 중요한 영향을 미치는 커뮤니케이션 기술과 의미를 미디어 업계 종사자뿐만 아니라 대학생과 일반인도 이해하기 쉽게 풀었습니다. 다양한 영역의 전문가들이, 미디어가 만드는 소통과 관계, 정보와 지식의 생산과 확산에 대한 폭넓은 통찰을 제공합니다.

Information Provided By: :

Author Introduction
주재원
(지은이)
한동대학교 언론정보문화학부 조교수다. 영국 런던정경대학교(LSE)에서 커뮤니케이션학으로 박사학위를 받았다. 2007년부터 5년간 한국방송협회, 한국콘텐츠진흥원, 언론중재위원회 등 다수 기관의 영국 통신원으로 일하면서 영국과 유럽의 미디어 산업, 법제 및 문화 현상 등을 연구했다. 저서로 <한국 다문화주의 비판>(공저, 2016), <커뮤니케이션의 새로운 은유들>(공저, 2014), <게임포비아>(공저, 2013), Representing Difference in the British Media(공저, 2009) 등이 있다. 주요 논문으로는 "The Discursive Construction of Discrimination: The Representation of Migrants in the Korean Public Service Broadcasting News"(2015), "매체 서사로서의 역사와 집합기억의 재현: 5·18 민주화운동 관련 지상파방송 뉴스를 중심으로"(2015), "다문화 담론 이면의 타자와 미디어 윤리: 타자에 대한 윤리철학적 논의들을 중심으로"(2014) 등이 있다.
Information Provided By: :

Table of Contents
전 지구화와 민족주의의 대두 
01	전 지구화, 국제적 이주 그리고 미디어 
02	미디어 속 타자 
03	한국 사회의 민족주의적 환경 변화 
04	근대 사회 이전의 민족주의 
05	일제강점기와 민족주의 
06	독립 이후의 민족주의 
07	근대화와 독재 시대의 민족주의 
08	전 지구화의 확장과 민족주의 
09	공론장으로서의 미디어와 민족 정체성 
10	미디어 공공성과 타자에 대한 책임