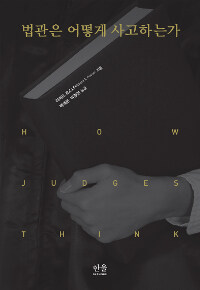 000
00000nam c2200205 c 4500
001
000045889048
005
20200416092227
007
ta
008
161125s2016 ggk 001c kor
020

▼a

9788946059337

▼g

93360
020

▼a

9788946062436

▼g

93360
040

▼a

211009

▼c

211009

▼d

211009
041

1

▼a

kor

▼h

eng
082

0

4

▼a

347/.012

▼2

23
085

▼a

347.012

▼2

DDCK
090

▼a

347.012

▼b

2016
100

1

▼a

Posner, Richard A.

▼0

AUTH(211009)143193
245

1

0

▼a

법관은 어떻게 사고하는가 /

▼d

리처드 포스너 지음 ;

▼e

백계문,

▼e

박종현 옮김
246

1

9

▼a

How judges think
260

▼a

파주 :

▼b

한울아카데미,

▼c

2016
300

▼a

550 p. ;

▼c

23 cm
440

0

0

▼a

한울아카데미 ;

▼v

1933
500

▼a

색인수록
650

0

▼a

Judicial process
650

0

▼a

Judicial process

▼z

United States
700

1

▼a

백계문,

▼e

역

▼0

AUTH(211009)81531
700

1

▼a

박종현,

▼e

역

▼0

AUTH(211009)69847
900

1

0

▼a

포스너, 리처드,

▼e

저
945

▼a

KLPA
---
Holdings Information
No.
Location
Call Number
Accession No.
Availability
Due Date
Make a Reservation
Service

No.

1

Location

Main Library/Law Library(Books/B1)/

Call Number

347.012 2016

Accession No.

111764140

Availability

Available

Due Date

Make a Reservation

Service

No.

2

Location

Main Library/Law Library(Books/B1)/

Call Number

347.012 2016

Accession No.

111827516

Availability

Available

Due Date

Make a Reservation

Service
Contents information
Book Introduction
저명하고 노련한 항소법원 판사 리처드 포스너는 법의 집행이라는 막중한 책임을 지닌 법관이 무엇을 근거로 법을 판단하는지, 법관의 인격이나 정치적 성향이 재판에 얼마만큼 영향을 미치는지, 법관에게 주어진 판단의 자유는 어느 정도인지에 대해 실증적 분석을 시도한다.

사법행태에 대한 기존 이론과 법규주의적 설명을 통렬하게 비판하는 이 책은, 법관들이 실제로는 배경이나 환경으로부터 영향을 받고 있으며 정책적 판단하에 재판을 수행하고 있음을 논증한다. 쉽사리 접근하기 힘든 이 주제를 포스너는 경제학, 철학, 문학, 역사학을 아우르는 지적 역량을 바탕으로 이론적이고 분석적으로 파헤친다.
사법적 의사결정 과정을 실증적으로 파헤친
도발적이고 논쟁적인 저작

사람들은 흔히 법관이 법적 증거를 토대로 사건의 진실을 판단하고 판결을 내린다고 여긴다. 하지만 실제로는 법관들은 재량권을 가지며 그 재량권을 행사한다. 법적 원칙만 적용해서는 판결을 내리기가 무척 어렵기 때문이다. 저명하고 노련한 항소법원 판사 리처드 포스너는 법의 집행이라는 막중한 책임을 지닌 법관이 무엇을 근거로 법을 판단하는지, 법관의 인격이나 정치적 성향이 재판에 얼마만큼 영향을 미치는지, 법관에게 주어진 판단의 자유는 어느 정도인지에 대해 실증적 분석을 시도한다.
사법행태에 대한 기존 이론과 법규주의적 설명을 통렬하게 비판하는 이 책은, 법관들이 실제로는 배경이나 환경으로부터 영향을 받고 있으며 정책적 판단하에 재판을 수행하고 있음을 논증한다. 쉽사리 접근하기 힘든 이 주제를 포스너는 경제학, 철학, 문학, 역사학을 아우르는 지적 역량을 바탕으로 이론적이고 분석적으로 파헤친다.

법관의 판결 과정에 대한 비판적이고 분석적인 문제 제기

모든 중요한 정치·경제 사안은 물론이고, 사회·문화·예술적 사안에 이르기까지 법의 테두리에서 자유로운 분야는 없다. 정치인이면서 입법의 권리를 지닌 국회의원은 말할 것도 없고, 탈세·비리·뇌물과 연루된 경제인, 마약이나 성범죄로 입방아에 오르는 연예인들조차도 법률적 심판으로 잘잘못이 가려진다. 이 심판을 집행하는 것은 법관이며, 따라서 헌법 제11조에 명시된 것처럼 '모든 국민은 법 앞에 평등'하려면 법관의 역할이 무엇보다도 중요하다.
그렇다면 법의 집행이라는 막중한 책임을 진 법관은 무엇을 근거로 법을 판단할까? 법관의 인격이나 자라온 환경, 정치적 성향이 재판에 얼마만큼 영향을 미칠까? 법관에게 주어진 판단의 자유는 어느 정도의 크기일까? 판결을 내리는 데 법 자체의 영향이 클까, 법관 개개인의 성향이 더 큰 영향을 미칠까? 이 책은 이런 질문에서 시작된다.

법관이 입법자가 되기도 하는 사법적 의사결정을 실증한 책

사람들은 흔히 법관이 법적 증거를 토대로 사건의 진실을 판단하고 판결을 내린다고 여긴다. 하지만 정말 그럴까? 만약 법관의 일이 만들어진 법규들을 단순히 적용하는 데 그치다면 법관은 장차 인공지능 프로그램으로 차차 대체될 것이다. 하지만 법관들은 재량권을 가지며 그 재량권을 행사한다. 특히 항소법원의 판사는 '때때로 입법자'가 되기도 한다. 이런 상황이 발생하는 것은, 법의 엄격한 해석을 중시하는 법규주의자들의 바람과 달리 실제로는 법적 원칙만 적용해서 판결을 내리기가 무척 어렵기 때문이다.
미국 저명 법학지에 의해 20세기에 가장 많이 인용된 법학자로 공인된 리처드 포스너는 경제학, 철학, 문학, 역사학을 아우르는 지적 역량을 바탕으로 감히 건드리기 어려운 이 주제를 이론적이고 분석적으로 파헤친다. 법실용주의를 사법철학으로 하는 포스너는 법관이 자신의 경험, 감정, 정치적 견해 등을 근거로 판결을 내리고 있다고 규명한다. 또한 그는 미국의 법관은 큰 재량권을 갖고 있기 때문에 때로는 입법자 역할을 하며 법관이 입법하는 데 가장 크게 좌우되는 요소는 정치적 고려라는 충격적인 사실을 제기하기도 한다. 한편 대법관은 입법자로서의 유혹에 가장 크게 노출되어 있으며, 따라서 대법원은 법원 중 가장 정치적인 법원이라고 폭로한다.

법철학의 대가이자 법경제학의 개척자 포스너의 논쟁적 저작

그간 고전으로 추앙받아온 사법행태에 대한 이론들을 비판하고 도발적인 문제를 제기하는 만큼 이 책은 매우 논쟁적이다. 이 책은 법관은 명확한 규칙을 삼단논법에 따라 사실에 적용해 정치적·도덕적 고려 없이 객관적이고 일관된 정답을 도출할 수 있다고 여긴 기존의 법규주의적 설명을 통렬하게 비판한다. 그뿐만 아니라 법관들에게 위선을 버리고 자신들이 실제로는 자신들의 배경이나 환경에 영향을 받으며 판결의 결과를 고려한 정책적 판단을 재판에서 수행하고 있음을 고백하라고 촉구한다.
또한 포스너는 법관들이 자신의 특권적 지위를 유지하기 위해 사법적 심의를 내밀하게 진행하는 한편, 다른 사람들의 불신을 극복하기 위해 자신의 전문 기술을 과장하기도 하며, 자신은 이해관계에서 초연하고 공평무사한 존재라도 되는 것처럼 행동한다고 비난한다. 그런 측면에서 법관은 도덕적으로나 지적으로나 초인이 아니고, 예언자도, 신탁을 전하는 사람도, 민중의 대변인도, 계산에 뛰어난 자도 아니며, 자신이 처한 노동시장의 조건에 여타 노동자와 똑같이 반응하는, 너무나 인간적인 노동자일 뿐임을 강조한다. 이 책을 쓰면서 저자가 심리학을 중시한 것도 이 때문이다.

무분별한 비난이 아닌, 법관에 대한 신뢰를 바탕으로 한 현직 판사의 제언

이 책이 뛰어난 이유는, 법관이 자신의 재량을 마음껏 휘두른다는 식의 비난을 일삼는 것이 아니라 대부분의 법관은 훌륭한 법관이 되기 위해 노력한다는 것을 대전제로 삼아, 개인적 특질, 직관, 감정, 선입견 같은 내적 요인들이 법관의 재량을 일정 부분 제한하고, 불확실성 속에서 재판을 수행하는 데 나름의 기능을 수행하며, 제도적 요인과 아우러져 법관이 훌륭한 판단을 내리는 데 도움이 될 수 있음을 강조한다는 데 있다.
이 책은 미국의 영미법과 달리 대륙법 체계를 따르는 우리나라의 사법 현실과 다소 상이한 면도 있지만, 법조계 관련 문제가 끊이지 않는 우리 현실에서 법관이 어떻게 행동하고 왜 그렇게 행동하는지, 이런 행동의 결과는 어떻게 될 가능성이 높은지에 대한 답을 찾는 데 귀중한 지적 도구가 될 것이다.
Information Provided By: :

Author Introduction
리처드 A. 포스너
(지은이)
1939년 미국 뉴욕에서 태어나 하버드 대학교 로스쿨을 졸업한 뒤, 현재 미 연방항소법원 판사이자 시카고 대학교 로스쿨 교수로 재직하고 있다. 법학자이자 경제학자로서 왕성하게 활동하며 각종 사회문제에 대해 날카로운 비판을 끊임없이 내놓는 포스너는 오늘날 미국의 법과 경제 분야에서 가장 큰 영향력을 행사하는 인물 중 하나로 꼽힌다. 『법경제학(Economic Analysis of Law)』, 『성과 이성(Sex and Reason)』, 『사회 참여적 지식인(Public Intellectuals)』, 『법, 실용주의, 민주주의(Law, Pragmatism, and Democracy)』, 『대재앙(Catastrophe)』, 『반테러(Countering Terrorism)』, 『자본주의의 실패(A Failure of Capitalism)』, 『자본주의적 민주주의의 위기(The Crisis of Capitalist Democracy)』 등 40여 권에 달하는 저작을 발표했다.
백계문
(옮긴이)
서울대학교 법과대학을 졸업하고, 중앙대학교 대학원에서 교육학을 전공했다. 민주화운동가이자 정치활동가다. 저서로 『성공한 개혁가 룰라』(2011)가 있으며, 역서로 『중국 문제: 핵심어로 독해하기』(2016), 『다치바나키 도시아키가 이야기하는 행복의 경제학』(2015),『경제에서 본 리스크』(2014), 『리스크학이란 무엇인가』(2014), 『중국의 도시화와 농민공』(2014), 『루쉰』(2014), 『중국 기업의 르네상스』(2013), 『진화하는 중국의 자본주의』(2012) 등 다수가 있다.
박종현
(옮긴이)
서울대학교 법과대학 법학과(법학사) 서울대학교 대학원 법학과(법학석사) 서울대학교 대학원 법학과(법학박사, 헌법) Harvard Law School(LL.M.) (현) 국민대학교 법과대학 부교수 미국 뉴욕주 변호사
Information Provided By: :

Table of Contents
제1부 기본 모형 
1장 사법행태에 관한 아홉 가지 이론 
2장 노동시장 참여자로서의 법관 
3장 '때때로 입법자'인 법관 
4장 입법하는 법관의 심리 

 제2부 모형 정교화 
5장 사법 환경: 재판에 대한 외적 제약 
6장 환경 바꾸기: 종신제와 급여 문제 
7장 재판 방법: 재판에 대한 내적 제약 
8장 법관은 법학 교수가 아니다 
9장 실용적 재판은 불가피한가? 

제3부 대법관 
10장 연방대법원은 정치적 법원이다 
11장 포괄적인 헌법이론들 
12장 사법 코스모폴리터니즘