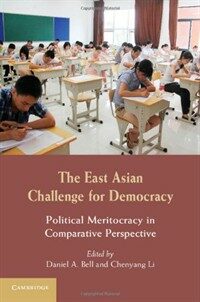 000
00000cam u2200205 a 4500
001
000045871216
005
20160510164958
008
160509s2013 nyua b 001 0 eng d
010

▼a

2013010562
020

▼a

9781107038394 (Hardback)
020

▼a

9781107623774 (Paperback)
035

▼a

(KERIS)REF000017152364
040

▼a

DLC

▼b

eng

▼c

DLC

▼e

rda

▼d

DLC

▼d

211009
043

▼a

ae-----
050

0

0

▼a

JQ1499.A91

▼b

E22 2013
082

0

0

▼a

321.8095

▼2

23
084

▼a

321.8095

▼2

DDCK
090

▼a

321.8095

▼b

E13
245

0

4

▼a

The East Asian challenge for democracy :

▼b

political meritocracy in comparative perspective /

▼c

edited by Daniel A. Bell, Chenyang Li.
260

▼a

New York :

▼b

Cambridge University Press,

▼c

2013.
300

▼a

xv, 400 p. :

▼b

ill. ;

▼c

23 cm.
504

▼a

Includes bibliographical references and index.
650

0

▼a

Democracy

▼z

East Asia.
651

0

▼a

East Asia

▼x

Politics and government.
700

1

▼a

Bell, Daniel

▼q

(Daniel A.),

▼d

1964-.
945

▼a

KLPA
---
Holdings Information
No.
Location
Call Number
Accession No.
Availability
Due Date
Make a Reservation
Service

No.

1

Location

Main Library/Western Books/

Call Number

321.8095 E13

Accession No.

111756066

Availability

Available

Due Date

Make a Reservation

Service
Contents information
Author Introduction
대니얼 A. 벨
(엮은이)
자칭 '유교 좌파'를 자처하는 캐나다 출신의 정치철학자. 미국 프린스턴대학의 유명한 중국학 총서인 '프린스턴-차이나' 시리즈의 총괄 편집책임자이기도 하다. 영국 케임브리지대학에서 박사 학위를 받고, 현재 중국 칭화대학의 철학 및 슈워츠먼 국제대학원 교수이자 산둥대학에서 정치행정학부 학장을 맡고 있다. 《뉴욕타임스》 《허핑턴포스트》 등에 칼럼을 기고하며 자유주의 정치이론과 유교정치 간의 대화와 소통을 이끌면서 중국의 사상 동향, 그중에서도 신新유가의 사상을 영미권에 알리는 데 주도적 역할을 하고 있다. 저서로 《Spirit of Cities(도시의 정신)》 《China's New Confucianism(중국의 신유가사상)》 《Beyond Liberal Democracy(자유민주주의를 넘어)》 《East Meets West(동양, 서양을 만나다)》 등이 있다.
Information Provided By: :

Table of Contents
Part I. The Theory of Political Meritocracy: 1. Political meritocracy and meritorious rule: a Confucian perspective Joseph Chan; 2. A Confucian version of hybrid regime: how does it work and why is it superior? Tongdong Bai; 3. Confucian meritocracy for contemporary China Ruiping Fan; 4. The liberal critique of democracy John Skorupski; 5. Meritocratic representation Philip Pettit; Part II. The History of Political Meritocracy: 6. Between merit and pedigree: evolution of the concept of 'elevating the worthy' in pre-imperial China Yuri Pines; 7. A society in motion: unexpected consequences of political meritocracy in late imperial China, 1400?1900 Benjamin Elman; 8. Meritocratic democracy: learning from the American Constitution Stephen Macedo; Part III. Realizing Political Meritocracy Today: 9. How East Asians view meritocracy: a Confucian perspective Doh Chull Shin; 10. Political meritocracy in Singapore: lessons from the PAP government Benjamin Wong; 11. Meritocracy and political liberalization in Singapore Kenneth Paul Tan; 12. China's meritocratic examinations and the ideal of virtuous talents Hong Xiao and Chenyang Li; 13. Reflections on political meritocracy: its manipulation and transformation Philippe C. Schmitter; 14. Political meritocracy and direct democracy: a hybrid experiment in California Nicolas Berggruen and Nathan Gardels.
Information Provided By: :