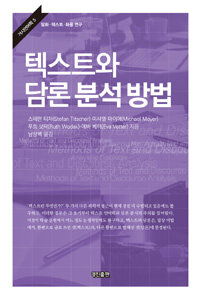 000
00000cam c2200205 c 4500
001
000045864456
005
20200915114349
007
ta
008
160307s2015 ggk b 001c kor
020

▼a

9788959964444

▼g

93370
035

▼a

(KERIS)BIB000013820679
040

▼a

211029

▼c

211029

▼d

244002

▼d

211009
041

1

▼a

kor

▼k

eng

▼h

ger
082

0

4

▼a

401.4101

▼2

23
085

▼a

401.4101

▼2

DDCK
090

▼a

401.4101

▼b

2015
245

0

0

▼a

텍스트와 담론 분석 방법 :

▼b

담화·텍스트·화용 연구 /

▼d

스테판 티처 [외]지음 ;

▼e

남상백 옮김
246

1

▼i

영어번역표제:

▼a

Methods of text and discourse analysis
246

1

9

▼a

Methoden der Textanalyse
260

▼a

[광명] :

▼b

경진출판,

▼c

2015
300

▼a

433 p. ;

▼c

23 cm
440

0

0

▼a

거시언어학 ;

▼v

5
500

▼a

공저자: 미샤엘 마이어, 루트 보닥, 에바 베터
500

▼a

부록: 계량서지학을 위한 출판물과 키워드
504

▼a

참고문헌(p. 382-423)과 색인수록
546

▼a

독일어로 된 원저작을 영어로 번역하고, 이것을 다시 한글로 번역
650

0

▼a

Discourse analysis

▼x

Methodology
700

1

▼a

Titscher, Stefan,

▼e

저
700

1

▼a

Meyer, Michael,

▼e

저
700

1

▼a

Wodak, Ruth,

▼d

1950-,

▼e

저
700

1

▼a

Vetter, Eva,

▼e

저
700

1

▼a

남상백,

▼e

역
900

1

0

▼a

티처, 스테판,

▼e

저
900

1

0

▼a

마이어, 미샤엘,

▼e

저
900

1

0

▼a

보닥, 루트,

▼e

저
900

1

0

▼a

베터, 에바,

▼e

저
---
Holdings Information
No.
Location
Call Number
Accession No.
Availability
Due Date
Make a Reservation
Service

No.

1

Location

Main Library/Monographs(3F)/

Call Number

401.4101 2015

Accession No.

111833495

Availability

In loan

Due Date

2022-08-22

Make a Reservation

Available for Reserve(1persons reqested this item)

Service

No.

2

Location

Sejong Academic Information Center/Humanities 1/

Call Number

401.4101 2015

Accession No.

151329065

Availability

Available

Due Date

Make a Reservation

Service
No.
Location
Call Number
Accession No.
Availability
Due Date
Make a Reservation
Service

No.

1

Location

Main Library/Monographs(3F)/

Call Number

401.4101 2015

Accession No.

111833495

Availability

In loan

Due Date

2022-08-22

Make a Reservation

Available for Reserve(1persons reqested this item)

Service
No.
Location
Call Number
Accession No.
Availability
Due Date
Make a Reservation
Service

No.

1

Location

Sejong Academic Information Center/Humanities 1/

Call Number

401.4101 2015

Accession No.

151329065

Availability

Available

Due Date

Make a Reservation

Service
Contents information
Book Introduction
저자들이 서론에서 밝히고 있는 바와 같이 언어학, 사회학 등의 학제적 공동작업의 결과로서, 학제 간 작업의 영역의 혼란스러움과, 믿을만한 이정표가 없는 상황에서, 헤쳐 나갈 길을 찾는 이들에게 도움을 주려는 의도에서 집필되었다. 이 책은 언어학 및 사회과학 학생들을 대상으로 하고 있으며, 이론적 기반에 근거해 다양한 텍스트 분석 방법들의 개관을 제공하는 것에 최선의 노력을 다하고 있다.

이 책에 제시된 12가지 텍스트 분석 방법들 중에서 저자들은 특히 내용 분석, 근거이론, 대화 분석, 비판적 담론 분석에 주목하고 있다.
지금까지 과학 담론의 세계에 좀처럼 포함되지 않아 온 접근들을 소개

;텍스트와 담론 분석 방법>(도서출판 경진, 2015)은 스테판 티처(Stefan Titscher), 미샤엘 마이어(Michael Meyer), 루트 보닥(Ruth Wodak), 에바 베터(Eva Vetter)의 독일어판 Methoden der Textanalyse: Leitfaden und Uberblick(Opladen/Wiesbaden: Westdeutscher Verlag, 1998)의 영역본 Methods of Text and Discourse Analysis(London: Sage, 2000)를 번역한 책이다.

이 책은 텍스트와 담론 분석에 대한 사회학적 지향의 접근에 관한 지금까지 가장 포괄적인 개관이며, 심지어 오직 텍스트와 담론에 대한 순전히 언어학적인 접근에만 관심 있는 이들에게도 읽을 가치가 있다. 이 책의 주요 장점은 그것이 지금까지 과학 담론의 세계에 좀처럼 포함되지 않아 온 접근들을 소개한다는 점이다.

이 책은 텍스트와 담론 분석에 대한 현재 이용 가능한 언어학적, 사회학적 접근에 관한 가장 포괄적인 개관을 제공한다.

조사된 열 가지 언어학적, 사회학적 모델들 중에서, 이 책은 근거이론, 내용 분석, 대화 분석, 비판적 담론 분석에 주목한다. 각각의 접근은 직접적인 체계적 비교를 가능하게 하는 표준화된 형식에 따라 제시되며, 각 장의 끝의 상세히 주석이 달린 출처목록은 독자들에게 경쟁적인 분석 방법들에 대한 추가적인 평가수단을 제공한다.

그 영역에 있어 학제적이고 국제적이기 때문에, 『텍스트와 담론 분석 방법』은 언어학자와 사회학자 모두가 서로의 방법과 절차에 대한 보다 친숙한 지식으로부터 얻게 될 이점을 시사한다. 독자들이 다양한 방법과 절차들을 비교, 대조, 적용하게 함으로써, 이 책은 학생과 연구자 모두에게 필수적인 자원이 될 것이다.

이 책은 저자들이 서론에서 밝히고 있는 바와 같이 언어학, 사회학 등의 학제적 공동작업의 결과로서, 학제 간 작업의 영역의 혼란스러움과, 믿을만한 이정표가 없는 상황에서, 헤쳐 나갈 길을 찾는 이들에게 도움을 주려는 의도에서 집필되었다. 이 책은 언어학 및 사회과학 학생들을 대상으로 하고 있으며, 이론적 기반에 근거해 다양한 텍스트 분석 방법들의 개관을 제공하는 것에 최선의 노력을 다하고 있다.

이 책에 제시된 12가지 텍스트 분석 방법들 중에서 저자들은 특히 내용 분석, 근거이론, 대화 분석, 비판적 담론 분석에 주목하고 있다.

내용 분석은 가장 오랜 전통의 텍스트 분석 방법으로, 어떤 식으로든 범주들을 통해 텍스트에 접근하는 그러한 모든 텍스트 분석 방법을 내용 분석의 형태로서 기술할 수 있다.

근거이론은 소위 질적 접근들 중에서 가장 현저하게 사용되는 분석 방법으로, 자료에 기반한 가정들을 개념화하려고 하며, 가설의 탐구와 생성에 초점이 있고, 가설의 검증은 덜 주목 받는 그러한 방법이다.

대화 분석은 사회질서 자체를 연구하는 대신에, 한 사회의 구성원들이 그들 자신의 사회질서를 형성하기 위해 사용하는 그러한 일상의 절차를 확인하려고 하는 민속방법론을 지향하는 방법이다. 따라서 대화 분석의 목표는 참여자들이 행하는 것을 재생산할 수 있는 장치를 발견하는 것이다.

비판적 담론 분석(CDA)은 자신을 해방적 요구를 가진 정치 참여적 연구로서 본다. 담론적 실천에서 구조와 이데올로기는 대개 분석되거나 질문되지 않은 채 표현되는데, CDA는 면밀하고 상세한 분석에 의해 이러한 측면들을 밝히려고 한다. 비판적 담론분석의 질적 기준들 중 하나는 그것의 실천적 관련성이다. 비판적 담론분석은 그것의 결과가 참여자들의 행동의 다소 분명한 변화로 이어지는 것을 기대한다.

이 책의 1부는 사회과학적 텍스트 분석 방법, 텍스트에 대한 정의, 자료를 얻는 방법 등에 관해 논의함으로써, 텍스트와 담론 분석 방법에 대한 하나의 토대를 제공한다. 2부는 각각의 방법들에 대한 상세한 설명을 제시한다. 각각에는 이러한 방법들의 이론적 기원, 기본적인 이론적 가정, 방법의 목표, 방법의 개관, 즉, 구체적인 이론적 배경, 분석 틀, 절차 등이 제시되고, 비판적 논의, 질적 기준, 적용분야와 전제조건, 다른 방법들과의 비교, 주석이 달린 참고문헌 등이 제시된다. 3부는 이 책에서 다룬 텍스트 분석 방법들에 대한 계량서지학적 조사와, 방법들의 비교가 제시된다.

Information Provided By: :

Author Introduction
스테판 티처
(지은이)
빈 대학 경제경영대학 사회학 교수.
미샤엘 마이어
(지은이)
빈 대학 조직행동학과 조교수.
루트 보닥
(지은이)
영국 랭카스터대학교 담화 연구 전공 석좌 교수
에바 베터
(지은이)
빈 대학 로망스어학과 소속.
남상백
(옮긴이)
성균관대학교와 중앙대학교에서 사회학을 공부했다. 사회 문제에 관심을 두고 공부와 번역을 병행하고 있다. 《국가 권력-마르크스에서 푸코까지, 국가론과 권력 이론들》(이매진, 2021), 《텍스트와 담론 분석 방법》(경진, 2015) 등을 우리말로 옮겼다.
Information Provided By: :

Table of Contents
감사의 말 
서문 

┃제1부┃방법과 텍스트 

제1장 사회과학적 텍스트 분석 방법에 관하여 
제2장 텍스트란 무엇인가? 
제3장 분석을 위한 자료를 얻는 방법-개관 
제4장 방법과 이론의 지도 

┃제2부┃텍스트 분석 방법의 개관 

제5장 내용 분석 
제6장 근거이론 
제7장 문화기술지적 방법 
제8장 두 가지 민속방법론 지향의 텍스트 분석 방법: 소속 범주화 장치 분석과 대화 분석 
제9장 내러티브 기호학 
제10장 텍스트 분석 방법으로써 SYMLOG 
제11장 비판적 담론 분석의 두 가지 접근 
제12장 기능화용론 
제13장 구별이론 텍스트 분석 
제14장 객관적 해석학 

┃제3부┃개관과 비교 

제15장 계량서지학적 조사: 텍스트 분석 방법들의 현저함 
제16장 텍스트 분석 방법들의 비교 

옮긴이 후기 
용어 해설 
부록: 계량서지학을 위한 출판물과 키워드 
참고문헌 
찾아보기