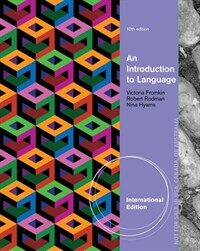 000
00000cam u2200205 a 4500
001
000045859042
005
20161025105923
008
160126s2014 maua b 001 0 eng d
020

▼a

9781285079806 (pbk.)
020

▼a

1285079809 (pbk.)
040

▼a

211009

▼c

211009

▼d

211009

▼d

244002
082

0

4

▼a

410

▼2

23
082

0

0

▼a

400

▼2

23
084

▼a

410

▼2

DDCK
090

▼a

410

▼b

F931i10
100

1

▼a

Fromkin, Victoria.
245

1

3

▼a

An introduction to language /

▼c

Victoria Fromkin, late, University of California, Los Angeles, Robert Rodman, North Carolina State University, Raleigh, Nina Hyams, University of California, Los Angeles.
250

▼a

10th ed.
260

▼a

Boston, MA :

▼b

Wadsworth/Cengage Learning,

▼c

c2014.
300

▼a

xx, 604 p. :

▼b

ill. ;

▼c

24 cm.
504

▼a

Includes bibliographical references and index.
650

0

▼a

Language and languages.
650

0

▼a

Linguistics.
700

1

▼a

Rodman, Robert.
700

1

▼a

Hyams, Nina M.,

▼d

1952-.
945

▼a

KLPA
---
Holdings Information
No.
Location
Call Number
Accession No.
Availability
Due Date
Make a Reservation
Service

No.

1

Location

Main Library/Western Books/

Call Number

410 F931i10

Accession No.

111750371

Availability

Available

Due Date

Make a Reservation

Service

No.

2

Location

Sejong Academic Information Center/Humanities 1/

Call Number

410 F931i10

Accession No.

151331816

Availability

Available

Due Date

Make a Reservation

Service
No.
Location
Call Number
Accession No.
Availability
Due Date
Make a Reservation
Service

No.

1

Location

Main Library/Western Books/

Call Number

410 F931i10

Accession No.

111750371

Availability

Available

Due Date

Make a Reservation

Service
No.
Location
Call Number
Accession No.
Availability
Due Date
Make a Reservation
Service

No.

1

Location

Sejong Academic Information Center/Humanities 1/

Call Number

410 F931i10

Accession No.

151331816

Availability

Available

Due Date

Make a Reservation

Service
Contents information
Author Introduction
Table of Contents
1. WHAT IS LANGUAGE?
Linguistic Knowledge. What Is Grammar? Universal Grammar. What Is Not (Human) Language. Language and Thought.
2. MORPHOLOGY: THE WORDS OF LANGUAGE.
Content Words and Function Words. Morphemes: The Minimal Units of Meaning.
Rules of Word Formation. Sign Language Morphology. Morphological Analysis: Identifying Morphemes.
3. SYNTAX: THE SENTENCE PATTERNS OF LANGUAGE.
What the Syntax Rules Do. Sentence Structure. UG Principles and Parameters. Sign Language Syntax.
4. THE MEANING OF LANGUAGE.
What Speakers Know about Sentence Meaning. Compositional Semantics. When Compositionality Goes Awry. Lexical Semantics (Word Meanings). Pragmatics.
5. PHONETICS: THE SOUNDS OF LANGUAGE.
Sound Segments. Articulatory Phonetics. Major Phonetic Classes. Prosodic Features. Phonetic Symbols and Spelling Correspondences. The Phonetics" of Signed Languages.
6. PHONOLOGY: THE SOUND OF LANGUAGE.
The Pronunciation of Morphemes. Phonemes: The Phonological Units of Language. Distinctive Features of Phonemes. The Rules of Phonology. Prosodic Phonology. Sequential Constraints of Phonemes. Why Do Phonological Rules Exist? Phonological Analysis.
7. LANGUAGE IN SOCIETY.
Dialects. Languages in Contact. Language and Education. Language in Use.
8. LANGUAGE CHANGE: THE SYLLABLES OF TIME.
The Regularity of Sound Change. Phonological Change. Morphological Change. Syntactic Change. Lexical Change. Reconstructing "Dead" Languages. Extinct and Endangered Languages. The Genetic Classification of Languages. Types of Languages. Why Do Languages Change?
9.LANGUAGE ACQUISITION.
The Linguistic Capacity of Children. Stages in Language Acquisition. The Role of the Linguistic Environment: Adult Input. Knowing More Than One Language.
10. LANGUAGE PROCESSING AND THE HUMAN BRAIN.
The Human Mind at Work. The Human Brain. Language and Brain Development. The Modular Mind: Dissociations of Language and Cognition.
11. COMPUTER PROCESSING OF HUMAN LANGUAGE.
Computers That Talk and Listen. Applications of Computational Linguistics. Computational Lexicography.
12. WRITING: THE ABCS OF LANGUAGE.
The History of Writing. Modern Writing Systems. Writing and Speech. Pseudo-writing.
Glossary.
Index."
Information Provided By: :