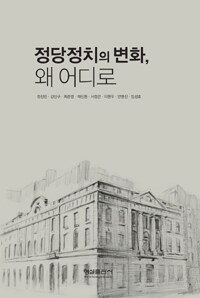 000
00000cam c2200205 c 4500
001
000045854412
005
20220930162252
007
ta
008
151216s2015 ulkd b 001c kor
020

▼a

9788947276221

▼g

03340
035

▼a

(KERIS)BIB000013796037
040

▼a

221016

▼c

221016

▼d

211009
082

0

4

▼a

324.2

▼2

23
085

▼a

324.2

▼2

DDCK
090

▼a

324.2

▼b

2015z1
245

0

0

▼a

정당정치의 변화, 왜 어디로 /

▼d

정진민 [외]
260

▼a

서울 :

▼b

형설출판사,

▼c

2015
300

▼a

311 p. :

▼b

도표 ;

▼c

23 cm
500

▼a

공저자: 강신구, 최준영, 채진원, 서정건, 이현우, 안병진, 임성호
504

▼a

참고문헌과 색인수록
536

▼a

이 책은 경희대 인류사회재건 연구원의 지원을 받은 총서임
700

1

▼a

정진민

▼0

AUTH(211009)94713
700

1

▼a

강신구

▼0

AUTH(211009)73162
700

1

▼a

최준영

▼0

AUTH(211009)71082
700

1

▼a

채진원

▼0

AUTH(211009)33262
700

1

▼a

서정건

▼0

AUTH(211009)27663
700

1

▼a

이현우

▼0

AUTH(211009)107129
700

1

▼a

안병진,

▼g

安秉鎭,

▼d

1967-

▼0

AUTH(211009)100859
700

1

▼a

임성호

▼0

AUTH(211009)70121
945

▼a

KLPA
---
Holdings Information
No.
Location
Call Number
Accession No.
Availability
Due Date
Make a Reservation
Service

No.

1

Location

Main Library/Monographs(3F)/

Call Number

324.2 2015z1

Accession No.

111747367

Availability

Available

Due Date

Make a Reservation

Service
Contents information
Author Introduction
정진민
(지은이)
서울대학교 외교학과를 졸업하고 미국 시러큐스대학에서 정치학 석사 및 박사 학위를 받았다. 외무부 조약국, 아주국, 미주국, 주오스트리아 대사관 등에서 근무하였고, 한림대학교 정치외교학과 교수와 미국정치연구회장, 한국정당학회장 등을 역임하였다. 미국 UC버클리대학 방문학자 및 일본게이오대학과 쓰쿠바대학 객원연구원을 지냈고, 현재 명지대학교 정치외교학과 교수로 재직 중이다. 주요 저서 및 논문으로는 『후기산업사회 정당정치와 한국의 정당발전』, 『한국의 정당정치와 대통령제 민주주의』, 『정당정치 변화와 유권자정당』, 「Korean-US Political Parallels and the Trump Presidency」 등이 있다.
임성호
(지은이)
· 경희대 정치외교학과 교수 · 미국 M.I.T. 정치학 박사 · 국회입법조사처장 (2014~16년) · 한국아메리카학회장 (2022~23년) · 한국정당학회장 (2009년) · 한국세계지역학회장 (2014년) · 『정당정치의 변화, 왜 어디로』 (공저, 2015년), 『지구화 시대의 정당정치』 (공저, 2011년), 『한국 국회와 정치과정』 (공저, 2010년) 외 저서 및 논문 다수
이현우
(지은이)
미국 노스캐롤라이나 대학교에서 박사학위를 받았으며 2006년부터 서강대 정치외교학과 교수로 재직하고 있다. 현재 서강대 현대정치연구소 소장이다. 주요 연구 분야는 비교정치과정, 미국 정치, 정치방법론이다. 《표심의 역습》, 《좋은 정부의 제도와 과정》, 《지방선거와 지방정부》, 《한국의 정치균열 구조》, 《좋은 정부와 정책 조응성》 등을 대표 집필했고 《한국의 정치 70년》, 《정당정치의 변화, 왜 어디로》 등 다수의 책에 공저자로 참여했다.
안병진
(지은이)
존 듀이가 설립하고, 한나 아렌트 등 세계적 지성의 망명지였던 뉴스쿨 대학원(New School for Social Research)에서 정치학 박사 학위를 받았다. 로널드 레이건과 빌 클린턴 전 대통령을 비교한 박사 논문으로 한나아렌트상을 받았다. 경희대학교 미래문명원장, 총장실 정책실장을 역임했고, 현재 미래문명원 교수로 재직 중이다. 뉴스쿨의 설립 정신에 따라 연구 활동만이 아니라 공적 지식인 활동(www.abjlive.com)을 활발히 하고 있다. 최근에는 생태 문명의 전환을 추구하는 지구와사람 NGO에서 학술위원장을 맡고 있다. KBS, SBS 등에서 미국 대선 특집 방송의 패널로 참여했고, KBS 라디오 프로그램 〈세계는 지금〉에 미국 정치 패널로 빈번하게 출연한 바 있다. 《한겨레》에 이어 현재는 《경향신문》의 칼럼니스트로 활동하며 미국과 한국 정치에 대한 다양한 이슈를 다루고 있다. 저서로는 《미국의 주인이 바뀐다》, 《트럼프, 붕괴를 완성하다》, 《예정된 위기: 북한은 제2의 쿠바가 될 것인가》 등 다수의 단행본과 논문이 있다.
최준영
(지은이)
◆ 약력 인하대학교 정치외교학과 교수 미국 Florida State University 정치학 박사 ◆ 주요 논문/저서 『견제와 균형: 인사청문회의 현재와 미래를 말한다』 (써네스트, 2013) "헌법재판소장, 헌법재판관 인사청문회에 나타난 정파적 특성" (『21세기정치학회보』, 2013) "경제적 불평등의 심화와 미국의 위기" (『동서연구』, 2013) "한국 공천제도에 대한 연구동향과 향후 연구과제" (『한국정당학회보』, 2012)
채진원
(지은이)
경희대학교 일반대학원 정치학과를 졸업하고, 정치학 박사학위를 받았다. 경희대학교 후마니타스칼리지에서 시민교육과 세계시민교육 전담 교수를 역임했다. 현재 한국정치평론학회 연구이사를 맡고 있으며, 경희대학교 공공거버넌스연구소 전임연구원 및 교수로 재직 중이다. 주요 저서로는 『무엇이 우리 정치를 위협하는가』(2016), 『공화주의와 경쟁하는 적들』(2019) 외 다수가 있다. 주요 논문으로는 「586 운동권그룹의 유교적 습속에 대한 시론적 연구」(2020), 「주민자치의 정치학적 고찰과 함의」(2021) 등이 있다.
강신구
(지은이)
◆ 약력 아주대학교 정치외교학과 조교수 미국 University of Rochester 정치학 박사 ◆ 주요 논문/저서 "Representation and Policy Responsiveness: The Median Voter, Election Rules and Redistributive Welfare Spending" (Journal of Politics, 2010) "어떤 민주주의인가? 제도와 가치체계의 조응을 통해 바라본 한국 민주주의의 발전방향모색" (『한국정당학회보』, 2012) "A Theoretical Model and Empirical Tests of Government Formation with Presidential Heads of State in European Democracies" (Korean Political Science Review, 2013)
서정건
(지은이)
서울대학교 정치학과를 졸업한 후 미국 텍사스 오스틴 대학교에서 미국 의회-정당 정치와 외교 정책을 주제로 박사 학위를 받았다. 미국 노스캐롤라이나 주립대학교(윌밍턴) 교수와 우드로우 윌슨 센터 풀브라이트 펠로우를 지냈고 현재 경희대학교 정치외교학과 교수로 재직 중이다. 공저로 <미국 정치와 동아시아 외교정책> 등이 있고 "The China Card: Playing Politics with SinoAmerican Relations," "Wedge Issue Dynamics and Party Position Shifts: Chinese Exclusion Debates in the post-Reconstruction U.S. Congress, 1879-1882," "미국 국내 정치와 북한 비핵화 이슈," "트럼프 행정부와 미국 외교의 잭슨주의 전환" 등 다수의 연구를 출간하였다.
Information Provided By: :

Table of Contents
서문 · 009 

Ⅰ. 정당 이론과 한국 정당 
▶ 한국의 새로운 정당모델: 대안 정당으로서의 유권자정당 _ 정진민 
1. 서론 ·043 
2. 선진 민주국가 및 후발 민주국가의 정당 변화와 유권자정당 · 048 
1) 선진 민주국가 및 후발 민주국가의 정당 변화 · 048 
2) 대안 정당으로서의 유권자정당 · 055 
3) 한국의 대통령제 민주주의와 유권자정당 · 058 
3. 유권자정당의 구조와 형태 · 063 
1) 유권자정당의 문제의식과 정당 구조 · 063 
2) 유권자정당의 형태: 유권자 중심의 개방된 정당과 원내 중심의 정책정당 · 067 
4. 결론 · 070 

▶ 대통령제 정부 형태에서 대중정당론의 적실성에 대하여 _ 강신구 
1. 서론 · 077 
2. 대중정당의 이상과 변질 · 084 
3. 대통령제는 대중정당을 어떻게 변화시키는가?: 사무엘스와 슈가트의 논의에 기초하여 · 091 
4. 결론 · 102 

▶ 대통령제 정당체제에서 매니페스토 운동의 한계 _ 최준영 
1. 서론 · 107 
2. 매니페스토 운동: 정책선거와 책임정당정치 · 110 
3. 대통령제 통치구조와 매니페스토 간의 양립 불가능성 · 117 
4. 대의민주주의 발전의 동력: 유권자정당 · 122 
5. 결론 · 127 

▶ '오픈프라이머리 정당 약화론'과 네트워크정당모델 _ 채진원 
1. '오픈프라이머리 정당 약화론' 재검토의 필요성 · 131 
2. 오픈프라이머리 정당 약화론의 사례와 논거 · 136 
1) 언론에 소개된 사례 · 136 
2) 오픈프라이머리에 대한 강한 반대론의 논거 · 138 
3) 오픈프라이머리에 대한 약한 반대론의 논거 · 140 
3. 정당 약화론의 비판과 실체 규명에 대한 이론적 논의 · 142 
4. 정당기능론으로 본 정당의 변화와 대중정당모델의 한계 · 149 
5. 결론 · 158 


Ⅱ. 미국 정당의 변화 
▶ 후보 선출과 정당 조직의 연계 및 변화: 미국의 역사적 경험을 중심으로 _ 서정건 
1. 서론 · 169 
2. 미국의 정당 조직 변화: 역사적 개관 · 171 
3. 정당과 유권자 연계(linkage): 전략, 제도 및 정당건설 차원 · 177 
1) 전략 차원 연계(strategic linkage) · 177 
2) 제도 차원 연계(institutional linkage) · 180 
3) 정당건설 차원 연계(party-building linkage) · 183 
4. 정당과 후보 선출: 조직과 연계 차원 · 185 
5. 결론 · 190 

▶ 미국 정당의 양극화 평가: 약화(decline)인가 적응(adaptation)인가 _ 이현우 
1. 서론 · 195 
2. 미국 정당에 대한 평가 · 198 
1) 고전적 평가 · 198 
2) 현대적 평가 · 200 
3. 미국 정치의 양극화 · 205 
4. 미국 정치의 양극화와 정당 약화 · 211 
5. 정당 약화의 평가 기준 · 218 

▶ 정당정치의 혁신에 대한 시론: 미국과 한국의 민주당 사례를 중심으로 _ 안병진 
1. 서론: 정당 혁신의 경로는 왜 차이가 나는가? · 223 
2. 이론적 틀: 네트워크 정치의 시대 · 229 
3. 미국의 사례: 갤빈의 정당 혁신 이론의 한계 · 237 
4. 한국의 사례: 구호에 그친 네트워크 정치의 한계 · 247 
5. 결론: 한국과 미국의 서로 다른 미래에 대한 전망 · 269 


Ⅲ. 정당의 미래 
▶ 정당 내 정파(faction) 문제와 정치 양극화: 탈산업시대 정당의 위험요소와 극복 방향 _ 임성호 
1. 서론: 정당모델과 정파 · 277 
2. 탈산업시대 정당의 성격: 모습의 변화, 기능의 존속 · 280 
3. 탈산업시대 정당의 위험요소: 정파 경쟁의 부작용 · 285 
4. 정파의 함정을 피하기 위한 방향 · 294 
5. 결론 · 300 

찾아보기 · 305 
저자소개 · 309