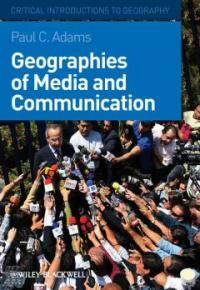 000
00000cam u2200205 a 4500
001
000045845280
005
20150924144318
008
150923s2009 enkab b 001 0 eng d
010

▼a

2008032200
020

▼a

9781405154130 (hc : alk. paper)
020

▼a

9781405154147 (pbk. : alk. paper)
020

▼a

1405154136 (hc : alk. paper)
020

▼a

1405154144 (pbk. : alk. paper)
035

▼a

(KERIS)REF000015030952
040

▼a

DLC

▼c

DLC

▼d

BTCTA

▼d

YDXCP

▼d

C#P

▼d

BWK

▼d

NLGGC

▼d

CDX

▼d

DLC

▼d

211009
050

0

0

▼a

P96.G47

▼b

A33 2009
082

0

0

▼a

302.2309

▼2

23
084

▼a

302.2309

▼2

DDCK
090

▼a

302.2309

▼b

A216g
100

1

▼a

Adams, Paul C.
245

1

0

▼a

Geographies of media and communication :

▼b

a critical introduction /

▼c

Paul C. Adams.
260

▼a

Chichester, U.K. ;

▼a

Malden, MA :

▼b

Wiley-Blackwell,

▼c

2009.
300

▼a

xvi, 262 p. :

▼b

ill., maps ;

▼c

25 cm.
490

1

▼a

Critical introductions to geography
504

▼a

Includes bibliographical references (p. [222]-253) and index.
505

0

0

▼g

Introduction --

▼t

From the spoken word to the alphabet --

▼t

From the printing press to the electromagnetic signal --

▼t

Communication flows and flowmations --

▼t

Topologies of communication --

▼t

Inclusion/exclusion --

▼t

Virtuality and scattered gatherings --

▼t

Signs, symbols, and signals --

▼t

The place image --

▼t

Internalization/externalization --

▼t

Place and the power of communication --

▼t

Traces and routines --

▼t

Geographies of expressive being-in-place --

▼t

Final thoughts.
650

0

▼a

Communication and geography.
650

0

▼a

Communication and technology.
650

0

▼a

Mass media and technology.
650

0

▼a

Semiotics.
830

0

▼a

Critical introductions to geography.
945

▼a

KLPA
---
Holdings Information
No.
Location
Call Number
Accession No.
Availability
Due Date
Make a Reservation
Service

No.

1

Location

Main Library/Western Books/

Call Number

302.2309 A216g

Accession No.

111742205

Availability

Available

Due Date

Make a Reservation

Service
Contents information
Table of Contents
Introduction	
From the Spoken Word to the Alphabet	
From the Printing Press to the Digital Signal	
Communication Flows and Flowmations	
Topologies of Communication	
Inclusion/Exclusion	
Virtuality and Scattered Gatherings	
Signs, Symbols and Signals	
The Place Image	
Internalization/Externalization	
Place and the Power of Communication	
Traces and Routines	
Geographies of Expressive Being-in-Place	
Final Thoughts	
Bibliography	
Figures	
Greek Serendipity	
The Age of Latin	
The Alphabet Meets the Machine. Further Reading Gunn, and Victor/Victoria	
Realism and Theories of FilmThe Battleship Potemkin and Umberto D	
Gender and SexualityThe Silence of the Lambs and American Gigolo	
RaceOut of the Past, LA Confidential, and Boyz N the Hood	
ClassPretty Woman and The People Under the Stairs	
Citizen Kane: An AnalysisCitizen Kane	
Globalization, Digitalization, Convergence: Current Trends	
The Matrix	
Glossary	
Index aryland)	
General Issues in Developmental Measurement:	
Measurement of Individual Difference Constructs in Child Development, Or Taking Aim at Moving Targets	
Who Should Collect Our Data: Parents or Trained Observers?	
Validating Young Children's Self-concept Responses: Methodological Ways And Means To Understand Their Responses	
Developmental Perspectives on Parenting Competence	
Methods of Contextual Assessment and Assessing Contextual Methods: A Developmental Systems Perspective	
Developmental Intervention: Traditional and Emergent Approaches in Enhancing Development:	
Enhancing Children's Socio-Emotional Development: A Review of Intervention Studies	
Early Childhood Education: The Journey From Efficacy Research to Effective Practice	
Fostering Early Communication and Language Development	
Enhancing Social Competence	
NICU Based Intervention with High Risk Infants	
Analytic Issues and Methods in Developmental Psychology:	
Assessing Growth in Longitudinal Investigations: Selected Measurement and Design Issues	
Latent Growth Curve Analysis Using Structural Equation Modeling Techniques	
Modeling Developmental Change Over Time: Latent Growth Analysis	
Interdependence in Development: Data Analytic Strategies for Dyadic Designs	
Analysis of Behavioral Streams	
New Directions in Developmental Research:	
Emotion-Related Regulation: The Construct and Its Measurement	
Person Environment"Fit" and Individual Development	
New Developments in the Study of Infant Memory	
Table of Contents provided by Publisher. All Rights Reserved.