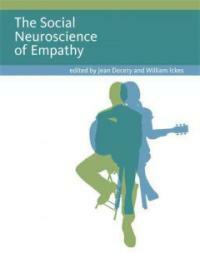 000
00000cam u2200205 a 4500
001
000045843440
005
20150910164630
008
150910s2009 maua b 001 0 eng d
010

▼a

2008034814
015

▼a

GBA906001

▼2

bnb
020

▼a

9780262012973 (hardcover : alk. paper)
020

▼a

0262012979
035

▼a

(KERIS)REF000016300028
040

▼a

DLC

▼c

DLC

▼d

BTCTA

▼d

YDXCP

▼d

UKM

▼d

C#P

▼d

BWX

▼d

CDX

▼d

VVC

▼d

DLC

▼d

211009
050

0

0

▼a

BF575.E55

▼b

S63 2009
082

0

0

▼a

155.2/32

▼2

23
084

▼a

155.232

▼2

DDCK
090

▼a

155.232

▼b

S678
245

0

4

▼a

The social neuroscience of empathy /

▼c

edited by Jean Decety and William Ickes.
260

▼a

Cambridge, Mass. :

▼b

MIT Press,

▼c

c2009.
300

▼a

ix, 255 p. :

▼b

ill. ;

▼c

23 cm.
490

1

▼a

Social neuroscience series
500

▼a

"A Bradford book."
504

▼a

Includes bibliographical references and indexes.
505

0

0

▼t

These things called empathy: eight related but distinct phenomena /

▼r

Daniel Batson --

▼t

Emotional contagion and empathy /

▼r

Elaine Hatfield et al. --

▼t

Being imitated: consequences of nonconsciously showing empathy /

▼r

Rick B. van Baaren et al. --

▼t

Empathy and knowledge projection /

▼r

Raymond S. Nickerson et al. --

▼t

Empathic accuracy: its links to clinical, cognitive, developmental, social, and physiological psychology /

▼r

William Ickes --

▼t

Empathic responding: sympathy and personal distress /

▼r

Nancy Eisenberg and Natalie D. Eggum --

▼t

Empathy and education /

▼r

Norma Deitch Feshbach and Seymour Feshbach --

▼t

Rogerian empathy in an organismic theory: a way of being /

▼r

Jerold D. Bozarth --

▼t

Empathy in psychotherapy: dialogue and embodied understanding /

▼r

Mathias Dekeyser et al. --

▼t

Empathic resonance: a neuroschience perspective /

▼r

Jeanne C. Watson and Leslie S. Greenberg --

▼t

Empathy, morality, and social convention: evidence from the study of psychopathy and other psychiatric disorders /

▼r

R. J. R. Blair and Karina S. Blair --

▼t

Perceiving others in pain: experimental and clinical evidence on the role of empathy /

▼r

Liesbet Goubert et al. --

▼t

Neural and evolutionary perspectives on empathy /

▼r

C. Sue Carter et al. -

▼t

- "Mirror, mirror, in my mind": empathy, interpersonal competence, and the mirror neuron system /

▼r

Jennifer H. Pfeifer and Mirella Dapretto --

▼t

Empathy versus personal distress: recent evidence from social neuroscience /

▼r

Jean Decety and Claus Lamm --

▼t

Empathic processing: its cognitive and affective dimensions and neuroanatomical basis /

▼r

Simon G. Shamay-Tsoory
650

0

▼a

Empathy.
650

0

▼a

Neurosciences.
650

0

▼a

Social psychology.
700

1

▼a

Decety, Jean.
700

1

▼a

Ickes, William John.
830

0

▼a

Social neuroscience series.
945

▼a

KLPA
---
Holdings Information
No.
Location
Call Number
Accession No.
Availability
Due Date
Make a Reservation
Service

No.

1

Location

Main Library/Western Books/

Call Number

155.232 S678

Accession No.

111741622

Availability

Available

Due Date

Make a Reservation

Service
Contents information
Table of Contents
Introduction: Seeking to Understand the Minds (and Brains) of People Who Are Seeking to Understand Other Peoples Minds	p. vii
What Is Empathy?	p. 1
These Things Called Empathy	p. 3
Eight Related but Distinct Phenomena	
Social, Cognitive, and Developmental Perspectives on Empathy	p. 17
Emotional Contagion and Empathy	p. 19
Being Imitated	p. 31
Consequences of Nonconsciously Showing Empathy	
Empathy and Knowledge Projection	p. 43
Empathic Accuracy	p. 57
Its Links to Clinical, Cognitive, Developmental, Social, and Physiological Psychology	
Empathic Responding	p. 71
Sympathy and Personal Distress	
Empathy and Education	p. 85
Norma Deitch Feshbach and Seymour Feshbach	
Clinical Perspectives on Empathy	p. 99
Rogerian Empathy in an Organismic Theory	p. 101
A Way of Being	
Empathy in Psychotherapy	p. 113
Dialogue and Embodied Understanding	
Empathic Resonance	p. 125
A Neuroscience Perspective	
Empathy, Morality, and Social Convention	p. 139
Evidence from the Study of Psychopathy and Other Psychiatric Disorders	
Perceiving Others in Pain	p. 153
Experimental and Clinical Evidence on the Role of Empathy	
Evolutionary and Neuroscience Perspectives on Empathy	p. 167
Neural and Evolutionary Perspectives on Empathy	p. 169
"Mirror, Mirror, in My Mind"	p. 183
Empathy, Interpersonal Competence, and the Mirror Neuron System	
Empathy versus Personal Distress	p. 199
Recent Evidence from Social Neuroscience	
Empathic Processing	p. 215
Its Cognitive and Affective Dimensions and Neuroanatomical Basis	
Contributors	p. 233
Author Index	p. 235
Subject Index	p. 245
Table of Contents provided by Publisher. All Rights Reserved.