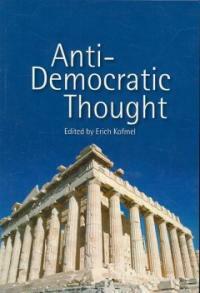 000
00000cam u2200205 a 4500
001
000045841084
005
20150820165028
008
150819s2008 enk b 000 0 eng d
010

▼a

2009293630
020

▼a

9781845401245 (pbk.)
035

▼a

(KERIS)REF000015246062
040

▼a

BTCTA

▼c

BTCTA

▼d

BAKER

▼d

YDXCP

▼d

BWK

▼d

MIA

▼d

IHY

▼d

INU

▼d

YOU

▼d

DLC

▼d

211009
050

0

0

▼a

JC421

▼b

.A57 2008
082

0

4

▼a

321.809

▼2

23
084

▼a

321.809

▼2

DDCK
090

▼a

321.809

▼b

A629
245

0

0

▼a

Anti-democratic thought /

▼c

edited by Erich Kofmel.
260

▼a

Exeter ;

▼a

Charlottesville, VA :

▼b

Imprint Academic,

▼c

c2008.
300

▼a

243 p. ;

▼c

23 cm.
504

▼a

Includes bibliographical references.
505

0

0

▼t

Re-introducing anti-democratic thought /

▼r

Erich Kofmel --

▼t

Is Plato's political philosophy anti-democratic? /

▼r

Thom Brooks --

▼t

Reversing Plato's anti-democratism : Castoriadis' 'quirky' Plato /

▼r

Wendy C. Hamblet --

▼t

J.S. Mill's elitism : a classical liberal's response to the rise of democracy /

▼r

Andy Hamilton --

▼t

Rhetoric of false appearances and true essences : anti-democratic thought in France at the turn of the twentieth century /

▼r

Tuula Vaarakallio --

▼t

Tolstoy's anarchist denunciation of state violence and deception /

▼r

Alexandre J.M.E. Christoyannopoulos --

▼t

'Sovereign disappears in the voting booth' : Carl Schmitt and Martin Heidegger on sovereignty and (perhaps) governmentality /

▼r

Thomas Crombez --

▼t

Criticism of democracy in Rabbi E.E.M. Shach's thought /

▼r

Moshe Hellinger --

▼t

State(ments) of emergency : anti-democratic narratives in Bangladesh /

▼r

Jalal Alamgir --

▼t

From democracy to accountability /

▼r

Pauline C. Westerman --

▼t

Fighting capitalism and democracy /

▼r

Erich Kofmel.
650

0

▼a

Democracy

▼x

History.
650

0

▼a

Democracy

▼x

Study and teaching.
650

0

▼a

Political science

▼x

Study and teaching.
700

1

▼a

Kofmel, Erich.
945

▼a

KLPA
---
Holdings Information
No.
Location
Call Number
Accession No.
Availability
Due Date
Make a Reservation
Service

No.

1

Location

Main Library/Western Books/

Call Number

321.809 A629

Accession No.

111740317

Availability

Available

Due Date

Make a Reservation

Service
Contents information
Table of Contents
Re-introducing anti-democratic thought p. 1 
Is Plato''s political philosophy anti-democratic? p. 17 
Reversing Plato''s anti-democratism : Castoriadis'' ''quirky'' Plato p. 35 
J.S. Mill''s elitism : a classical liberal''s response to the rise of democracy p. 49 
The rhetoric of false appearances and true essences : anti-democratic thought in France at the turn of the twentieth century p. 67 
Tolstoy''s anarchist denunciation of state violence and deception p. 85 
''The sovereign disappears in the voting booth'' : Carl Schmitt and Martin Heidegger on sovereignty and (perhaps) governmentality p. 101 
The criticism of democracy in Rabbi E.E.M. Shach''s thought p. 123 
State(ments) of emergency : anti-democratic narratives in Bangladesh p. 141 
From democracy to accountability p. 165 
Fighting capitalism and democracy p. 187 
Table of Contents provided by Blackwell. All Rights Reserved.