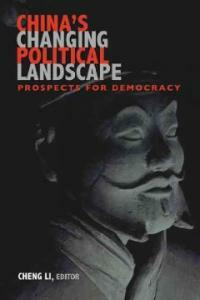 000
00000cam u2200205 a 4500
001
000045839744
005
20150730191331
008
150730s2008 dcua b 001 0 eng d
010

▼a

2007050245
020

▼a

9780815752097 (pbk. : alk. paper)
020

▼a

0815752091 (pbk. : alk. paper)
035

▼a

(KERIS)REF000014810752
040

▼a

DLC

▼c

DLC

▼d

BAKER

▼d

BTCTA

▼d

YDXCP

▼d

DBI

▼d

C#P

▼d

DLC

▼d

211009
043

▼a

a-cc---
050

0

0

▼a

JQ1516

▼b

.C45265 2008
082

0

0

▼a

320.951

▼2

23
084

▼a

320.951

▼2

DDCK
090

▼a

320.951

▼b

C53992
245

0

0

▼a

China's changing political landscape :

▼b

prospects for democracy /

▼c

Cheng Li, editor.
260

▼a

Washington, D.C. :

▼b

Brookings Institution Press,

▼c

c2008.
300

▼a

xiii, 342 p. :

▼b

ill. ;

▼c

23 cm.
504

▼a

Includes bibliographical references and index.
505

0

0

▼g

Introduction :

▼t

assessing China's political development /

▼r

Cheng Li --

▼t

China's political trajectory : what are the Chinese saying? /

▼r

Andrew J. Nathan --

▼t

Ideological change and incremental democracy in reform-era China /

▼r

Yu Keping --

▼t

Institutionalization and the changing dynamics of Chinese leadership politics /

▼r

Alice L. Miller --

▼t

Institutionalization of political succession in China : progress and implications /

▼r

Jing Huang --

▼t

Will China's "lost generation" find a path to democracy? /

▼r

Cheng Li --

▼t

Business interest groups in Chinese politics : the case of the oil companies /

▼r

Erica S. Downs --

▼t

China's left tilt : pendulum swing or midcourse correction? /

▼r

Barry Naughton --

▼t

Political implications of China's information revolution : the media, the minders, and their message /

▼r

Richard Baum --

▼t

Legalization without democratization in China under Hu Jintao /

▼r

Jacques deLisle --

▼t

Staying in power : what does the Chinese Communist Party have to do? /

▼r

Joseph Fewsmith --

▼t

Fighting corruption: a difficult challenge for Chinese leaders /

▼r

Minxin Pei --

▼t

The political implications of China's social future : Complacency, scorn, and the forlorn /

▼r

Dorothy J. Solinger --

▼t

Straining against the yoke? civil-military relations in China after the Seventeenth Party Congress /

▼r

James Mulvenon --

▼t

Learning from abroad to reinvent itself : external influences on internal CCP reforms /

▼r

David Shambaugh --

▼t

Taiwan and China's democratic future : can the tail wag the dog? /

▼r

Yun-han Chu.
520

▼a

"Leading experts examine the prospects for democracy in the world's most populous nation and break down a number of issues in Chinese domestic politics, including changing leadership dynamics, the rise of business elites, increased demand for the rule of law, and shifting civil-military relations"--Provided by publisher.
650

0

▼a

Democracy

▼z

China.
651

0

▼a

China

▼x

Politics and government

▼y

2002-.
651

0

▼a

China

▼x

Economic conditions

▼y

2000-.
700

1

▼a

Li, Cheng,

▼d

1956-.
945

▼a

KLPA
---
Holdings Information
No.
Location
Call Number
Accession No.
Availability
Due Date
Make a Reservation
Service

No.

1

Location

Main Library/Western Books/

Call Number

320.951 C53992

Accession No.

111739686

Availability

Available

Due Date

Make a Reservation

Service
Contents information
Table of Contents
Foreword	
Introduction: Assessing China''s Political Development	p. 1
Chinese Discourse about Democracy	
China''s Political Trajectory: What Are the Chinese Saying?	p. 25
Ideological Change and Incremental Democracy in Reform-Era China	p. 44
Institutional Development and Generational Change	
Institutionalization and the Changing Dynamics of Chinese Leadership Politics	p. 61
Institutionalization of Political Succession in China: Progress and Implications	p. 80
Will China''s "Lost Generation" Find a Path to Democracy?	p. 98
Economic Actors and Economic Policy	
Business Interest Groups in Chinese Politics: The Case of the Oil Companies	p. 121
China''s Left Tilt: Pendulum Swing or Midcourse Correction?	p. 142
Agents of Change: Media, Law, and Civil Society	
Political Implications of China''s Information Revolution: The Media, the Minders, and Their Message	p. 161
Legalization without Democratization in China under Hu Jintao	p. 185
Staying in Power: "What Does the Chinese Communist Party Have to Do?	p. 212
Forces for and against Democracy in China	
Fighting Corruption: A Difficult Challenge for Chinese Leaders	p. 229
The Political Implications of China''s Social Future: Complacency, Scorn, and the Forlorn	p. 251
Straining against the Yoke? Civil-Military Relations in China after the Seventeenth Party Congress	p. 267
External Models and China''s Future	
Learning from Abroad to Reinvent Itself: External Influences on Internal CCP Reforms	p. 283
Taiwan and China''s Democratic Future: Can the Tail Wag the Dog?	p. 302
Index	p. 331
Table of Contents provided by Blackwell. All Rights Reserved.