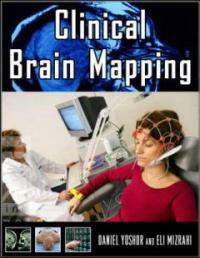 000
00000cam u22002054a 4500
001
000045835707
005
20150610161557
008
150610s2012 nyua b 001 0 eng
010

▼a

2012008423
020

▼a

9780071484411 (hardback : alk. paper)
035

▼a

(KERIS)REF000016725036
040

▼a

DNLM/DLC

▼c

DLC

▼d

211009
042

▼a

pcc
060

1

0

▼a

WL 335
082

0

0

▼a

612.8/2

▼2

23
084

▼a

612.82

▼2

DDCK
090

▼a

612.82

▼b

C641
245

0

0

▼a

Clinical brain mapping /

▼c

editors, Daniel Yoshor, Eli M. Mizrahi.
250

▼a

1st ed.
260

▼a

New York :

▼b

McGraw-Hill Professional,

▼c

c2012.
300

▼a

xi, 284 p. :

▼b

ill. ;

▼c

29 cm.
504

▼a

Includes bibliographical references and index.
505

8

▼a

Machine generated contents note: SECTION I: TECHNIQUES Chapter 1. Surface Anatomy as a Guide to Cerebral Function Chapter 2. Structural Imaging for Identification of Functional Brain Regions Chapter 3. Functional MRI for Cerebral Localization: Principles and Methodology Chapter 4. Functional MRI: Application to Clinical Practice in Surgical Planning andIntraoperative Guidance Chapter 5. Neuropsychological Testing: Understanding Brain behavior Relationships Chapter 6. The Wada Test: Intracarotid Injection of Sodium Amobarbital to Evaluate Language and Memory Chapter 7. Extraoperative Brain Mapping Using Chronically Implanted Subdural Electrodes Chapter 8. Brain Mapping in the Operating Room Chapter 9. Anesthesia for Brain Mapping Surgery Chapter 10. Clinical Applications of Magnetoencephalography in Neurology and Neurosurgery Chapter 11. Optical Spectroscopic Imaging of the Human Brain Clinical Applications Chapter 12. Electrocorticographic Spectral Analysis Chapter 13. Pediatric Brain Mapping: Special Considerations SECTION II: SYSTEMS Chapter 14. Mapping of the Sensorimotor Cortex Chapter 15. Mapping of Human Language Chapter 16. Mapping of the Human Visual System Chapter 17. Mapping of Hearing Chapter 18. Mapping of Memory.
650

1

2

▼a

Brain Mapping

▼x

methods.
700

1

▼a

Yoshor, Daniel.
700

1

▼a

Mizrahi, Eli M.
---
Holdings Information
No.
Location
Call Number
Accession No.
Availability
Due Date
Make a Reservation
Service

No.

1

Location

Medical Library/Monographs(3F)/

Call Number

612.82 C641

Accession No.

131049285

Availability

Available

Due Date

Make a Reservation

Service
Contents information
Table of Contents
Techniques: How to Map Brain Function  
Stuctural Mri: Techniques and Imaging Clues for Identification of Functional Brain Regions  
Surface Anatomy as a Guide to Cerebral Localization  
Functional Mri: Technique and Practical Application in Clinical Practice  
Magnetoencephalography  
Intraoperative Physiological Mapping: Direct Cortical Stimulation and Electrocorticographic Recordings of Somatosensory Evoked Potentials  
Optical Imaging  
Anesthetic Techniques for Intraoperative Brain Mapping  
Extraoperative Physiological Mapping: Techniques for Functional Brain Mapping Using Semi-chronically Implanted Subdural Electrodes  
Brain Mapping in Pediatric Patients: Special Considerations  
Mapping Specific Functions  
Somatomotor and Somatosensory  
Language  
Vision  
Hearing  
Memory  
Clinical Applications  
Brain Mapping in the Treatment of Epilepsy  
Brain Mapping in the Treatment of Tumors and Avms  
Table of Contents provided by Publisher. All Rights Reserved.