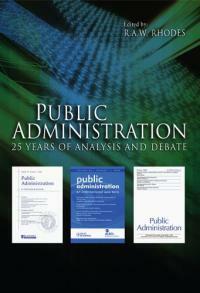 000
00000nam u2200205 a 4500
001
000045835158
005
20150605135214
008
150604s2011 enk b 001 0 eng d
020

▼a

9781444332162
040

▼a

211009

▼c

211009

▼d

211009
050

0

0

▼a

JF1351

▼b

.P8187 2011
082

0

4

▼a

351

▼2

23
084

▼a

351

▼2

DDCK
090

▼a

351

▼b

P9767
245

0

0

▼a

Public administration :

▼b

25 years of analysis and debate /

▼c

edited by R.A.W. Rhodes.
260

▼a

Chichester, West Sussex :

▼b

Wiley-Blackwell,

▼c

c2011.
300

▼a

279 p. ;

▼c

25 cm.
504

▼a

Includes bibliographical references and index.
650

0

▼a

Public administration.
700

1

▼a

Rhodes, R. A. W.
730

0

▼a

Public administration.
945

▼a

KLPA
---
Holdings Information
No.
Location
Call Number
Accession No.
Availability
Due Date
Make a Reservation
Service

No.

1

Location

Main Library/Western Books/

Call Number

351 P9767

Accession No.

111737046

Availability

Available

Due Date

Make a Reservation

Service
Contents information
Table of Contents
List of Figures, Tables, Boxes and Appendixes.
  
 List of Sources.
  
 Acknowledgements.
  
 List of Contributors.
  
 Chapter 1. Yesterday When I Was Young (R. A. W. Rhodes).
 
 PART I: THEORY
 
 Chapter 2. Theory, Stylized Heuristic or Self-fulfilling Prophecy? The Status of Rational Choice Theory in Public Administration
 Afterword: Rationality as Rationalizability (Colin Hay).
 
 Chapter 3. The Governance Narrative: Key Findings and Lessons from the ESRC's Whitehall Programme
 Afterword: Waves of Governance (R. A. W. Rhodes).
 
 Chapter 4. The Dynamics of Multi-organizational Partnerships: An Analysis of Changing Modes of Governance
 Afterword: Managing Mixed Modes of Governance (Vivien Lowndes and Chris Skelcher).
 
 Chapter 5. 'Accountability': An Ever-expanding Concept?
 Afterword: Still Expanding (Richard Mulgan).
 
 PART II: COMPARISON
 
 Chapter 6. Cabinet Government: An Elusive Ideal?
 Afterword: Nothing Has Changed (Patrick Weller).
 
 Chapter 7. The Joint-decision Trap: Lessons from German Federalism and European Integration
 Afterword: Modes of European Policy-making (Fritz W. Scharpf).
 
 Chapter 8. Managing Networks in the Public Sector: A Theoretical Study of Management Strategies in Policy Networks
 Afterword: The Managerial Turn (Erik-Hans Klijn, Joop Koppenjan and Katrien Termeer).
 
 Chapter 9. Territorial Administration and Political Control: Decentralization in France
 Afterword: Trapped in Localism (Jean-Claude Thoenig).
 
 PART III: PUBLIC MANAGEMENT
 
 Chapter 10. A Public Management For All Seasons?
 Afterword: From Fashion to Mainstream (Christopher Hood).
 
 Chapter 11. The Competent Boundary Spanner
 Afterword: Bringing Back Agents (Paul Williams).
 
 Chapter 12. The Public-service Orientation: Issues and Dilemmas
 Afterword: No More Customers (John Stewart and Michael Clarke).
 
 Chapter 13. 'Portrait of a Profession Revisited'
 Afterword: Continuity and Change (Baron Wilson of Dinton).
 
 Name Index.
 
 Subject Index.
 
   

 
Information Provided By: :