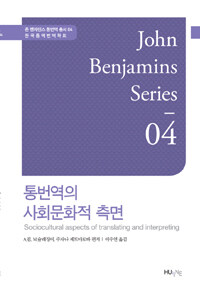 000
01180camcc2200361 c 4500
001
000045817262
005
20141202180752
007
ta
008
141202s2014 ulkad AU 101c kor
020

▼a

9788974649210

▼g

93700
020

1

▼a

9788974649142 (세트)
035

▼a

(KERIS)BIB000013532085
040

▼a

211059

▼d

211009
041

1

▼a

kor

▼h

eng
082

0

4

▼a

418.02

▼2

23
085

▼a

418.02

▼2

DDCK
090

▼a

418.02

▼b

2014z4

▼c

4
245

0

0

▼a

통번역의 사회문화적 측면 /

▼d

A. 핌,

▼e

M. 슐레징어,

▼e

주자나 제트마로바 편저 ;

▼e

이주연 옮김
246

1

9

▼a

Sociocultural aspects of translating and interpreting
260

▼a

서울 :

▼b

HUiNE,

▼c

2014
300

▼a

381 p. :

▼b

삽화, 도표 ;

▼c

23 cm
440

0

0

▼a

존 벤자민스 통번역 총서 =

▼x

John Benjamins series ;

▼v

04
500

▼a

색인수록
700

1

▼a

Pym, Anthony,

▼d

1956-,

▼e

편

▼0

AUTH(211009)69495
700

1

▼a

Shlesinger, Miriam,

▼d

1947-,

▼e

편

▼0

AUTH(211009)43233
700

1

▼a

Jettmarova, Zuzana,

▼e

편
700

1

▼a

이주연,

▼e

역

▼0

AUTH(211009)86331
711

2

▼a

국제통번역학술대회

▼n

(제10회 :

▼d

2003 :

▼c

프라하)
900

1

0

▼a

핌, A.,

▼e

편
900

1

0

▼a

슐레징어, M.,

▼e

편
900

1

0

▼a

제트마로바, 주자나,

▼e

편
945

▼a

KLPA
---
Holdings Information
No.
Location
Call Number
Accession No.
Availability
Due Date
Make a Reservation
Service

No.

1

Location

Main Library/Monographs(3F)/

Call Number

418.02 2014z4 4

Accession No.

111727271

Availability

Available

Due Date

Make a Reservation

Service
Contents information
Book Introduction
존 벤자민스 통번역 총서 4권. 2003년 9월 프라하의 카를 대학교 번역학연구소가 '번역의 목표(Translation Targets)'라는 주제로 개최한 제10회 국제통번역학술대회에서 발표된 논문들로 엮은 책이다. 학술대회 기간 그리고 이후 번역학에서 핵심 분야로 떠오른 사회문화적 접근법들에 초점을 두어 논문을 선택했다.

이와 관련해 편집자들은 번역과 통역을 모두 포함하는 것이 중요하다고 인식했다. 특히 '지역사회 통역' 혹은 '공공서비스 통역' 영역에서 사회문화적 접근에 관한 놀라운 발전이 있었기 때문이다. 따라서 단순한 텍스트 통역보다 맥락에서의 권력관계가 더 중요한 의료기관, 이민자 구금소, 망명 심사 면접 등의 상황에서 통역사의 역할을 고찰한 논문들을 포함했다.
[발간사]

1960년대 캣포드(J. C. Catford)와 니다(E. Nida) 이후 통역학을 포괄하는 번역학은 현대적 본격 학문 분야로 부상하기 시작하였다. 캣포드의 '언어학적 접근'과 니다의 성서번역을 위한 '소통효과중심'의 접근에 이어 '문화전환'(cultural turn)과 '맥락전환'(contextual turn)의 패러다임 전환을 거치면서 번역학은 학제적 성격(interdisciplinarity)을 더욱더 공고히 하게 되었다.
번역학이 대표적인 학제적 학문분야인 것은 연구대상인 문제와 현상의 설명을 위해 가져오는 이론 틀(frameworks)과 연구방법론(research methodology)의 다양성 때문이라 할 수 있다. 번역학은 번역과정과 번역결과물을 모두 연구대상으로 삼는다. 번역사의 '블랙박스' 안에서 번역행위를 둘러싸고 연속적으로 이루어지는 무수한 의사결정 과정과 그 과정에 작용하는 다양한 변수들을 설명하는 한편 이들 작용의 가시적 구현체로서의 번역결과물을 모두 다룬다. 이렇다 보니 번역사의 머릿속에서 이루어지는 과정을 들여다보기 위해 사고발화법(Think-Aloud Protocol), fMRI(functional magnetic resonance imaging, 기능적 자기 공명 영상 기법), 통계처리를 포함하는 코퍼스 분석, 담화분석 및 기능문법 등 다양한 인접학문분야의 연구성과와 분석도구를 차용하기도 한다.
그러나 번역학이 언제까지나 학제성에 만족하고 있을 수만은 없다. 번역학의 학제성은 그동안 어쩌면 번역학의 일방적 '짝사랑'이었을 수도 있다는 문제의식이 필요한 시점에 와있다. 프랑스 번역학자 질(D. Gile)의 이야기는 이런 면에서 시사하는 바가 크다.

[번역학이] 타 학문분야와 맺은 파트너십은 균형을 이루지 못한 경우가 대부분 이어서, [우월한] 지위, 파워, 재정능력 및 실제 리서치 능력은 일반적으로 파트너 관계에 있는 학문분야에 있다. 뿐만 아니라 학제성이 패러다임의 확산을 도와 결과적으로 자율적인 학문분야로서의 통번역 연구의 지위를 약화시키고 있다.
(질 2004: 29)

질의 이야기는 학제성을 장점으로 부각시켜온 번역학의 입장에서 다시 한 번 곱씹어볼 만하다. 핌(A. Pym) 역시 대표적 번역학 학술지의 하나인 『Target 』의 역할을 돌아보면서, 번역학이 인접 학문분야의 연구성과를 도입해오고 있는 반면, 정작 번역학의 연구성과가 인접 학문분야로 전파되는 경우는 상대적으로 드물다는 점을 지적하고 있다. 그만큼 쌍방향의 균형 잡힌 호혜적 지적(知的) 파트너십은 아니었다는 이야기일 것이다.
이런 시점에서 번역학을 연구하는 우리가 해야 할 일은 번역학 자체의 고유연구영역을 더 분명히 규정하는 한편 학문적 엄격성(academic rigor)을 갖춘 연구방법론을 확립하는 일일 것이다. 이런 맥락에서 그동안 전세계적으로 번역학의 다양한 연구 성과와 새롭게 개척되는 연구방법론을 선도적으로 꾸준히 소개해온 존 벤자민스(John Benjamins) 출판사의 통번역 총서의 기여를 인정해야 할 것이다. 번역학 연구자라면 누구나 이 총서 가운데 최소한 한두 권 이상은 읽어보았을 정도로 번역학의 학문적 성과를 집대성하여 소개하였기 때문이다. 『존 벤자민스 통번역 총서』 번역작업에 누구보다도 바쁘신 교수연구자들이 다수 자원하신 것은 바로 이 총서에 대한 지적 향수(知的 鄕愁) 같은 것이 작용한 때문은 아닐지.
국내 최초의 전문통번역학 연구단체인 한국통역번역학회(KSCI)가 이번에 『존 벤자민스 통번역 총서』가운데 대표적인 업적들을 선별하여 번역 출간하게 된 것은 특별히 의미가 크다. 1998년 학회 창립 이래 국내 최초의 한국연구재단 등재지『통역과 번역』, 국제전문학술지 『FORUM: International Journal of Interpretation and Translation』을 발행해오면서 국내외 통번역학의 발전과 소통에 이바지해온 본 학회의 통번역총서 번역 발간이 우리말로 쓰인 번역학 자료에 목말라해 온 연구자들에게 도움이 될 수 있기를 희망한다.
경기침체로 출판계 전망이 장밋빛이지만은 않은 상황에서 "뜻있는 기획출판일수록 대학 출판부에서 맡아야 한다."며 선뜻 『존 벤자민스 통번역 총서』 출판 추진에 합의해주신 한국외국어대학교, 특히 권원순 출판부장님과 안상덕 팀장님, 신선호 과장님께 고개 숙여 감사를 드린다. 학회를 대표하여 출간을 총괄해주신 김대진 서울과학기술대학교 교수님과 실무조정을 도와준 학회 교수님들께도 감사의 마음을 전한다.

2014년 4월 1일
한국외국어대학교 영어통번역학부 교수
한국통역번역학회 회장
정호정


[서문]

이 책은 2003년 9월 11~13일 프라하의 카를 대학교 번역학연구소가 '번역의 목표(Translation Targets)'라는 주제로 개최한 제10회 국제통번역학술대회에서 발표된 논문들을 엮은 것이다. 학술대회 기간 그리고 이후 번역학에서 핵심 분야로 떠오른 사회문화적 접근법들에 초점을 두어 논문을 선택했다.
이와 관련해 편집자들은 번역과 통역을 모두 포함하는 것이 중요하다고 인식했다. 특히 '지역사회 통역' 혹은 '공공서비스 통역' 영역에서 사회문화적 접근에 관한 놀라운 발전이 있었기 때문이다. 따라서 단순한 텍스트 통역보다 맥락에서의 권력관계가 더 중요한 의료기관, 이민자 구금소, 망명 심사 면접 등의 상황에서 통역사의 역할을 고찰한 논문들을 포함했다. 이러한 연구와 보다 전통적 연구 분야를 같이 살펴보면서 여러 영역에 걸쳐 같은 질문을 던지게 되기를 희망한다. 예를 들어 망명 심사에서 비대칭적 권력관계가 윤리적 문제를 일으킨가면 문학 번역에서도 이러한 요소가 영향을 미치지 않을까? 물론 반대 방향의 질문도 제기될 수 있다. 문학 번역에서 사회적 행위자들의 협력과 합의가 이루어질 수 있다면 공공서비스 통역에서도 이러한 개념들이 적용될 수 있지 않을까? 이러한 질문에 대한 답이 부정적일 지도 모른다.
하지만 최소한 이 같은 질문이 번역학 연구에서 허용되어야 한다.
이 책에 실린 논문들은 특정 학파나 이론을 지지하기 위해 선택된 것이 아니다. 사회문화적 요소들에 대한 근본적인 문제의식을 느끼고 매우 폭넓은 번역 및 통역 상황들을 모색하기 위한 연구들이다. 우리가 이 책에서 새롭게 제시하는 공간에서의 연구를 통해 앞으로 언젠가는 근본적인 문제들에 대한 답을 찾기를 희망한다.
편집 과정에서 스페인 타라고나에 있는 로비라 이 비르힐리 대학교의 '문화 간 연구그룹(Intercultural Studies Group)'의 지원을 많이 받았다. 특히 박사과정 학생들인 알렉산더 페레크레스텐코(Alexander Perekrestenko), 이사벨 첨보(Isabel Chumbo), 나타 하지두(Nata Hajdu), 나티비다드 헤레로 프라도(Natividad Herrero Prado), 그레타 호머(Greta Holmer), 아이세나즈 코즈(Aysenaz Kos), 카를로 마르조키(Carlo Marzocchi), 루이스 로돌포 모란 퀴로즈(Luis Rodolfo Mor?n Quiroz), 산드라 포퍼드(Sandra Poupaud), 블랑카 리세히 이 로이그(Blanca Rissechi Roig), 타티아나 살라에트(Tatiana Salaet), 카요코 다케다(Kayoko Takeda), 막달레나 탈라반(Magdalena Talaban), 실비아 빌라노바 수브라츠(Silvia Vilanova Subirats), 제니퍼 바니(Jennifer Varney), 마지 바그너-노로카(Maj Wagner-Nawrocka) 등의 도움에 감사를 표한다.
Information Provided By: :

Table of Contents
목차
서문 = 9
제1장 들어가기 : 번역학의 사회문화적 측면에 관하여 = 17
제2장 번역 이면의 행위자들
 소수언어의 번역 동향 : 네덜란드어 사례연구 = 57
 "물론 독일인들이 핀란드에 관심이 있습니다만…" 1920-30년대 독일의 핀란드 문학에 대한 개방성 = 75
 동독의 검열자료로 살펴본 번역 = 93
제3장 사회적 역사
 번역하지 않음 :「로빈슨 크루소」의 최초 포르투갈어 번역에서의 무번역(zero-translation) = 113
 「로빈슨 크루소」에서「왈라키아의 로빈슨」까지 : 수용 과정의 복잡성 = 124
제4장 역할과 가치의 인식
 19세기 프랑스에서 이루어진 영국-프랑스 간의 번역 : 필라레트 샤즐, 테커리와 쥘 자넹 = 143
 구자라트에서의 영어 번역 : 합의 도출 = 157
제5장 내부 맥락과 외부 맥락의 상호작용
 번역(Translation)과 옮기기(Traduction) 사이에서 :「고독한 두 사람(Deux Solitudes)」의 많은 역설 = 171
 문화간 소통으로서 이중언어 번역/글쓰기 = 196
제6장 드러난 권력 관계
 여성 번역의 실태 : ''번역 장''에서의 여성 = 221
 담화 수입으로서의 번역 : 라트비아어에서 고유명사 전이의 변화 = 239
제7장 권력 배분과 협력
 통역이 수반된 망명 심사에서의 ''번역 문화'' = 255
 라스팔마스 데 그란카나리아 이민자 구금소에서의 통역 : 의사소통과 권력 = 271
 공공의료서비스 통역사가 중개하는 의사소통에서 이루어지는 언어, 문화적 정체성 협상 = 284
제8장 체계 구축
 바벨 재구축 : 플랑드르 사회복지 기관들과 통번역 서비스에 대한 설문조사 = 313
 10분짜리 결혼식에서부터 3주짜리 스파 치료 프로그램까지 : 슈타이어마르크 주의 수화통역 시스템 재구성 = 326
제9장 통역학의 견해
 ''사회적 연구로의 이동?'' 통역연구의 경로와 패러다임 = 349
저자약력 = 373
찾아보기 = 377