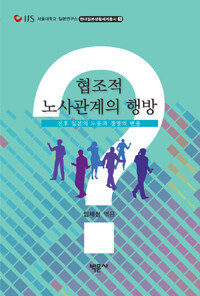 000
00000cam c2200205 c 4500
001
000045813812
005
20160704100227
007
ta
008
140110s2013 ulkd b 001c kor
020

▼a

9788998468132

▼g

03300
035

▼a

(KERIS)BIB000013355968
040

▼a

211032

▼c

211032

▼d

211032

▼d

211009
041

0

▼a

kor

▼b

eng
082

0

4

▼a

331.80952

▼2

23
085

▼a

331.80952

▼2

DDCK
090

▼a

331.80952

▼b

2013
245

0

0

▼a

협조적 노사관계의 행방 :

▼b

전후 일본의 노동과 경영의 변용 /

▼d

임채성 엮음
260

▼a

서울 :

▼b

박문사,

▼c

2013
300

▼a

337 p. :

▼b

도표 ;

▼c

23 cm
440

1

0

▼a

(서울대학교 일본연구소) 현대일본생활세계총서 ;

▼v

5
500

▼a

필자: 임채성, 선재원, 김삼수, 정진성, 김양태, 우종원, 에노키 가즈에(榎一江)
500

▼a

부록: 전전의 노동조합, 전후 노동조합 중앙 조직의 변천, 광업 관계 노동조합 외
504

▼a

참고문헌(p. 293-309)과 색인수록
536

▼a

이 저서는 2008년 정부(교육과학기술부)의 재원으로 한국연구재단의 지원을 받아 수행된 연구임
700

1

▼a

임채성,

▼e

편

▼0

AUTH(211009)95773
700

1

▼a

선재원,

▼e

저

▼0

AUTH(211009)59802
700

1

▼a

김삼수,

▼e

저
700

1

▼a

정진성,

▼e

저

▼0

AUTH(211009)77417
700

1

▼a

김양태,

▼e

저
700

1

▼a

우종원,

▼e

저

▼0

AUTH(211009)27449
700

1

▼a

榎一江,

▼e

저
900

1

0

▼a

Lim, Chai-sung,

▼e

편
900

1

0

▼a

Sun, Jae-won,

▼e

저
900

1

0

▼a

Kim, Sam-soo,

▼e

저
900

1

0

▼a

Chung, Jin-sung,

▼e

저
900

1

0

▼a

Kim, Yang-tae,

▼e

저
900

1

0

▼a

Woo, Jong-won,

▼e

저
900

1

0

▼a

에노키 가즈에,

▼e

저
900

1

0

▼a

Enoki, Kazue,

▼e

저
945

▼a

KLPA
---
Holdings Information
No.
Location
Call Number
Accession No.
Availability
Due Date
Make a Reservation
Service

No.

1

Location

Main Library/Monographs(3F)/

Call Number

331.80952 2013

Accession No.

511022693

Availability

Available

Due Date

Make a Reservation

Service

No.

2

Location

Main Library/Monographs(3F)/

Call Number

331.80952 2013

Accession No.

511022694

Availability

Available

Due Date

Make a Reservation

Service
Contents information
Book Introduction
현재 일본에서는 비정규직의 급증, 과로사의 다발, 워킹푸어(the working poor)의 등장 등 과거 노동현장 에서 볼 수 없었던 다양한 문제가 나타나고 있다. 이는 내외적 충격으로 인해 일본 노사관계가 변용하고 있다는 것을 말해준다.

이에, 우리는 다음과 같은 질문을 던지지 않을 수 없다. 연공서열, 종신고용, 기업별 노동조합이라는 '일본적' 노사관계의 특징이 전후 어떻게 형성되었는가? 또한 버블경제의 발생과 이의 붕괴로 일본적 노사관계가 어떠한 프로세스를 거쳐 변용되었는가? 이에 대한 고찰은 한국사회에서도 이미 심각해진 젠더 규범, 파트 타이머의 일상화, 격차사회의 등장 등 제반 문제가 일본사회를 어떻게 얽매고 있는가에 관해서 대답하는 과정이기도 하다.
현재 일본에서는 비정규직의 급증, 과로사의 다발, 워킹푸어(the working poor)의 등장 등 과거 노동현장 에서 볼 수 없었던 다양한 문제가 나타나고 있다. 이는 내외적 충격으로 인해 일본 노사관계가 변용하고 있다는 것을 말해준다. 이에, 우리는 다음과 같은 질문을 던지지 않을 수 없다. 연공서열, 종신고용, 기업별 노동조합이라는 '일본적' 노사관계의 특징이 전후 어떻게 형성되었는가? 또한 버블경제의 발생과 이의 붕괴로 일본적 노사관계가 어떠한 프로세스를 거쳐 변용되었는가? 나아가 2000년대에 접어들어 시장주의 경제정책의 영향으로 나타난 노동개혁이 실제로 일본 노사관계에 어떠한 영향을 주었는가? 이에 대한 고찰은 한국사회에서도 이미 심각해진 젠더 규범, 파트 타이머의 일상화, 격차사회의 등장 등 제반 문제가 일본사회를 어떻게 얽매고 있는가에 관해서 대답하는 과정이기도 하다. 이를 통해 현재 일본 노동계가 직면하고 있는 화두가 일시적인 문제의 표상이 아니라 근대화 이후 일본사회의 역사적 과정에서 나타난 구조적인 변화임을 알 수 있을 것이다.
Information Provided By: :

Author Introduction
우종원
(지은이)
서울대학교 경제학과를 졸업하고 도쿄 대학교 경제학 박사학위를 취득했다. 현재 일본 사이타마 대학교 경제학부 교수로 재임 중이다. 주요 저서와 논문으로는 『「身分の取引」と日本の雇用慣行 ―??の事例分析―』,『?使?係の日韓比較 ―トヨタ自動車と現代自動車を素材として―』,『社?政策??誌』등이 있다.
임채성
(지은이)
서울 출생. 서울대학교 국제경제학과를 졸업한 후 도쿄대학교 대학원 경제학연구과에서 박사학위를 받았고, 현대경제연구원 연구위원, 대통령자문정책기획위원회 전문위원, 배재대학교 일본학과 조교수를 거쳐 2010년부터 서울대학교 일본연구소 부교수로 재직 중이다. 주요 관심 분야는 동아시아의 전시경제 전개와 인프라 형성 그리고 성장 등에 관한 연구이며, 최근에는 한·중·일 3국의 노사 관계, 노동 위생, 임금 구조에 주목하여 분석을 진행하고 있다. 2007년에 일본의 정치경제학·경제사학회 학회상을 단독 수상했다. 저서로 『전시경제와 철도운영: '식민지' 조선에서 '분단' 한국으로의 역사적 경로를 찾는다戰時經濟と鐵道運營: 「植民地」 朝鮮から 「分斷」韓國への歷史的經路を探る』(東京大學出版會, 2005)가 있으며, 「戰爭の衝擊と國鐵の人的運用」(『歷史と經濟』 209, 2010), "The Pandemic of the Spanish Influenza in Colonial Korea"(Korea Journal, 51(4), 2011), "The Development of Labor Hygiene in Colonial Korea, 1910-1945: The Health Conditions of Korean National Railways (KNR) Employees"(Seoul Journal of Korean Studies, 24(1), 2011) 등 다수의 논문이 있다.
김삼수
(지은이)
서울대학교 경제학과 졸업 일본 도쿄대학 대학원 경제학연구과(경제학박사) 한국개발연구원(KDI) 연구위원, University of Sydney 객원교수 •현재: 서울과학기술대학교 경영학과 교수 •논문 및 저서: "Wage System Reform in Japan: From Seniority to Performance", 『韓国資本主義国家の成立過程』(東京大学出版会) 등
정진성
(지은이)
서울대학교 경제학과 졸업 서울대학교 대학원 경제학과(경제학석사) 일본 쓰쿠바대학 대학원 역사ㆍ인류학연구과(문학박사) 한국개발연구원(KDI) 연구위원, 배재대학교 조교수 현재: 한국방송통신대학교 일본학과 교수 논문 및 저서: 「重要産業統制法下における石炭?占組織の市場統制政策」, 『일본경영사』(역서, 한울) 등
김양태
(지은이)
일본 메이지(明治)대학교 경영학 박사 현) 성공회대학교 노동사연구소 연구원
에노키 가즈에
(지은이)
일본 호세이대학 오하라사회문제연구소 준교수
Information Provided By: :

Table of Contents
목차
발간사 = 3
서장 : 일본 경제와 노사관계의 전개 / 임채성 = 11
 1. 과제 설정 = 11
 2. 전전 일본 노사관계의 전개와 이를 둘러싼 논점 = 13
 3. 전후 일본 노사관계의 전개와 이를 둘러싼 논점 = 23
Ⅰ. 전전기(戰前期) 일본 노사관계의 전개와 공장위원회 / 임채성 = 41
 1. 공장위원회의 역사적 위용과 문제의식 = 41
 2. 1920년대 공장위원회의 설치와 운영 = 45
 3. 1930년대 공장위원회의 확대와 변용 = 64
 4. 전전기 노사협조의 경험과 전후사적 의의 = 75
Ⅱ. 패전 직후 일본의 구조조정정책과 노사관계 / 선재원 = 79
 1. 전후 협조적 노사관계의 출발 = 79
 2. 구조조정정책과 노사관계 = 81
 3. 개별 기업의 구조조정과 노사관계 : 쇼와전공 사례 분석 = 95
 4. 구조조정과 노동조합의 공인 = 113
Ⅲ. 고도성장기 일본의 노사관계 : 기업별조합 체제의 성립을 중심으로 / 김삼수 = 115
 1. 고도경제성장과 기업별조합 체제 = 115
 2. 집단적 노사관계 정책과 일경련의 노사관계 구상 = 119
 3. 산업별조합 운동의 좌절과 기업별조합 체제의 성립 = 123
 4. 춘투의 기능과 한계 = 136
 5. 기업별조합 체제와 노사협의제 = 142
Ⅳ. 에너지혁명기 일본 석탄산업의 노동운동 : 석탄정책전환투쟁을 중심으로 / 정진성 = 145
 1. 에너지혁명과 석탄산업의 사양화 = 145
 2. 탄로의 합리화반대투쟁의 좌절 = 153
 3. 정책전환투쟁의 전개 = 162
 4. 탄로의 방향 전환 = 167
 5. 정책전환투쟁의 성과 = 172
 6. 정책전환투쟁의 귀결 = 186
Ⅴ. 저성장기 일본 노사관계의 동요와 재편 : 1970-1980년대를 중심으로 / 김양태 = 193
 1. 문제제기 : 저성장기 노사관계의 변화 = 193
 2. 고도경제성장과 분쟁적 안정구조의 노사관계 = 200
 3. 석유 위기와 노사관계의 동요와 재편 = 206
 4. 비(非)분쟁적 협조주의 노사관계와 노동조합 = 216
 5. 결론을 대신해서 : 개별적 노사관계 강화의 귀결 = 221
Ⅵ. 세계화와 일본의 기업별조합 : '종업원 주권'의 패러독스 / 우종원 = 227
 1. 문제 제기 : 세계화와 노동조합 = 227
 2. '종업원 주권'의 행사주체로서의 기업별조합 = 235
 3. 렌고와 기업별조합 = 245
 4. A사의 고용관리 및 임금관리 = 251
 5. '현장력'의 행방 = 258
 6. 결론을 대신해서 : '종업원 주권'의 패러독스 = 265
Ⅶ. 일본의 고용 관행과 젠더 : 결혼퇴직을 중심으로 / 에노키 가즈에 = 267
 1. 젠더 문제로서의 결혼퇴직 관행 = 267
 2. 역사적 전제 = 270
 3. 전후 결혼퇴직의 제도화 = 275
 4. 결혼퇴직제의 '해소' = 281
 5. 고도성장기 이후의 여성 노동 = 286
 6. 결혼퇴직 관행의 경제적 합리성과 젠더 문제 = 289
참고문헌 = 293
영문초록 = 311
찾아보기 = 319
부록 = 327