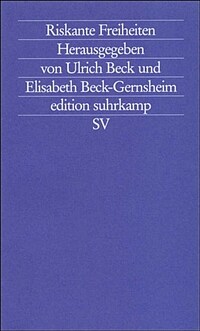 000
00000nam u2200205 a 4500
001
000045809439
005
20161124111136
008
140902s2012 gw b 000 0 ger
020

▼a

3518118161
040

▼d

211009

▼a

211009

▼c

211009
082

0

4

▼a

302.54

▼2

23
084

▼a

302.54

▼2

DDCK
090

▼a

302.54

▼b

R595-8
245

0

0

▼a

Riskante Freiheiten :

▼b

Individualisierung in modernen Gesellschaften /

▼c

herausgegeben von Ulrich Beck und Elisabeth Beck-Gernsheim.
250

▼a

8. Aufl., Erstausg.
260

▼a

Frankfurt am Main :

▼b

Suhrkamp,

▼c

2012.
300

▼a

480 p. ;

▼c

18 cm.
490

1

▼a

Edition Suhrkamp ;

▼v

1816 = n.F., Bd. 816
504

▼a

Includes bibliographical references.
650

0

▼a

Individualism.
650

0

▼a

Families.
650

0

▼a

Civilization, Modern

▼y

1950-.
650

0

▼a

Social psychology.
700

1

▼a

Beck, Ulrich,

▼d

1944-.
700

1

▼a

Beck-Gernsheim, Elisabeth,

▼d

1946-.
830

0

▼a

Edition Suhrkamp ;

▼v

1816.
830

0

▼a

n.F., ;

▼v

Bd. 816.
945

▼a

KLPA
---
Holdings Information
No.
Location
Call Number
Accession No.
Availability
Due Date
Make a Reservation
Service

No.

1

Location

Main Library/Western Books/

Call Number

302.54 R595-8

Accession No.

111723089

Availability

Available

Due Date

Make a Reservation

Service
Contents information
Author Introduction
울리히 벡
()
독일 슈톨프에서 태어났다. 프라이부르크 대학과 뮌헨 대학에서 사회학·철학·정치학을 수학하였으며 뮌헨 대학에서 사회학 박사 학위를 받았다. 이후 뮌스터 대학과 밤베르크 대학 교수를 거쳐서 뮌헨 대학의 사회학연구소장을 맡았다. 독일 바이에른 및 작센 자유주 미래위원회 위원을 역임하기도 한 그는 미래위원회 위원 활동을 통해 자신의 시민노동 모델을 발전시키기 시작하면서 정치적으로 큰 인기를 끌기도 했다. 2015년 1월 1일, 심근경색으로 70세의 나이에 사망하였다. 저서로는《자기만의 신A God of One's Own》(도서출판 길, 2013), 《위기의 세계World at Risk》(2009)(국내미출간), 《세계주의적 유럽Cosmopolitan Europe》(2007, 에드가 그란데Edgar Grande 공저)(국내미출간)이 있다.
Elisabeth Beck-Gernsheim
()
Information Provided By: :

Table of Contents
Beck, Ulrich: _. Beck-Gernsheim, Elisabeth: Individualisierung in modernen Gesellschaften - Perspektiven und Kontroversen einer subjektorientierten Soziologie. Beck, Ulrich: Jenseits von Stand und Klasse?. Brock, Ditmar: Ruckkehr der Klassengesellschaft?. Die neuen sozialen Graben einer materiellen Kultur. Riedmuller, Barbara: Sozialpolitik und Armut. Ein Thema zwischen Ost und West. Rauschenbach, Thomas: Inszenierte Solidaritat: Soziale Arbeit in der Risikogesellschaft. Beck-Gernsheim, Elisabeth: Auf dem Weg in die postfamiliale Familie - Von der Notgemeinschaft zur Wahlverwandtschaft. Geissler, Birgit: _. Oechsle, Mechtild: Lebensplanung als Konstruktion: Biographische Dilemmata und Lebenslauf-Entwurfe junger Frauen. Wallerstein, Judith: _. Blakeslee, Sandra: Scheidung - Gewinner und Verlierer. Luhmann, Niklas: Copierte Existenz und Karriere. Zur Herstellung von Individualitat. Rerrich, Maria S.: Zusammenfugen, was auseinanderstrebt: Zur familialen Lebensfuhrung von Berufstatigen. Kohli, Martin: Institutionalisierung und Individualisierung der Erwerbsbiographie. Baethge, Martin: Arbeit und Identitat. Mayer, Karl Ulrich: _. Muller, Walter: Individualisierung und Standadisierung im Strukturwandel der Moderne. Lebensverlaufe im Wohlfahrtsstaat. Zapf, Wolfgang: Staat, Sicherheit und Individualisierung. Hitzler, Ronald: _. Honer, Anne: Bastelexistenz. Uber subjektive Konsequenzen der Individualisierung. Beck-Gernsheim, Elisabeth: Gesundheit und Verantwortung im Zeitalter der Gentechnologie. Keupp, Heiner: Ambivalenz postmoderner Identitat. Zeiher, Helga: Kindheitsraume. Zwischen Eigenstandigkeit und Abhangigkeit. Heitmeyer, Wilhelm: Entsicherungen. Desintegrationsprozesse und Gewalt. Kuhnel, Wolfgang: Entstehungszusammenhange von Gewalt bei Jugendlichen im Osten Deutschlands. Dahrendorf, Ralf: Das Zerbrechen der Ligaturen und die Utopie der Weltburgergesellschaft. Habermas, Jurgen: Individualisierung............
Information Provided By: :