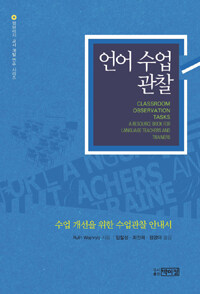 000
01064camcc2200325 c 4500
001
000045807614
005
20140826132939
007
ta
008
140501s2014 ulkad b 001c kor
020

▼a

9788962926224

▼g

93370
035

▼a

(KERIS)BIB000013478407
040

▼a

211019

▼d

211009
041

1

▼a

kor

▼h

eng
082

0

4

▼a

418/.007

▼2

23
085

▼a

418.007

▼2

DDCK
090

▼a

418.007

▼b

2014
100

1

▼a

Wajnryb, Ruth

▼0

AUTH(211009)1275
245

1

0

▼a

언어 수업 관찰 :

▼b

수업 개선을 위한 수업관찰 안내서 /

▼d

Ruth Wajnryb 지음 ;

▼e

임칠성,

▼e

최진희,

▼e

정영아 옮김
246

1

9

▼a

Classroom observation tasks :

▼b

a resource book for language teachers and trainers
260

▼a

서울 :

▼b

박이정,

▼c

2014
300

▼a

191 p. :

▼b

삽화, 도표 ;

▼c

23 cm
440

0

0

▼a

캠브리지 교사 개발 연수 시리즈
504

▼a

참고문헌(p. 183-186)과 색인수록
650

0

▼a

Language teachers

▼x

Training of
650

0

▼a

Observation (Educational method)
700

1

▼a

임칠성,

▼e

역

▼0

AUTH(211009)22163
700

1

▼a

최진희,

▼e

역

▼0

AUTH(211009)69453
700

1

▼a

정영아,

▼e

역

▼0

AUTH(211009)85868
945

▼a

KLPA
---
Holdings Information
No.
Location
Call Number
Accession No.
Availability
Due Date
Make a Reservation
Service

No.

1

Location

Main Library/Monographs(3F)/

Call Number

418.007 2014

Accession No.

111722699

Availability

Available

Due Date

Make a Reservation

Service

No.

2

Location

Sejong Academic Information Center/Humanities 1/

Call Number

418.007 2014

Accession No.

151342773

Availability

Available

Due Date

Make a Reservation

Service
No.
Location
Call Number
Accession No.
Availability
Due Date
Make a Reservation
Service

No.

1

Location

Main Library/Monographs(3F)/

Call Number

418.007 2014

Accession No.

111722699

Availability

Available

Due Date

Make a Reservation

Service
No.
Location
Call Number
Accession No.
Availability
Due Date
Make a Reservation
Service

No.

1

Location

Sejong Academic Information Center/Humanities 1/

Call Number

418.007 2014

Accession No.

151342773

Availability

Available

Due Date

Make a Reservation

Service
Contents information
Book Introduction
교사들이 다른 교사의 언어 수업을 학습 도구로 삼아, 수업 관찰을 통해 어떻게 배울 수 있는가를 내용으로 하고 있다. 이를 위해 이 책은 교사가 다른 교사의 수업을 관찰하는 방법과 그 결과를 자신의 수업에 반영하도록 하는 다양한 방법을 제시한다. 또 수업 발전을 위한 이론적인 접근과 함께 현장에서 바로 활용할 수 있는 아주 구체적인 실천안을 함께 소개하고 있다.
모든 교육은 교실에서 교사의 수업과 학생의 학습으로 완성된다. 따라서 교사의 수업 능력이 곧 교육의 질로 이어진다. 언어 교육에서 수업 능력은 특히 중요하다. 언어 교육은 내용 중심 교육이 아니라 학습자들의 기능을 신장시켜야 하는 기능 중심 교육이기 때문이다.

시중에 교사의 수업 능력 신장에 대한 책들은 넘쳐나지만, 이론적 기반을 갖춘 것에 비해 실제 현장에서 구체적인 교과 수업에 사용할 수 있는 콘텐츠를 담은 책을 구하기는 어렵다. 이러한 측면에서 Ruth Wajnryb(1948-2012)의 이 책은 현재 우리나라의 제2언어 교육에 반드시 필요한 책이라고 할 수 있다.

이 책은 교사들이 다른 교사의 언어 수업을 학습 도구로 삼아, 수업 관찰을 통해 어떻게 배울 수 있는가를 내용으로 하고 있다. 이를 위해 이 책은 교사가 다른 교사의 수업을 관찰하는 방법과 그 결과를 자신의 수업에 반영하도록 하는 다양한 방법을 제시한다. 또 수업 발전을 위한 이론적인 접근과 함께 현장에서 바로 활용할 수 있는 아주 구체적인 실천안을 함께 소개하고 있다. 외국어로서의 한국어 교사는 물론 모든 제2언어 수업을 담당하는 교사들과 예비 교사 및 교수들, 그리고 자국어로서의 국어 교사들도 유용하게 활용할 수 있을 것이다.
Information Provided By: :

Author Introduction
Ruth Wajnryb
(지은이)
응용언어학자이면서 TESOL(Teaching English to Speakers of Other Languages - 영어 외의 모국어 사용자들을 위한 영어 교육) 교수였으며, 저널리스트이기도 했다. 그녀는 오류 분석 및 '언어-학습자 언어' 영역의 연구로 시드니 대학에서 응용 언어학 석사 학위를 받았으며, 시드니에 있는 여러 대학과 교육기관에서 교사 교육 훈련 및 전문 개발이사로 일했다. 그녀는 오스트레일리아와 영국, 이스라엘과 남아메리카에서 성인을 대상으로 한 교육 분야에 20여 년간 종사했다.
임칠성
(옮긴이)
전남대학교 사범대학 국어교육과를 졸업하고, 전남대학교 사범대학 국어교육과 교수로 임용되어 근무하고 있어요. 각종 말하기.듣기 연구 활동에 열심이시고, 국어교육학회 회장도 역임하셨어요. 현재는 전남대학교에서 화법 교육을 가르치고 계시며, 한국화법학회 부회장과 문화관광부의 국어심의위원으로도 활동하고 계세요. [저서] <삶과 화법>(공저) <대인관계와 의사소통>(역) <말꽝에서 말짱되기> <국어 선생님 듣기 수업 어떻게 하십니까> 외 다수
정영아
(옮긴이)
미국 죠지메이슨대학교(George Mason University) 고전 현대 언어학과 한국학 프로그램 조교수로 재직 중이다. 문화연구와 이주학, 학습자의 소속감 및 디아스포라 문화 형성 과정을 주요 연구 주제로 삼고 있다.
최진희
(옮긴이)
미국 버지니아대학교(University of Virginia)를 졸업하고, 미국에서 한글학교 교장을 지냈다. 서울대학교 국어교육과에서 박사과정(한국어교육 전공)을 수료하고 외국인을 대상으로 하는 한국어교육에서의 문화교육과 관련하여 학위논문을 준비하고 있다. 영어교수법에 대한 교사 연수 강사이다.
Information Provided By: :

Table of Contents
목차
역자 서문 = 5
감사 = 10
감사의 글 = 11
제1부 머리말 = 13
 1. 학습 도구로서의 수업 관찰 = 13
 2. 이 책은 누구를 겨냥하는가? = 15
 3. 왜 이 책은 수업 관찰에 주목하는가? = 21
 4. 과업은 어떻게 조직되는가? = 34
 5. 과업은 어떻게 사용할 것인가? = 37
 6. 주의 사항 = 49
제2부 과업 = 51
 1. 학습자 = 51
  1.1 학습자에게 주의 기울이기 = 51
  1.2 학습자 동기 유발 = 55
  1.3 행위자로서의 학습자 = 59
  1.4 학습자 수준 = 62
  1.5 문화적 존재로서의 학습자 = 66
 2. 언어 = 70
  2.1 교사의 메타언어 = 70
  2.2 질문 언어 = 74
  2.3 오류에 대한 피드백 언어 = 77
  2.4 반향 언어 = 81
  2.5 의미 합의로서의 언어 = 84
 3. 학습 = 88
  3.1 학습 환경 = 88
  3.2 학습 점검 = 92
  3.3 학습과 교수의 비교 = 96
  3.4 학습 목표 = 100
  3.5 어휘와 학습 = 104
 4. 수업 = 107
  4.1 수업 설계 = 107
  4.2 시작하기와 끝맺기 = 112
  4.3. 학습 활동 국면과 전이 = 116
  4.4 문법 교육 = 120
  4.5 수업 중단 = 124
 5. 지도 기능과 전략 = 128
  5.1 제시 = 128
  5.2 발문 : 교사의 촉구 = 131
  5.3 발문 : 교사의 반응 = 134
  5.4 지시하기 = 137
  5.5 오류 처리하기 = 142
 6. 수업 관리 = 146
  6.1 수업 의사소통 관리 : 상호작용 패턴 = 146
  6.2 짝 활동과 그룹활동 관리 = 149
  6.3 교수와 학습 역할 = 153
  6.4 시간과 속도 = 158
  6.5 수업 권력 = 161
 7. 수업 자료와 자원 = 165
  7.1 자원으로서의 칠판 = 165
  7.2 자원으로서의 학습자 = 168
  7.3 수업 자료로서의 전인적 학습자 = 171
  7.4 과업 분석 = 175
  7.5 과업 설계와 평가 = 178