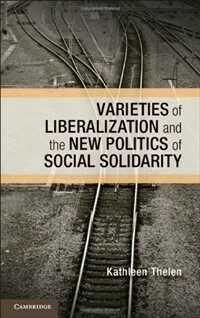 000
02744camuu2200397 a 4500
001
000045798819
005
20140925104043
008
140508s2014 enk b 001 0 eng
010

▼a

2013030085
020

▼a

9781107053168 (hardback)
020

▼a

9781170679566 (pbk.)
035

▼a

(KERIS)REF000017273215
040

▼a

DLC

▼b

eng

▼c

DLC

▼e

rda

▼d

211009
043

▼a

e------

▼a

n-us---
050

0

0

▼a

HD5764.A6

▼b

T54 2014
082

0

0

▼a

331.1

▼2

23
084

▼a

331.1

▼2

DDCK
090

▼a

331.1

▼b

T379v
100

1

▼a

Thelen, Kathleen Ann.
245

1

0

▼a

Varieties of liberalization and the new politics of social solidarity /

▼c

Kathleen Thelen.
260

▼a

Cambridge ;

▼a

New York, N.Y. :

▼b

Cambridge University Press,

▼c

2014.
300

▼a

xxiii, 250 p. ;

▼c

24 cm.
490

1

▼a

Cambridge studies in comparative politics
504

▼a

Includes bibliographical references and index.
520

▼a

"This book examines contemporary changes in labor market institutions in the United States, Germany, Denmark, Sweden, and the Netherlands, focusing on developments in three arenas - industrial relations, vocational education and training, and labor market policy. While confirming a broad, shared liberalizing trend, it finds that there are in fact distinct varieties of liberalization associated with very different distributive outcomes. Most scholarship equates liberal capitalism with inequality and coordinated capitalism with higher levels of social solidarity. However, this study explains why the institutions of coordinated capitalism and egalitarian capitalism coincided and complemented one another in the "Golden Era" of postwar development in the 1950s and 1960s, and why they no longer do so. Contrary to the conventional wisdom, this study reveals that the successful defense of the institutions traditionally associated with coordinated capitalism has often been a recipe for increased inequality due to declining coverage and dualization. Conversely, it argues that some forms of labor market liberalization are perfectly compatible with continued high levels of social solidarity and indeed may be necessary to sustain it"--

▼c

Provided by publisher.
650

0

▼a

Labor market

▼x

Social aspects

▼z

Europe.
650

0

▼a

Labor market

▼x

Social aspects

▼z

United States.
650

0

▼a

Labor policy

▼z

Europe.
650

0

▼a

Labor policy

▼z

United States.
650

0

▼a

Industrial relations

▼z

Europe.
650

0

▼a

Industrial relations

▼z

United States.
650

0

▼a

Capitalism

▼x

Social aspects

▼z

Europe.
650

0

▼a

Capitalism

▼x

Social aspects

▼z

United States.
830

0

▼a

Cambridge studies in comparative politics.
945

▼a

KLPA
---
Holdings Information
No.
Location
Call Number
Accession No.
Availability
Due Date
Make a Reservation
Service

No.

1

Location

Main Library/Western Books/

Call Number

331.1 T379v

Accession No.

111717368

Availability

Available

Due Date

Make a Reservation

Service

No.

2

Location

Main Library/Western Books/

Call Number

331.1 T379v

Accession No.

111724163

Availability

Available

Due Date

Make a Reservation

Service
Contents information
Author Introduction
캐쓸린 씰렌
(지은이)
비교 정치경제 분야에서 활발하게 연구하고 있는 미국의 정치학자다. UC 버클리에서 정치학 석사 및 박사 학위를 취득하고, 프린스턴 대학과 노스웨스턴 대학을 거쳐 현재 MIT 대학의 정치학 교수로 재직하고 있다. 독일과 일본, 영국, 미국 등 4개국의 직업훈련 제도의 역사적 변천 과정을 추적한 이 책으로 비교연구 분야 최우수 도서에 수여하는 매티 도건 상(2006년), 정치학 분야 최우수 도서에 대해 미국정치학회에서 수여하는 우드로 윌슨 재단 저서상(2005년), 미국정치학회 정치역사 분과에서 수여하는 J. 데이비드 그린스톤 저서상 가작(2005년) 등을 수상한 바 있다. 주요 저서로는 Explaining Institutional Change: Ambiguity, Agency, and Power(James Mahoney와 공편). Cambridge University Press, 2010. Beyond Continuity: Institutional Change in Advanced Political Economies(Wolfgang Streeck과 공편). Oxford University Press, 2005. Structuring Politics: Historical Institutionalism in Comparative Analysis(Sven Steinmo 등과 공편). New York: Cambridge University Press, 1992. Union of Parts: Labor Politics in Postwar Germany. Ithaca, NY: Cornell University Press, 1991.등이 있다.
Information Provided By: :

Table of Contents
1. Varieties of liberalization and the new politics of social solidarity; 2. Industrial relations institutions; 3. Vocational education and training; 4. Labor market policy; 5. Coalitional realignments and institutional change; 6. The future of egalitarian capitalism, in light of its past.
Information Provided By: :