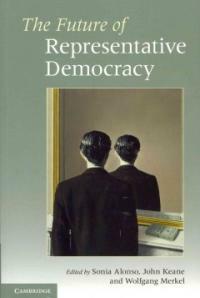 000
03459camuu2200373 a 4500
001
000045776345
005
20131128092627
008
131127s2011 enka b 001 0 eng
010

▼a

2010049736
020

▼a

9780521177030 (paperback)
020

▼a

0521177030 (paperback)
020

▼a

9781107003569 (hardback)
020

▼a

1107003563 (hardback)
035

▼a

(KERIS)REF000016723882
040

▼a

DLC

▼b

eng

▼c

DLC

▼e

rda

▼d

YDX

▼d

YDXCP

▼d

CDX

▼d

BWX

▼d

IUL

▼d

DLC

▼d

211009
050

0

0

▼a

JF1051

▼b

.F88 2011
082

0

0

▼a

321.8

▼2

23
084

▼a

321.8

▼2

DDCK
090

▼a

321.8

▼b

F996
245

0

4

▼a

The Future of Representative Democracy /

▼c

edited by Sonia Alonso, John Keane, Wolfgang Merkel ; with the collaboration of Maria Fotou.
260

▼a

Cambridge ;

▼a

New York :

▼b

Cambridge University Press,

▼c

2011.
300

▼a

xiv, 307 p. :

▼b

ill. ;

▼c

23 cm.
504

▼a

Includes bibliographical references (p. 282-301) and index.
505

0

0

▼t

Editors' introduction: Rethinking the future of representative democracy /

▼r

Alonso, Sonia,

▼r

Keane, John,

▼r

Merkel, Wolfgang --

▼g

1.

▼t

Representative democracy and its critics /

▼r

Urbinati, Nadia --

▼g

2.

▼t

Representative democracy and the populist temptation /

▼r

Beyme, Klaus von --

▼g

3.

▼t

The wider canvas: representation and democracy in state and society /

▼r

Saward, Michael --

▼g

4.

▼t

Performance and deficits of present-day representation /

▼r

Wessels, Bernhard --

▼g

5.

▼t

Do parliaments have a future? /

▼r

Beetham, David --

▼g

6.

▼t

Engendering representative democracy /

▼r

Dahlerup, Drude --

▼g

7.

▼t

Representative democracy and the multinational demos /

▼r

Alonso, Sonia --

▼g

8.

▼t

Diagnosing and designing democracy in Europe /

▼r

Schmitter, Philippe --

▼g

9. Monitory democracy? /

▼r

Keane, John --

▼g

10.

▼t

Representing nature /

▼r

Eckersley, Robyn --

▼g

11.

▼t

Democracy and representation beyond the nation state /

▼r

Zurn, Michael,

▼r

Walter-Drop, Gregor.
520

▼a

"The Future of Representative Democracy poses important questions about representation, representative democracy and its future. Inspired by the last major investigation of the subject by Hanna Pitkin over four decades ago, this ambitious volume fills a major gap in the literature by examining the future of representative forms of democracy in terms of present-day trends and past theories of representative democracy. Aware of the pressing need for clarifying key concepts and institutional trends, the volume aims to break down barriers among disciplines and to establish an interdisciplinary dialogue among scholars. The contributors emphasise that representative democracy and its future is a subject of pressing scholarly concern and public importance. Paying close attention to the unfinished, two-century-old relationship between democracy and representation, this book offers a fresh perspective on current problems and dilemmas of representative democracy and the possible future development of new forms of democratic representation"--

▼c

Provided by publisher.
650

0

▼a

Representative government and representation.
650

0

▼a

Democracy.
700

1

▼a

Alonso, Sonia

▼q

(Alonso Saenz de Oger)
700

1

▼a

Keane, John

▼q

(John Charlick),

▼d

1949-.
700

1

▼a

Merkel, Wolfgang,

▼d

1952-.
700

1

▼a

Fotou, Maria.
740

0

2

▼a

Wider canvas: representation and democracy in state and society.
945

▼a

KLPA
---
Holdings Information
No.
Location
Call Number
Accession No.
Availability
Due Date
Make a Reservation
Service

No.

1

Location

Main Library/Western Books/

Call Number

321.8 F996

Accession No.

111707683

Availability

Available

Due Date

Make a Reservation

Service
Contents information
Author Introduction
존 킨
(엮은이)
오스트레일리아 출신의 정치학자. 시드니대학과 베를린사회과학원(WZB) 정치학 교수이다. 시민권과 시민 사회, 민주주의의 문제를 집중적으로 연구해 왔으며, 민주주의의 미래에 관한 창조적 발상을 담은 여러 저술을 발표했다. 1989년 동유럽 혁명 이전부터 중부 유럽과 동유럽에서 '시민 사회'의 수호자이자 반체제 운동가로서 주목을 받았다. <타임스>는 그를 영국을 이끄는 정치 사상가이자 저술가로 선정했고, 오스트레일리아방송협회(ABC)는 그를 '오스트레일리아가 배출한 위대한 지성'이라고 칭했다.
Information Provided By: :

Table of Contents
Introduction: rethinking the future of representative democracy Sonia Alonso, John Keane and Wolfgang Merkel; 1. Representative democracy and its critics Nadia Urbinati; 2. Representative democracy and the populist temptation Klaus von Beyme; 3. The wider canvas: representation and democracy in state and society Michael Saward; 4. Performance and deficits of present-day representation Bernhard Wessels; 5. Do parliaments have a future? David Beetham; 6. Engendering representative democracy Drude Dahlerup; 7. Representative democracy and the multinational demos Sonia Alonso; 8. Diagnosing and designing democracy in Europe Philippe C. Schmitter; 9. Monitory democracy? John Keane; 10. Representing nature Robyn Eckersley; 11. Democracy and representation beyond the nation state Michael Zurn and Gregor Walter-Drop.
Information Provided By: :