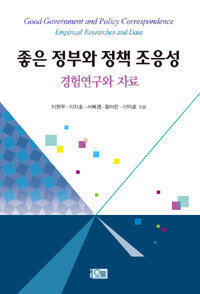 000
01117camcc2200373 c 4500
001
000045759754
005
20130805174750
007
ta
008
130730s2013 ulka b 001c kor
020

▼a

9788977784031

▼g

93340
035

▼a

(KERIS)BIB000013224093
040

▼a

222001

▼c

222001

▼d

211009
082

0

4

▼a

352.34

▼2

23
085

▼a

352.34

▼2

DDCK
090

▼a

352.34

▼b

2013z4
245

0

0

▼a

좋은 정부와 정책 조응성 :

▼b

경험연구와 자료 /

▼d

이현우 [외] 지음
246

1

1

▼a

Good government and policy correspondence :

▼b

empirical researchs and data
260

▼a

서울 :

▼b

오름,

▼c

2013
300

▼a

463 p. :

▼b

삽화 ;

▼c

23 cm
500

▼a

공저자: 이지호, 서복경, 황아란, 이덕로
500

▼a

부록: 조사 설문과 응답 결과
504

▼a

참고문헌과 색인수록
700

1

▼a

이현우,

▼e

저

▼0

AUTH(211009)107129
700

1

▼a

이지호,

▼e

저

▼0

AUTH(211009)86136
700

1

▼a

서복경,

▼e

저

▼0

AUTH(211009)76111
700

1

▼a

황아란,

▼e

저

▼0

AUTH(211009)88903
700

1

▼a

이덕로,

▼e

저

▼0

AUTH(211009)1134
900

1

0

▼a

Lee, Hyun-woo,

▼e

저
900

1

0

▼a

Lee, Ji-ho,

▼e

저
900

1

0

▼a

Seo, Bok-kyung,

▼e

저
900

1

0

▼a

Hwang, Ah-ran,

▼e

저
900

1

0

▼a

Lee, Deok-ro,

▼e

저
945

▼a

KLPA
---
Holdings Information
No.
Location
Call Number
Accession No.
Availability
Due Date
Make a Reservation
Service

No.

1

Location

Main Library/Monographs(3F)/

Call Number

352.34 2013z4

Accession No.

111699477

Availability

Available

Due Date

Make a Reservation

Service
Contents information
Book Introduction
많은 민주주의 국가들이 실질적 민주주의를 성취하기 위해 복지확대정책에 중점을 두고 있다. 복지국가는 사회적 가치 및 재원과 기회의 재분배를 통해 삶의 여건을 개선시키려는 현대국가의 적극적 역할이라 할 수 있다. 한국사회는 고령화, 양극화 그리고 다문화화라는 새로운 국가적 과제에 당면하고 있으며, 이를 해결하기 위해 수많은 정책을 세우고 국가재원을 지원하고 있다. 이에 몇몇 학자들이 모여 연구한 초기 결과가 이 책에 묶여 있다.
시대적 조건에 따라 정치학자들의 고민도 달라진다. 한국의 정치학자들은 한때 민주주의 제도화를 당면과제로 여기고, 민주주의가 정착되면 많은 문제들이 해결될 것이라 기대하였다. 그러나 제도적 민주주의를 상당한 수준에서 이루었음에도 불구하고 국민들의 정치에 대한 불만은 여전히 높고 사회적 만족수준은 별로 높아지지 않았다. 이러한 문제 의식을 공유한 몇몇 학자들이 모여 연구한 초기 결과가 이 책에 묶여 있다.
…
한국뿐 아니라 많은 민주주의 국가들이 실질적 민주주의를 성취하기 위해 복지확대정책에 중점을 두고 있다. 복지국가는 사회적 가치 및 재원과 기회의 재분배를 통해 삶의 여건을 개선시키려는 현대국가의 적극적 역할이라 할 수 있다. 한국사회는 고령화, 양극화 그리고 다문화화라는 새로운 국가적 과제에 당면하고 있으며, 이를 해결하기 위해 수많은 정책을 세우고 국가재원을 지원하고 있다.

-서문 중에서

Information Provided By: :

Author Introduction
황아란
(지은이)
<외국 지방자치제도와 기관구성>
이덕로
(지은이)
연세대학교(경영학 박사), 미국 듀크대 푸콰 경영대학원 방문교수 중앙노동위원회(현)·충북지방노동위원회 조정담당 공익위원 현 서원대학교 글로벌 경영대학 경영학과 교수 [주요 저역서 및 논문] 이덕로․김태열(2019. 8), 「4차 산업혁명시대와 리더십」, 피앤씨미디어. 정종진․이덕로․이지만(2018. 8), 「21세기 인적자원관리」, 집현재 외 다수. 스티븐 로빈스․티모시 저지 저, 이덕로 외 공역(2015), 「조직행동론」, 16판, 한티미디어 외 다수. Tae-Yeol Kim, Deog-Ro Lee, & Noel Yuen Shan Wong(March 2016), "Supervisor Humor and Employee Outcomes: The Role of Social Distance and Affective Trust in Supervisor," Journal of Business and Psychology, 31(1), 125-139. Yaping Gong, Tae-Yeol Kim, Deog-Ro Lee, and Jing Zhu(June 2013), "A Multilevel Model of Team Goal Orientation, Information Exchange, and Creativity," Academy of Management Journal, 56(3), 827-851 외 다수. Deog-Ro Lee(June 2015), "The Impact of Leader's Humor on Employees' Creativity: The Moderating Role of Trust in Leader," Seoul Journal of Business, 21(1), 59-86 외 다수.
서복경
(지은이)
민주주의를 공부하고 강의도 하면서 만년 초보 엄마로 살고 있다. 『한국 1세대 유권자의 형성』을 썼고, 『양손잡이 민주주의』 외 여러 책에도 글을 썼다.
이현우
(지은이)
미국 노스캐롤라이나 대학교에서 박사학위를 받았으며 2006년부터 서강대 정치외교학과 교수로 재직하고 있다. 현재 서강대 현대정치연구소 소장이다. 주요 연구 분야는 비교정치과정, 미국 정치, 정치방법론이다. 《표심의 역습》, 《좋은 정부의 제도와 과정》, 《지방선거와 지방정부》, 《한국의 정치균열 구조》, 《좋은 정부와 정책 조응성》 등을 대표 집필했고 《한국의 정치 70년》, 《정당정치의 변화, 왜 어디로》 등 다수의 책에 공저자로 참여했다.
Information Provided By: :

Table of Contents

목차
서문 = 5
제1부 좋은 정부의 연구의도와 설계
 제1장 정책 조응성에 기초한 좋은 정부의 연구의도 및 설계 / 이현우
  Ⅰ. 연구의 목적 = 17
  Ⅱ. 연구방향 = 24
  Ⅲ. 연구전략 = 29
 제2장 '좋은 정부' 연구의 체계와 방법 / 서복경
  Ⅰ. '좋은 정부' 연구주제와 연구디자인 = 39
  Ⅱ. '좋은 정부' 연구의 분석틀과 방법 = 41
  Ⅲ. '좋은 정부' 연구의 진행 = 46
  Ⅳ. '좋은 정부' 연구의 성과와 함의 = 52
제2부 좋은 정부의 이론적 탐색
 제3장 참여민주주의 모델의 대안적 구상: 선택대표자의 개념을 중심으로 / 이현우
  Ⅰ. 문제제기 = 57
  Ⅱ. 민주주의 정통성의 위기 = 59
  Ⅲ. 대안적 민주주의 이론 = 62
  Ⅳ. 실천적 대안 = 69
  Ⅴ. 결론 = 76
 제4장 기초노령연금정책결정에 관한 사회연결망 분석: 정책옹호연합모형을 중심으로 / 이덕로
  Ⅰ. 서론 = 83
  Ⅱ. 이론적 논의 = 86 
  Ⅲ. 연구설계 = 95
  Ⅳ. 결과 분석 = 99
  Ⅴ. 결론 및 논의 = 110 
 제5장 기초노령연금정책의 의제설정과 정책결정에 관한 인지지도 분석: MSF를 중심으로 / 이지호
  Ⅰ. 서론 = 119
  Ⅱ. 이론모형과 분석방법 = 121
  Ⅲ. 선행연구 = 125
  Ⅳ. 분석틀 = 127
  Ⅴ. 기초노령연금 정책결정자들의 인지지도 = 128
  Ⅵ. 결론 = 144
 제6장 고령사회정책에 대한 만족도 및 영향요인 분석 / 황아란 ; 서복경
  Ⅰ. 서론 = 149
  Ⅱ. 기존연구 검토 = 151
  Ⅲ. 연구설계 = 154
  Ⅳ. 조사와 분석 = 161
  Ⅴ. 결론 및 정책적 함의 = 173
 제7장 근로빈곤층정책에 대한 종합만족도 평가 / 황아란 ; 서복경
  Ⅰ. 서론 = 181
  Ⅱ. 기존연구 검토 = 183
  Ⅲ. 연구방법 = 193
  Ⅳ. 분석결과 = 200
  Ⅴ. 결론 = 208
제3부 경험연구자료
 제8장 정책지도(Policy Map)
  Ⅰ. 고령자정책 정책지도 = 217
  Ⅱ. 근로빈곤층정책 정책지도 = 237
  Ⅲ. 다문화정책 정책지도 = 247
 제9장 정책참여자 인터뷰 자료 예시
  Ⅰ. 고령자정책 정책참여자 인터뷰 = 255
  Ⅱ. 근로빈곤층정책 정책참여자 인터뷰 = 309
  Ⅲ. 다문화정책 정책참여자 인터뷰 = 349
 제10장 국민의식조사 기초통계
  Ⅰ. 고령자정책 국민의식조사  = 391
  Ⅱ. 근로빈곤층정책 국민의식조사 = 398
〈부록〉조사 설문과 응답 결과
 SSK(한국사회과학발전방안연구) 설문조사
  Ⅰ. 고령화정책 국민의식조사 = 407
  Ⅱ. 근로빈곤정책 관련 국민의식조사 = 425
  Ⅲ. 근로빈곤정책 의식조사 = 432
 산학협력연구(내일신문/현대정치연구소) 설문조사
  Ⅳ. 자영업자 정치인식조사 = 438
  Ⅴ. 한국사회 세대인식조사 = 447
색인 = 457