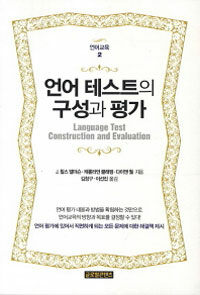 000
01088namcc2200349 c 4500
001
000045757643
005
20130717113404
007
ta
008
130716s2013 ulkd b 001c kor
020

▼a

9788993908725

▼g

93370
040

▼a

211009

▼c

211009

▼d

211009
041

1

▼a

kor

▼h

eng
082

0

4

▼a

418/.0076

▼2

23
085

▼a

418.0076

▼2

DDCK
090

▼a

418.0076

▼b

2013
100

1

▼a

Alderson, J. Chales
245

1

0

▼a

언어 테스트의 구성과 평가 /

▼d

J. 찰스 앨더슨,

▼e

캐롤라인 클래펌,

▼e

다이앤 월 지음 ;

▼e

김창구,

▼e

이선진 옮김
246

1

9

▼a

Language test construction and evaluation
260

▼a

서울 :

▼b

글로벌콘텐츠,

▼c

2013
300

▼a

289 p. :

▼b

도표 ;

▼c

23 cm
440

0

0

▼a

언어교육 ;

▼v

2
504

▼a

참고문헌과 색인, 부록수록
650

0

▼a

Language and languages

▼x

Ability testing
700

1

▼a

Clapham, Caroline,

▼e

저

▼0

AUTH(211009)99262
700

1

▼a

Wall, Dianne,

▼e

저

▼0

AUTH(211009)92324
700

1

▼a

김창구,

▼e

역

▼0

AUTH(211009)78829
700

1

▼a

이선진,

▼e

역

▼0

AUTH(211009)59717
900

1

0

▼a

앨더슨, J. 찰스,

▼e

저
900

1

0

▼a

클래펌, 캐롤라인,

▼e

저
900

1

0

▼a

월, 다이앤,

▼e

저
945

▼a

KLPA
---
Holdings Information
No.
Location
Call Number
Accession No.
Availability
Due Date
Make a Reservation
Service

No.

1

Location

Main Library/Monographs(3F)/

Call Number

418.0076 2013

Accession No.

111698325

Availability

In loan

Due Date

2024-01-01

Make a Reservation

Available for Reserve

Service
Contents information
Book Introduction
<언어의 탄생: 왜 인간만이 언어를 사용하는가?>를 잇는 언어교육 시리즈 두 번째이다. 평가자는 평가 내용을 통해 학습자의 학습 진행 상황을 확인할 수 있고, 평가 방법에 따라 그 결과는 달라질 수 있다. 다시 말해 평가 내용과 평가 방법을 확립함으로써 궁극적으로는 언어교육의 방향과 목표를 결정할 수 있다. 그만큼 언어 테스트를 구성하고 평가하는 것은 언어교육에 있어서 없어서는 안 될 과정인 것이다.
무엇을 평가하고, 어떻게 평가해야 하는가
제2언어 교육현장에서 '무엇을 어떻게 가르치느냐'에 못지않게 중요한 관심사는 '무엇을 평가하고, 어떻게 평가해야 하는가'와 관련한 문제이다. 『언어 테스트의 구성과 평가』는 케임브리지 언어교육 시리즈 중 하나인 『Language Test Construction and Evaluation』을 번역한 것이다. 이는 '글로벌콘텐츠'에서 발간한 『언어의 탄생: 왜 인간만이 언어를 사용하는가?』를 잇는 언어교육 시리즈 두 번째이다.
평가자는 평가 내용을 통해 학습자의 학습 진행 상황을 확인할 수 있고, 평가 방법에 따라 그 결과는 달라질 수 있다. 다시 말해 평가 내용과 평가 방법을 확립함으로써 궁극적으로는 언어교육의 방향과 목표를 결정할 수 있다. 그만큼 언어 테스트를 구성하고 평가하는 것은 언어교육에 있어서 없어서는 안 될 과정인 것이다.

평가를 행함에 있어서 직면하게 되는 모든 문제에 대한 해결책
그러나 문제는 평가와 관련한 책임자들 모두(현장의 교사나 기관의 교육정책 담당자 등)가 평가에 대해 잘 이해하고 있는 것은 아니라는 데 있다. 평가의 시작은 어디이며, 그 끝은 어디인가? 문항은 어떻게 작성해야 하는가? 문항 작성 시에 발생할 수 있는 문제들에는 어떤 것이 있으며, 사전에 그것을 방지할 수 있는 방법은 없는가? 그럼에도 문제가 발생하였다면, 그것을 어떻게 처리해야 하는가? 내가 만든 문항이 실제로 학습자의 언어 능력을 평가하고 있는가? 그것을 어떻게 확인할 수 있는가? 채점은 또 어떤가? 등등.
이 책은 평가를 행함에 있어서 관련자들이 직면하게 되는 이러한 모든 문제―평가의 시작과 끝으로서의 신뢰도와 타당도 문제, 테스트 명세의 작성 문제, 문항의 작성과 조정 문제, 사전테스트와 결과 분석의 이용 문제, 채점자 훈련 문제, 결과의 보고와 이용에 관한 문제 등―에 대한 해결책을 제공한다. 독자들은 이 책이 제시하는 대로 읽어 가기만 해도 언어 평가의 전체상을 그리는 데 부족함이 없을 것이다. 그래서 현장에서 학습자의 언어 능력을 직접 측정해야 하는 교사(예비 교사와 초보 교사, 경험 많은 교사)나 평가가 어떻게 이루어져야 하는지 알 필요가 있는 평가위원, 국가 및 기관의 교육정책 담당자, 교육 평가자 그리고 자신의 연구의 일부분으로서 평가를 이용하고자 하는 대학원생들이나 연구자에게 유용한 책이라고 하겠다.

Information Provided By: :

Author Introduction
J. 찰스 앨더슨
(지은이)
영국 옥스퍼드 대학 석사 영국 에든버러 대학 박사 수료(언어학 박사) 현재 랭커스터 대학 언어학과 교수 저서로 『Diagnosing Foreign Language Proficiency』(2006), 『Politics of Language Education』(2009) 등이 있다.
캐롤라인 클래펌
(지은이)
영국 랭커스터 대학 석사 및 박사(언어학 박사) 영국 에든버러 대학 언어학과 전임강사 역임 저서로 『The Development of IELTS: a Study of the Effect of Background Knowledge on Reading Comprehension』(1996) 등이 있다.
다이앤 월
(지은이)
멕시코 국립자치대학 석사 영국 랭커스터 대학 박사(언어학 박사) 현재 랭커스터 대학 언어학과 교수 저서로 『The Impact of High-Stakes Testing on Classroom Teaching: A Case Study Using Insights from Testing and Innovation Theory』(2005) 등이 있다.
김창구
(옮긴이)
부경대학교 국어국문학과(국어학) 박사. 부경대, 신라대, 일본 마츠야마대학을 거쳐, 현재 후지여자대학 문학부 강사로 재직. 역서로, 언어 테스트의 구성과 평가(2013, 글로벌콘텐츠), 언어교육응용언어학 사전(2016, 글로벌콘텐츠), I.S.P. Nation의 외국어 어휘의 교수와 학습(2018, 소통) 등이 있다.
이선진
(옮긴이)
경희대학교 국제한국언어문화학과 박사. 경희대학교 후마니타스칼리지, 외국어대학 한국어학과 강사를 거쳐, 현재 한국학중앙연구원 연구원으로 재직 역서로, 언어 테스트의 구성과 평가(2013, 글로벌콘텐츠)가 있다.
Information Provided By: :

Table of Contents

목차
옮긴이의 말 = 4
제1장 본서의 유래와 개괄 = 11
제2장 테스트 명세 작성 = 17
 2.1 테스트 명세란 무엇인가? = 17
 2.2 테스트 명세는 누구에게 필요하나? = 18
 2.3 테스트 명세는 어떠해야 하는가? = 20
 2.4 테스트 명세를 어떻게 작성 할 수 있는가? = 33
 2.5 체크리스트 = 38
제3장 문항 작성과 조정 = 43 
 3.1 출제자의 자격 = 44
 3.2 테스트 vs. 연습문제 = 45
 3.3 어디서부터 시작해야 하는가? = 47
 3.4 문항 유형 = 49
 3.5 특정 문항 유형이 가진 문제점 = 52
 3.6 편집위원회와 조정위원회 = 79
 3.7 체크리스트 = 81
제4장 사전테스트와 분석 = 87
 4.1 사전테스트를 하는 이유 = 87
 4.2 파일럿 테스트(pilot test) = 89
 4.3 예비테스트(main trials) = 90
 4.4 테스트 분석 = 93
 4.5 동형테스트와 등가테스트 = 121
 4.6 모어화자 = 122
 4.7 체크리스트 = 123
제5장 시험관 및 관리자 훈련 = 127
 5.1 시험관이란? = 127
 5.2 시험관/채점자 훈련의 중요성 = 128
 5.3 채점자 훈련에 관련하는 것 = 129
 5.4 테스트 관리자 훈련의 중요성 = 140
 5.5 체크리스트 = 144
제6장 신뢰도 모니터하기 = 147 
 6.1 채점자 신뢰도 모니터의 중요성 = 147
 6.2 복수의 채점자가 집중적으로 채점하는 경우 = 149
 6.3 채점이 다른 장소에서 행해질 때의 대안 = 154
 6.4 채점자 내 신뢰도 = 157
 6.5 체크리스트 = 158
제7장 점수 보고 및 합격점 설정 = 161 
 7.1 점수 = 161
 7.2 가중치 = 162
 7.3 점수의 산정 = 165
 7.4 점수의 합산 = 166
 7.5 성적 보고 = 167
 7.6 성적의 보고 방법: 합산해서 보고할 것인가, 각각을 보고할 것인가 = 168
 7.7 의사결정을 위해 영역별 점수 이용하기 = 170
 7.8 합격점 설정하기 = 170
 7.9 체크리스트 = 176
제8장 타당도 = 179 
 8.1 타당도 = 179
 8.2 타당도의 유형 = 181
 8.3 내적 타당도 = 182
 8.4 외적 타당도 = 190
 8.5 구인 타당도 = 198
 8.6 신뢰도와 타당도 = 203
 8.7 체크리스트 = 206
제9장 테스트 사후보고 = 213
 9.1 테스트 사후보고의 중요성 = 213
 9.2 기관용 사후보고 = 215
 9.3 시험 대비를 준비하는 교사를 위한 사후보고 = 221
 9.4 그 외 독자를 위한 사후보고 = 225
 9.5 체크리스트 = 227
제10장 테스트 개발 및 개선하기 = 229 
 10.1 테스트 모니터하기 = 229
 10.2 테스트 개정을 위한 기회와 요구에 따른 새로운 개발의 영향 = 236
 10.3 새로운 발상 = 239
 10.4 현실 세계 = 243
 10.5 체크리스트 = 244
부록 1 = 249 
부록 2 = 250 
부록 3 = 253 
부록 4 = 255 
부록 5 = 257 
용어집 = 259 
약어 = 271 
참고문헌 = 273 
찾아보기 = 283