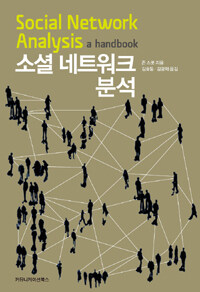 000
00000cam c2200205 c 4500
001
000045728490
005
20180828142605
007
ta
008
121116s2012 ulka b 000c kor
020

▼a

9788966800872

▼g

93300
035

▼a

(KERIS)BIB000012964113
040

▼a

KYOBO

▼c

KYOBO

▼d

211046

▼d

211009
041

1

▼a

kor

▼h

eng
082

0

4

▼a

302.4

▼2

23
085

▼a

302.4

▼2

DDCK
090

▼a

302.4

▼b

2012z2
100

1

▼a

Scott, John,

▼d

1949-

▼0

AUTH(211009)131740
245

1

0

▼a

소셜 네트워크 분석 /

▼d

존 스콧 지음 ;

▼e

김효동,

▼e

김광재 옮김
246

1

9

▼a

Social network analysis :

▼b

a handbook

▼g

(2nd ed.)
260

▼a

서울 :

▼b

커뮤니케이션북스,

▼c

2012
300

▼a

ix, 308 p. :

▼b

삽화 ;

▼c

23 cm
500

▼a

부록: 사회 연결망 패키지
504

▼a

참고문헌: p. 297-308
650

0

▼a

Social networks

▼v

Handbooks, manuals, etc.
650

0

▼a

Social sciences

▼x

Network analysis

▼v

Handbooks, manuals, etc.
700

1

▼a

김효동,

▼e

역

▼0

AUTH(211009)11758
700

1

▼a

김광재,

▼e

역

▼0

AUTH(211009)11757
900

1

0

▼a

스콧, 존,

▼e

저
945

▼a

KLPA
---
Contents information
Book Introduction
사회 연결망 분석의 이론과 실제를 알기 쉽게 소개한다. 점, 선, 경로 등 기본 개념뿐만 아니라 밀도, 분절화, 중심화 등의 개념이 실제 분석에 어떻게 적용되는지 여러 사례를 통해 알려 준다. 사회 연결망을 심층적으로 조사하는 데 필요한 다차원적 방법론과 분석에 활용되는 컴퓨터 프로그램에 대한 정보도 두루 담았다.
책의 특징

사회 연결망 분석을 처음 접하는 학생들이 선택하는 대표적인 입문서. 사회 연결망 분석의 수량화와 척도화를 초심자의 눈높이에 맞게 풀어 썼다. 다양한 예제를 통해 그 기본 개념과 수학적 원리를 알기 쉽게 설명한다. 아울러 실제 연구 사례를 바탕으로 다양한 방법론적 기법을 알려 준다.

2장에서는 사회 연결망 연구의 발전사를 기술하며 다양한 이론과 방법론의 연관 관계를 설명한다. 3장은 매트릭스(matrices)와 소시오그램(sociogram) 개념을, 4장은 그래프(graphs), 점(points), 선(lines) 개념을, 5장은 중앙성(centrality)과 중심화(centralization) 개념 등을 다룬다. 6장에서는 하부 그룹(sub-group)을 연구하는 데 필요한 클리크(clique)와 서클(circles)을 살펴보고, 7장에서는 좀 더 복잡한 위상적인 구조를 도출하는 데 도움이 되는 위치(position) 알아본다. 8장은 다차원 지도(multi-dimensional map) 작성 방법을, 부록은 사회 연결망 분석 관련 컴퓨터 프로그램을 소개한다.

Information Provided By: :

Author Introduction
존 스콧슨
(지은이)
1994년부터 2007년까지 영국 에섹스대학교의 사회학과 교수였으며 2008년부터 현재까지 플리머스대학교의 사회학과 교수로 재직 중이다. 사회 계층화, 경영 조직, 경제 권력, 엘리트 파워, 사회학 이론 등에 관심을 두고 연구와 강의를 해 왔으며, 사회 연구 방법론에 대해서도 깊은 관심을 가지고 있다. 주요 저서로 『기업, 계급, 그리고 자본주의』(1985), 『기록의 유물: 사회연구의 다큐멘터리 소스』(1990), 『누가 영국을 지배하는가?』(1991), 『빈곤과 부』(1994), 『사회학적 이론』(1995), 『계층화와 권력』(1996), 『기업경영과 자본주의 계급들』(1997), 『권력』(2001) 등이 있다. The Journal of the European Sociological Association과 European Societies의 편집자이며, 1970년부터 British Sociological Association의 평회원으로 활발하게 활동해 왔다. 그 기간 동안 소식지 편집자, 총비서, 회계감사, 의장, 위원장, 회장 등을 역임했고 현재는 명예 부회장직을 맡고 있다. 영국의 The Royal Society of Arts와 The British Academy의 펠로이며, The Academy of Learned Society in the Social Sciences의 회원이다.
김광재
(옮긴이)
한양사이버대학교 광고미디어학과 교수. 전남대학교 신문방송학과를 졸업한 뒤, 서강대학교 신문방송학과에서 텔레커뮤니케이션 분야로 박사학위를 받았다. ≪광주일보≫ 취재기자, 일본 상지대학교 신문학과 연구원 등을 거쳤다. 학문적 관심 분야는 미디어 경영 및 뉴미디어의 사회적 수용과 연구방법론이다.
김효동
(옮긴이)
아주대학교 미디어학과 교수다. 유타대학교, 럿거스대학교에서 석사와 박사를 마쳤으며, CMC와 모바일 테크놀로지와 사회연결망을 중심으로 연구해 왔다. 이와 관련하여 Journal of Computer Mediated Communication, Science Communication 등의 저널에 논문이 등재됐다. 번역서로 [소셜네트워크 분석: 핸드북](2012)과 [사회과학 통계방법론의 핵심 이론](2009) 등이 있다.
Information Provided By: :

Table of Contents

목차
옮긴이 서문 = ⅴ
두 번째 개정판에 부쳐 = ⅷ 
01 연결망과 관계
 변수에서의 관계와 속성 = 3
 이 책의 개요 = 8
02 사회 연결망 연구의 발전 
 사회계량 분석과 그래프 이론 = 14 
 대인 관계의 구성과 클리크 = 26 
 연결망: 전체와 부분 = 41
 하버드대학교의 개가 = 51 
03 관계형 데이터 다루기
 관계형 데이터의 정리 = 64
 관계형 데이터의 저장 = 80 
 관계형 데이터의 선택 = 86
04 선, 방향, 밀도
 소시오그램과 그래프 이론 = 106 
 밀도 : 자아중심 밀도와 사회중심 밀도 = 114
 공동체 구조와 밀도 = 124 
05 중앙성과 중심화
 중앙성 : 지역적, 광역적 중앙성 = 134
 중심화와 그래프 중심 = 143 
 절대 밀도에 관한 여담 = 151
 법인 연결망에서의 은행 중앙성 = 153
06 컴포넌트, 코어, 클리크 
 컴포넌트, 사이클, 노트 = 163 
 컴포넌트 외곽 = 174
 클리크와 교차 = 182 
 컴포넌트와 인용 서클 = 191 
07 위치, 역할, 군집 
 점의 구조적 등가 = 200
 군집 : 응집형과 분할형 = 205
 블록 모델 : CONCOR와 BURT = 211
 일반화된 구조적 등위에 대하여 = 224
 겸임과 참여 = 229 
08 차원과 시각화 
 거리, 공간, 측량치 = 241 
 주요 구성 요소와 요인 = 248
 비계량 방법 = 254
 네트워크 시각화의 발전 = 264
 엘리트, 공동체, 영향력 = 267
부록 : 사회 연결망 패키지 
 GRADAP = 282
 STRUCTURE = 286
 UCINET = 288
 PAJEK = 291
 다른 소프트웨어들 = 293 
 결론 = 294
참고문헌 = 297