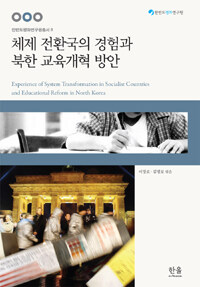 000
01052camcc2200337 c 4500
001
000045723731
005
20121017212859
007
ta
008
121016s2012 ggk b 001c kor
020

▼a

9788946054806

▼g

93340
035

▼a

(KERIS)REQ000024981435
040

▼a

222001

▼c

222001

▼d

211009
082

0

4

▼a

379.5193

▼2

23
085

▼a

379.539

▼2

DDCK
090

▼a

379.539

▼b

2012
245

0

0

▼a

체제 전환국의 경험과 북한 교육개혁 방안 =

▼x

Experience of system transformation in socialist countries and educational reform in North Korea /

▼d

이장로,

▼e

김병로 엮음
260

▼a

파주 :

▼b

한울아카데미,

▼c

2012
300

▼a

349 p. ;

▼c

24 cm
440

0

0

▼a

한반도평화연구원총서 ;

▼v

8
440

0

0

▼a

한울아카데미 ;

▼v

1480
500

▼a

저자: 김면, 김신규, 박영진, 신효숙, 이성준
504

▼a

참고문헌과 색인수록
700

1

▼a

이장로,

▼e

편

▼0

AUTH(211009)80774
700

1

▼a

김병로,

▼e

편

▼0

AUTH(211009)71672
700

1

▼a

김면,

▼e

저
700

1

▼a

김신규,

▼e

저
700

1

▼a

박영진,

▼e

저
700

1

▼a

신효숙,

▼e

저
700

1

▼a

이성준,

▼e

저
945

▼a

KLPA
---
Holdings Information
No.
Location
Call Number
Accession No.
Availability
Due Date
Make a Reservation
Service

No.

1

Location

Main Library/Monographs(3F)/

Call Number

379.539 2012

Accession No.

111677193

Availability

Available

Due Date

Make a Reservation

Service

No.

2

Location

Sejong Academic Information Center/Social Science/

Call Number

379.539 2012

Accession No.

151312971

Availability

Available

Due Date

Make a Reservation

Service
No.
Location
Call Number
Accession No.
Availability
Due Date
Make a Reservation
Service

No.

1

Location

Main Library/Monographs(3F)/

Call Number

379.539 2012

Accession No.

111677193

Availability

Available

Due Date

Make a Reservation

Service
No.
Location
Call Number
Accession No.
Availability
Due Date
Make a Reservation
Service

No.

1

Location

Sejong Academic Information Center/Social Science/

Call Number

379.539 2012

Accession No.

151312971

Availability

Available

Due Date

Make a Reservation

Service
Contents information
Book Introduction
체제 전환 이후 북한의 교육 시스템을 어떻게 개혁해야 할 것인가? 북한의 교육 시스템을 개혁하는 작업은 통일 준비 차원에서 볼 때 매우 중요하다. 통일 이후의 한국이 지속적으로 발전하며 선진국으로 발돋움하려면 북한의 교육체제를 통일 한국의 모델에 맞게 개혁하는 과업은 필수적이다. 이러한 목적으로 이 책에서는 북한 교육 실태의 현황을 파악하고 체제 전환 시 북한 교육 시스템의 개혁 방안을 구상한다.

제1장~제5장은 각 장별로 체제 전환국의 경험을 살펴보고 북한에의 시사점을 제시한다. 러시아와 중앙아시아 국가, 동유럽 국가, 독일, 중국과 베트남의 사례를 통해 체제 전환에 따른 교육개혁의 진행 과정과 현황을 설명하고 체제 전환 과정에서 유념해야 할 교육정책의 내용은 무엇인지 살펴본다.

제6장은 북한 교육의 현황과 지난 20여 년간 남북 교육협력의 경험을 살펴봄으로써 체제 전환 시 북한 교육개혁에 필요한 여러 사항을 도출한다. 북한의 교육개혁은 현실로부터 출발해야 하므로 북한의 교육이 최근 15~20년간 식량난과 시장화의 진전으로 어떤 영향을 얼마나 어떻게 받았는가를 개략적으로 살펴본다.

제7장은 제1장~제6장까지의 논의를 바탕으로 체제 전환 시 활용할 수 있는 북한 교육개혁 방안을 제시한다. 북한의 교육 실태 분석을 기초로 실현 가능한 정책을 모색하고 동유럽 및 여타 사회주의 국가의 체제 전환 경험을 바탕으로 실질적이며 구체적인 정책 대안을 제시하고자 한다.


통일 세대를 위한 북한 교육 시스템의 미래
2012년은 미국과 중국, 러시아에서 최고지도자 선거가 예정되어 있고 한국에서도 총선과 대선이 한꺼번에 치러져 한반도와 주변 각국의 많은 정책변화가 예상되는 해다. 미국과 중국은 과거와는 달리 적극적인 한반도 개입정책을 표방했으며, 이러한 분위기를 반영하듯 6자회담의 재개 가능성도 한층 커졌다. 무엇보다 2012년 강성대국 선포를 앞두고 발생한 김정일 위원장의 사망으로 북한의 지도부와 주민은 큰 충격과 심리적 불안에 휩싸여 있으며 남북관계와 동북아 정세도 중대한 변화의 고비를 맞았다. 이처럼 북한 정세와 통일 환경의 변화 가능성이 높아진 시기에 체제 전환에 대비한 북한의 교육개혁 방안을 살펴보는 연구서가 발간된 것은 적실성이 크다고 할 수 있다. 새로 출범한 김정은체제는 체제의 확고한 기반층을 다지기 위한 다양한 방면의 체제 개혁이 필요하다. 이러한 개혁에는 인적 자원의 육성과 교육 시스템의 혁신이 뒷받침되어야 할 것이다. 북한의 교육 시스템 혁신과 인적 자원 육성은 북한 내부의 체제 유지를 위해서 뿐 아니라 통일 준비 차원에서도 매우 중요하다. 통일을 대비해 준비해야 할 것 중 사람을 준비하는 것보다 중요한 일은 없으며 새로운 북한의 통일세대를 준비하는 교육개혁은 그만큼 긴박한 문제인 것이다. 이 책은 통일에 대비해 북한의 인적 자원을 체계적으로 개발할 수 있는 정책 대안을 제시한다는 점에서 그 의의가 있다. 무엇보다 이 책은 북한의 현실을 넘어서 사회주의체제 전환국의 선 경험을 탐구했다는 점에서 많은 의의가 있다고 할 수 있다. 이런 점에서 이 책은 북한의 특수성을 보편성의 맥락에서 조명해보려는 이론적 접근을 한다고 할 수 있으며 이러한 접근을 통해 통일에 대비한 북한 사회의 체제 전환 예상 시나리오까지도 함께 연구함으로써 통일을 위해 우리가 준비해야할 것을 제안한다.

∥지은이

한반도평화연구원
한반도평화연구원은 화해와 사랑의 정신에 입각하여 급변하는 세계정세 속에서 한반도와 동북아의 평화를 달성하기 위한 비전과 전략을 연구하고 개발하는 것을 목표로 한다.(www.koreapeace.or.kr)

지은이(가나다순)
김면 _ 연세대학교 연구교수
김병로 _ 서울대학교 통일평화연구원 HK교수
김신규 _ 체코슬로바키아어학과 조교수
박영진 _ 용인대학교 교수
신효숙 _ 북한이탈주민지원재단 연구원
이성준 _ 우송대학교 국제경영학부 교수

Information Provided By: :

Author Introduction
김병로
(엮은이)
성균관대학교 사회학과를 졸업하고 미국 인디애나주립대학교(Indiana St. Univ.) 대학원에서 사회학 석사, 럿거스대학교(Rutgers-The State Univ. of New Jersey) 대학원에서 사회학 박사학위를 받았다. 통일연구원 선임연구위원 및 북한연구실장, 아신대학교 교수 및 북한연구소장을 거쳐 현재 서울대학교 통일평화연구원 교수로 재직 중이다. 주요 경력으로는 제22대 북한연구학회 회장, 국가정보원·국방부 자문위원, 민주평통 상임위원, 민화협 정책위원, KBS통일방송연구 자문위원 및 국제고려학회 서울지회 사무국장, North Korean Review 편집위원을 역임하였고, 현재 통일부 정책자문위원, 평화나눔재단 공동대표, Journal of Peace and Unification Studies 편집위원으로 활동하고 있다. 저서로는 『북한, 조선으로 다시 읽다』, 『북한의 지역자립체제』, 『북한사회의 종교성』, 『개성공단』(공저), 『분단폭력』(공저), 『탈사회주의 체제전환과 북한의 미래』(공저), Two Koreas in Development, 『다시 통일을 꿈꾸다』, 『그루터기』(공저), 『평화의 여러 가지 얼굴』(공저)을 비롯하여 90여 권의 단행본과 80여 편의 논문이 있다.
이장로
(엮은이)
청년의 때에 주기도문을 통해 소명을 깨닫고 하나님의 나라가 이 땅 위에 이루어지기를 소망했다. 이후 세상을 변화시키는 크리스천 리더십을 개발하고 통일 한국을 예비하는 사회지도자 양성에 그의 삶 전체를 헌신하고 있다. 2001년에 한국리더십학교를 창립하여 20년간 교장으로 섬기면서 많은 크리스천 제자를 양성하고 있다. 그리고 경영학 교수로서 동료들과 함께 기독경영연구원을 설립하여 기업 세계에 하나님 나라를 구현하는 기초를 놓았고, 최근에는 한국교회지도자센터(한지터)의 일터위원장을 맡아 행복한 일터 만들기 운동을 전개하고 있다. 또한 대한민국교육 봉사단 대표, 한반도평화연구원 원장, 한국국제경영학회장을 역임하는 등 사회봉사에 힘쓰고 있다. 고려대학교 상과대학, 경영대학원을 졸업하고, 뉴욕대학교(New York University)에서 국제경영학 박사학위를 받았다. 또한 고려대학교에서 교수로 봉직하면서 장로회신학대학원에서 신학(M. Div.)을 공부했다. 저서로는 《하나님 나라 리더십》(한국리더십학교 저, 두란노), 《교회경영학》(한국장로교출판사), 《국제경영》, 《무역개론》, 《국제마케팅》(이상 무역경영사) 등이 있다.
Information Provided By: :

Table of Contents

목차
발간사 = 3
서문 : 통일 준비와 북한 교육개혁 / 김병로 
 1. 통일 준비를 위한 북한 교육개혁의 필요성 = 7
 2. 사회주의체제 전환과 교육 문제 = 11
 3. 책의 목적과 구성 = 13
제1장 러시아와 중앙아시아 국가의 교육개혁 경험 / 신효숙 
 1. 러시아와 중앙아시아 국가 개관 = 23
 2. 체제 전환과 교육개혁 현황 = 27
 3. 체제 전환 과정에서의 교육정책 = 38
 4. 체제 전환국의 교육 문제 = 69
 5. 북한 교육개혁에 대한 시사점 = 75
제2장 동유럽의 교육개혁 경험과 그 의미 / 김신규 
 1. 동유럽의 체제 전환과 교육개혁 = 85
 2. 공산주의 시기 동유럽의 교육 = 87
 3. 1989년 탈공산주의 시기의 교육개혁 = 91
 4. 동유럽 교육개혁의 함의 = 109
제3장 독일의 교육 통합 경험과 그 시사점 / 김면 
 1. 독일 사례 연구의 필요성 = 121
 2. 분단 구조의 교육체제와 통일 = 122
 3. 동독의 교육체제 개편 = 134
 4. 학제 전환 과정의 문제점 = 141
 5. 통일 및 재건 과정의 학술 교류 = 147
 6. 교육개혁의 시사점 = 153
제4장 중국의 교육개혁 경험과 북한에 주는 시사점 / 박영진 
 1. 왜 중국인가? = 161
 2. 중국의 체제 전환과 교육개혁 현황 = 164
 3. 체제 전환 과정에서의 교육정책 = 171
 4. 체제 전환과 교육 문제 = 189
 5. 북한 교육개혁에 대한 시사점 = 203
제5장 베트남의 교육개혁 경험과 변화 / 이성준 
 1. 남북통일 이전 베트남의 교육정책 = 209
 2. 베트남의 통일 이후 교육개혁 = 216
 3. 체제 전환과 교육 문제 = 239
 4. 남북통일 후 북한 교육개혁의 시사점 = 244
제6장 북한 교육 실태와 남북 교육협력의 경험 / 신효숙 
 1. 북한 교육의 실태 = 253
 2. 남북 교육협력 및 지원 경험과 체제 전환 시 시사점 = 285
제7장 체제 전환 시 북한 교육개혁 방안 / 김병로 
 1. 체제 전환국 경험의 시사점 = 307
 2. 북한 교육개혁의 기본 방향 = 316
 3. 북한 교육개혁의 구체화 방안 = 323
 4. 결론 및 정책제언 = 336
찾아보기 = 345