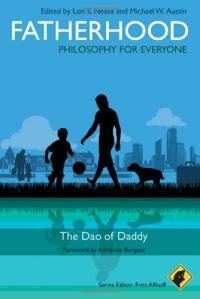 000
01033camuu2200313 a 4500
001
000045722243
005
20121008095618
008
121005s2010 maua b 000 0 eng
010

▼a

2010004719
020

▼a

9781444330311 (pbk. : alk. paper)
035

▼a

(KERIS)REF000015668660
040

▼a

DLC

▼c

DLC

▼d

DLC

▼d

211009
050

0

0

▼a

HQ756

▼b

.F38246 2010
082

0

0

▼a

173

▼2

23
084

▼a

173

▼2

DDCK
090

▼a

173

▼b

F252
245

0

0

▼a

Fatherhood - philosophy for everyone :

▼b

the Dao of daddy /

▼c

edited by Lon Nease and Michael W. Austin ; foreword by Adrienne Burgess.
246

3

▼a

Fatherhood and philosophy
260

▼a

Malden, Mass. :

▼b

Wiley-Blackwell,

▼c

2010.
300

▼a

xii, 211 p. :

▼b

ill. ;

▼c

23 cm.
490

1

▼a

Philosophy for everyone
504

▼a

Includes bibliographical references.
650

0

▼a

Fatherhood.
650

0

▼a

Philosophy.
700

1

▼a

Nease, Lon.
700

1

▼a

Austin, Michael W.
830

0

▼a

Philosophy for everyone.
945

▼a

KLPA
---
Holdings Information
No.
Location
Call Number
Accession No.
Availability
Due Date
Make a Reservation
Service

No.

1

Location

Main Library/Western Books/

Call Number

173 F252

Accession No.

111676249

Availability

Available

Due Date

Make a Reservation

Service
Contents information
Author Introduction
프리츠 알호프
(엮은이)
웨스턴 미시간 대학교(Western Michigan University)의 철학과 조교수이다. 미국 의학 협회(American Medical Association)의 윤리학 학회, 오스트레일리아 국립대학(Australian National University)의 응용철학학과 공공 윤리 센터(Public Ethics Center), 피츠버그 대학의 '과학 철학 센터'에서 학회를 개최했다. 연구 분야는 윤리학 이론, 응용윤리학, 그리고 생물학 및 과학철학이다. 이 책을 편집함과 더불어, Food & Philosophy(Blackwell, 2008)를 데이브 먼로(Dave Monroe)와 공동 편집하였다. 특히 '나파(Napa)'와 '러시안 리버(Russian River)' 와인을 즐길 뿐 아니라 전 세계로의 와인 여행을 즐긴다.
마이클 오스틴
(엮은이)
론 니스와 마이클 오스틴이 공동 기획하고 책임 편집을 맡았다. 마이클 오스틴은 이스턴켄터키대학 철학과 부교수다. 주로 도덕성과 삶의 질에 관한 문제에 관심이 많다. 지은 책으로는 『부모 역할의 개념』(2007)이 있다. 그는 부모 역할에 대한 글을 쓰는 것은 실제 부모 역할을 하는 거보다 훨씬 더 쉽다고 주장한다. 물론 그는 두 가지 일을 다 해내고 있다.
론 니스
(엮은이)
론 니스와 마이클 오스틴이 공동 기획하고 책임 편집을 맡았다. 론 니스는 켄터키대학에서 실존주의를 공부하고 철학 및 문학 석사 학위를 받았다. 현재 신시내티대학 철학과에서 공부를 계속하고 있다. 그는 휴가 기간에는 주로 딸아이와 함께 세계를 돌며 여행을 한다.
Information Provided By: :

Table of Contents
Foreword (Adrienne Burgess).  

Acknowledgments (Lon S. Nease and Michael W. Austin).

 

Introduction: Fathering the Idea (Lon S. Nease and Michael W. Austin).

 

PART I THE IMPACT OF BEING A FATHER.

 

1 Father Time and Fatherhood (Scott A. Davison).

 

2 How Fatherhood Will Change Your Life (Ammon Allred).

 

3 The Born Identity: Becoming Daddy (Kimberley Fink-Jensen).

 

4 Fatherhood and the Meaning of Life (Michael Barnwell).

 

PART II ETHICS AND PARENTING STYLES.

 

5 In Virtue of Upbringing: The Art of Raising a Good Person (Lon S. Nease).

 

6 Does My Father Care? Paternalism, Care Ethics, and Fatherhood (Andrew Terjesen).

 

7 How Should I Parent? Fathering That's Fun and Effective (Dan Florell and Steffen Wilson).

 

8 Fathering for Freedom (J. K. Swindler).

 

PART III KEEPING IT REAL: Authentic Fatherhood.

 

9 Real Fathers Bake Cookies (Dan Collins-Cavanaugh).

 

10 Maybe Happiness is Loving Our Father: Confucius and the Rituals of Dad (Andrew Komasinski).

 

11 Authentic Fatherhood: A Traditional Yoruba-African Understanding (Abiodun Oladele Balogun).

 

12 The Heart of the Merciful Father (Stephen Joseph Mattern).

 

PART IV DILEMMAS FOR DAD.

 

13 Should I Let Him Watch? A Father's Philosophical Perspective on Popular Media (Joshua Baron).

 

14 Fathering for Social Justice: Raising Children with Open Eyes and Open Minds (David S. Owen).

 

15 Like Father Like Son? Challenges in the Father-Son Relationship (Anthony Carreras).

 

16 Father's Ideals and Children's Lives (Jeffrey Morgan).

 

17 Dads and Daughters: Wisdom for a Winding Road (Michael W. Austin).

 

Appendix A: Cookie Recipes for Dads (Dan Collins-Cavanaugh).

 

Appendix B: Wisdom of Youth.

 

Notes on Contributors.
Information Provided By: :