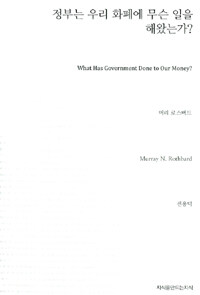 000
01171camcc2200349 c 4500
001
000045710237
005
20120621164355
007
ta
008
120621s2012 ulk 001c kor
020

▼a

9788966804092

▼g

00320
035

▼a

(KERIS)BIB000012792154
040

▼a

211019

▼d

211009
041

1

▼a

kor

▼h

eng
082

0

4

▼a

332.4973

▼2

22
085

▼a

332.4973

▼2

DDCK
090

▼a

332.4973

▼b

2012
100

1

▼a

Rothbard, Murray Newton,

▼d

1926-1995
245

1

0

▼a

정부는 우리 화폐에 무슨 일을 해왔는가? /

▼d

머리 로스버드 지음 ;

▼e

전용덕 옮김
246

1

9

▼a

What has government done to our money? :

▼b

and, The case for a 100 percent gold dollar
260

▼a

서울 :

▼b

지식을만드는지식 :

▼b

커뮤니케이션북스,

▼c

2012
300

▼a

173 p. ;

▼c

19 cm
440

0

0

▼a

지식을만드는지식 사상선집
500

▼a

색인수록
650

0

▼a

Gold standard
650

0

▼a

Currency question

▼z

United States
650

0

▼a

Monetary policy

▼z

United States
650

0

▼a

Inflation (Finance)

▼z

United States
700

1

▼a

전용덕

▼g

田溶德,

▼e

역

▼0

AUTH(211009)35715
900

1

0

▼a

로스버드, 머리,

▼e

저
945

▼a

KLPA
949

▼a

지만지 사상선집
---
Holdings Information
No.
Location
Call Number
Accession No.
Availability
Due Date
Make a Reservation
Service

No.

1

Location

Main Library/Monographs(3F)/

Call Number

332.4973 2012

Accession No.

111668652

Availability

Available

Due Date

Make a Reservation

Service

No.

2

Location

Sejong Academic Information Center/Social Science/

Call Number

332.4973 2012

Accession No.

151309316

Availability

Available

Due Date

Make a Reservation

Service
No.
Location
Call Number
Accession No.
Availability
Due Date
Make a Reservation
Service

No.

1

Location

Main Library/Monographs(3F)/

Call Number

332.4973 2012

Accession No.

111668652

Availability

Available

Due Date

Make a Reservation

Service
No.
Location
Call Number
Accession No.
Availability
Due Date
Make a Reservation
Service

No.

1

Location

Sejong Academic Information Center/Social Science/

Call Number

332.4973 2012

Accession No.

151309316

Availability

Available

Due Date

Make a Reservation

Service
Contents information
Book Introduction
머리 로스버드가 쓴 화폐와 금융에 관한 개론서. 최근 국제적 경제 위기는 경기 변동의 결과다. 이러한 경기 변동이 가진 근본적 문제점을 제대로 이해하기 위해서는 화폐와 금융의 본질에 대한 이해가 필수적이다. 이 책에서 제시하는 간결하면서도 분명한 메시지는 오늘날의 경기변동에 따른 국제적 경제 위기를 이해하는 데도 큰 도움을 줄 것이다.

화폐와 금융에 대한 가장 분명한 개론서
이 책은 로스버드가 1962년에 쓴 대작 ≪인간, 경제, 국가(Man, Economy, and State)≫(자유기업원 간), ≪미국의 대공황(America's Great Depression)≫(1963) 등과 거의 동시에 출간되었다. 그가 두 권의 대작을 동시에 저술하면서 화폐와 금융에 관한 짧은 입문서를 저술했던 것은, 아마도 화폐와 금융에 관한 개론서 수준의 지식이 그만큼 중요하다고 느꼈기 때문인 것으로 짐작된다. 이 책은 모두 네 장에 걸쳐서 화폐와 금융, 화폐제도에 관해서 서술하고 있다. 그중에서도 가장 많은 분량을 차지하고 있는 제2장에서 저자는 자유로운 사회, 즉 정부의 간섭이 없는 경우에 화폐가 어떤 역할을 하는가를 설명한다. 정부의 간섭이 없는 자유시장에서의 화폐와 금융의 역할과 발달을 이해하는 것이 그만큼 중요하다는 것일 것이다.

화폐에 관한 우리가 모르는 진실
이 책에서는 정부가 화폐와 금융시장을 간섭하면 어떤 일이 일어나는가를 하나씩 구체적으로 설명한다. 정부가 화폐를 독점하는 것은 화폐 발행의 이득을 획득하기 위한 것이며, 정부가 화폐의 발행을 독점하는 것은 조세 징수의 다른 형태라는 것이다. 시장에서 발달한 상품화폐가 아닌 지폐 또는 상품화폐의 보증이 없는 지폐는 정부가 새로운 화폐를 무한정 창출할 수 있다는 점에서 위조일 뿐이라는 것이다. 그리고 그런 위조는 필연적으로 부정적인 경제 효과를 발생시킨다. 바로 인플레이션이다. 인플레이션의 치명적인 문제점은 그것이 경기변동을 초래한다는 것이다. 이때 앞에서 지적한 경제 계산의 왜곡이 물론 영향을 미친다. 새로운 화폐의 창출이 무한대로 진행되면 최악의 경우에 하이퍼인플레이션이라는 상상할 수 없는 현상이 현실화된다. 이제 국가의 경제제도가 모두 무너진다.
사실 정부가 화폐 발행의 독점을 통해 자신의 수익을 획득하는 첫 번째 방법은 화폐 제조의 독점이다. 화폐 제조의 독점을 통해 민간 발행의 상품화폐를 강제적으로 빼앗고 그다음 단계로 정부는 그 상품화폐의 가치를 떨어뜨리는 방법, 즉 변조를 실시한다. 마지막으로 정부는 자신이 지폐 또는 상품화폐의 보증이 없는 지폐를 발행하는 비즈니스를 독점하게 된다. 그것이 바로 중앙은행업이다. 중앙은행업은 상품화폐가 가진 인플레이션을 억제하는 기능을 제거할 뿐 아니라 오히려 인플레이션을 조장한다. 최종적으로 정부는 금본위제 또는 상품화폐본위제를 포기하고 불환화폐인 지폐를 발행한다.
로스버드는 논리적이면서도 간결하게 이러한 일련의 과정을 설명함으로써 우리가 모르는 화폐의 진실에 한 걸음 더 다가가게 해준다.

Information Provided By: :

Author Introduction
머레이 N. 라스바드
(지은이)
1926년 미국 뉴욕에서 태어나 컬럼비아 대학교에서 수학과 경제학을 전공하였다. 그는 스티글러와 밀턴 프리드먼이 임대료 통제에 대해 쓴 글을 보고 그에 대한 에세이를 써 FEE(경제교육재단)에 보냈고, 그 계기로 그곳에서 그의 인생의 전반에 막대한 영향을 준 스승 루트비히 폰 미제스를 만나게 된다. 그는 루트비히 폰 미제스가 사망할 때까지 관계를 유지하며, 자유의 횃불을 들어올렸다. 미제스 사후에도 자유를 위한 학술과 사회 운동에 활발한 참여를 했다. 머레이 라스바드는 자유주의 연구저널(the Journal of Libertaian Studies)의 설립하여 편집장을 지냈고, CATO 연구소와 오늘날의 미제스 연구소를 설립하는데 많은 기여를 하였다. 미국의 자유당(Libertarian Party)의 설립에도 관여한 것으로 유명하다. 주요 저서로는 《새로운 자유를 찾아서: 자유지선주의 선언(2013)》와 《자유의 윤리(2017)》, 《정부는 우리 화폐에 무슨 일을 해왔는가(2012)》, 《국가의 해부(2021))》 등이 있다.
전용덕
(옮긴이)
고려대학교 경제학과를 졸업하고 미국 오하이오 주립대학교에서 경제학 박사학위를 받았다. 대구대학교 무역학과 교수로 재직하였고, 퇴직하여 현재 같은 대학 명예교수이다. 한국하이에크소사이어티 회원으로, 자유주의 철학과 자유시장경제에 관한 연구, 강의, 발표 등에 관심과 노력을 쏟아왔다. 주요 저서와 논문으로는 ≪신분제와 자본주의 이전 사회≫, ≪경제학과 역사학-오스트리아학파의 방법론과 인식론≫, ≪복지국가의 미래-덴마크와 스웨덴의 고민≫, ≪헌법재판소 판례 연구≫(공저), <A Note on Cartels>, <Conglomerates and Economic Calculation>(공저) 등이 있고, 역서로는 ≪자유의 윤리≫(공역), ≪정부는 우리 화폐에 무슨 일을 해왔는가≫, ≪오스트리아학파의 경기변동이론≫ 등이 있다.
Information Provided By: :

Table of Contents


제4판 간행의 소개말 = 3
제1장 서론 = 9
제2장 자유로운 사회에서의 화폐 = 12
제3장 정부의 화폐에 대한 간섭 = 71
제4장 서양 화폐제도의 붕괴 = 122
찾아보기 = 153
해설 = 159
지은이에 대해 = 169
옮긴이에 대해 = 173