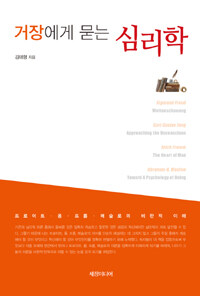 000
00000cam c2200205 c 4500
001
000045709902
005
20170207112343
007
ta
008
120619s2012 ulk 001c kor
020

▼a

9788955861471

▼g

03180
035

▼a

(KERIS)BIB000012794134
040

▼a

211062

▼c

211062

▼d

211009
082

0

4

▼a

150

▼2

22
085

▼a

150

▼2

DDCK
090

▼a

150

▼b

2012z6
100

1

▼a

김태형

▼0

AUTH(211009)80262
245

1

0

▼a

거장에게 묻는 심리학 :

▼b

프로이트ㆍ융ㆍ프롬ㆍ매슬로의 비판적 이해 /

▼d

김태형
260

▼a

서울 :

▼b

세창미디어,

▼c

2012
300

▼a

239 p. ;

▼c

23 cm
500

▼a

색인수록
600

1

0

▼a

Freud, Sigmund,

▼d

1856-1939.

▼t

Weltanschauung
600

1

0

▼a

Jung, C. G.

▼q

(Carl Gustav),

▼d

1875-1961.

▼t

Approaching the unconscious
600

1

0

▼a

Fromm, Erich,

▼d

1900-1980.

▼t

The heart of man
600

1

0

▼a

Maslow, Abraham Harold,

▼d

1908-1970.

▼t

Toward a psychology of being
945

▼a

KLPA
---
Holdings Information
No.
Location
Call Number
Accession No.
Availability
Due Date
Make a Reservation
Service

No.

1

Location

Main Library/Monographs(3F)/

Call Number

150 2012z6

Accession No.

111671715

Availability

Available

Due Date

Make a Reservation

Service

No.

2

Location

Sejong Academic Information Center/Humanities 1/

Call Number

150 2012z6

Accession No.

151309070

Availability

Available

Due Date

Make a Reservation

Service
No.
Location
Call Number
Accession No.
Availability
Due Date
Make a Reservation
Service

No.

1

Location

Main Library/Monographs(3F)/

Call Number

150 2012z6

Accession No.

111671715

Availability

Available

Due Date

Make a Reservation

Service
No.
Location
Call Number
Accession No.
Availability
Due Date
Make a Reservation
Service

No.

1

Location

Sejong Academic Information Center/Humanities 1/

Call Number

150 2012z6

Accession No.

151309070

Availability

Available

Due Date

Make a Reservation

Service
Contents information
Book Introduction
저자는 프로이트, 융, 프롬, 매슬로의 저서를 단순히 해설하는 데 그치지 않고 그들의 주장 중에서 계승해야 할 것이 무엇이고 혁신해야 할 것이 무엇인지를 명확히 판별하기 위해 노력했다. 독자들은 이 책을 접함으로써 각종 오해와 편견에서 벗어나 프로이트, 융, 프롬, 매슬로의 이론을 정확하게 이해하고, 나아가 그들의 이론을 비판적 안목으로 대할 수 있는 눈을 갖게 될 것 이다.
사람마다 차이는 있겠지만 심리학이란 학문을 대표하는 거장들로 프로이트, 칼 융, 에리히 프롬, 매슬로를 지목하는 데 반대할 사람은 그다지 많지 않을 것이다. 그들의 이론을 올바르게 이해하고 연구하는 가장 좋은 방법은 그들이 직접 저술한 저작을 읽는 것이라고 할 수 있다. 하지만 유감스럽게도 그들의 저작은 일반인들이 읽어내기에는 다소 난해하기 때문에 상당수의 사람들은 그들의 이론을 피상적인, 간접적인 방법으로 접하고 있다. 나아가 그들의 이론을 비판적으로 읽어내기는커녕 이해하기에 급급해하고 있다. 그렇기 때문에 저자는 이 책에서 프로이트, 융, 프롬, 매슬로의 중요 저작을 하나씩 선정하여 그것을 알기 쉽게 해설하고 비평하고자 한다.

프로이트는 정신분석학에 기초해 개인의 심리현상만이 아니라 다양한 집단심리나 사회현상들까지 설명하려고 시도했는데, 이러한 그의 폭넓은 학문적 관심이 잘 드러나 있는 것이 바로 <세계관에 대하여>(Weltanschauung, 1932)라는 저작이다. 이 저작이 대중적으로 그다지 많이 알려져 있지는 않지만, 만년의 프로이트 사상이 집대성되어 있다고 할 수 있다.
융의 저서들은 난해하고 모호하기로 유명한데, 그의 저서들 중에서 그나마 가장 이해하기 쉽고 명료하게 쓰여진 것이 <무의식에 대한 접근>(Approaching the Unconscious, 1961)이다. 이것은 융이 일반대중을 대상으로, 그들의 눈높이에 맞추어 자기의 이론을 설명하기 위해 집필한 저서이다. 동시에 융이 사망한 그해에 완성된 이 저서는, 분석심리학의 핵심 개념이나 아이디어에 대한 그의 최종적인 견해를 포함하고 있다.
프롬은 프로이트의 정신분석학과 마르크스주의를 접목시켜 사회현상 그리고 근현대인의 집단심리를 해명하려고 했던 사회심리학자다. 그는 심리학자 중에서는 최초로 히틀러의 등장과 같은 사회현상을 심리학으로 설명했으며, 자본주의제도와 집단심리 간의 관계를 규명하는 데에도 많은 노력을 기울였다. 프롬의 저서 <인간의 마음>(The Heart of Man, 1964)은 파란만장한 인류사가 제기해 왔던 핵심적인 질문에 대한 그의 대답이다. 여기에서 프롬은 인류가 파시즘을 허용하게 된 이유, 나아가 전통적으로 철학의 주제로 간주되어 왔던 사람의 본질, 특히 선과 악의 문제를 심리학으로 규명하고 있다.
인본주의 심리학의 창시자 매슬로는 사람을 병적인 존재, 동물적 본능에 지배당하는 존재로 보는 정신분석학적 견해를 거부했다. 동시에 사람을 외적인 자극에 단순하게 반응하는 하등동물로 간주하는 행동주의심리학의 견해도 반대했다. 매슬로는 심리학이 무엇보다도 건강한 사람을 연구해야 하며, 그래야만 건강하지 않은 인격만이 아니라 건강한 인격까지도 망라할 수 있는 '긍정적 심리학'이 될 수 있다고 주장했다. 사람에게 가장 중요한 사회적 동기의 중요성을 강조함으로써 동기이론 분야에 커다란 기여를 한 매슬로는 <존재의 심리학을 향하여>(Toward A Psychology of Being, 1968)에 그가 창시한 인본주의 심리학의 정수를 담았다.

심리학 이론 중에서 올바른 것은 정확히 계승하고 잘못된 것은 과감히 혁신해야만 심리학이 계속 발전할 수 있다. 그렇기 때문에 저자는 프로이트, 융, 프롬, 매슬로의 저서를 단순히 해설하는 데 그치지 않고 그들의 주장 중에서 계승해야 할 것이 무엇이고 혁신해야 할 것이 무엇인지를 명확히 판별하기 위해 노력했다. 독자들이 이 책을 접함으로써 무엇보다 각종 오해와 편견에서 벗어나 프로이트, 융, 프롬, 매슬로의 이론을 정확하게 이해하고, 나아가 그들의 이론을 비판적 안목으로 대할 수 있는 눈을 갖게 되기를 희망한다.

Information Provided By: :

Author Introduction
김태형
(지은이)
사회심리학자. 심리연구소 '함께' 소장. 고려대학교 심리학과를 졸업하고 같은 학교 대학원에서 임상심리학을 공부했다. 주류 심리학에 대한 실망과 회의로 학계를 떠나 한동안 사회운동에 몰두하다 다시 심리학자의 길로 돌아왔다. 주류 심리학에 대한 특유의 정교하고 날카로운 비판과 한국 사회를 향한 꾸준하고 거침없는 발언으로 '싸우는 심리학자', '전투적 사회심리학자'라고 불린다. 기존 심리학의 긍정적인 점을 계승하는 한편 오류와 한계를 과감히 비판하고 '올바른 심리학'을 정립하기 위해 매진하고 있다. 2005년부터 활발한 연구, 집필, 교육, 강의, 상담 활동 등을 통해 대중과 소통하며 심리학을 누구나 친근하게 다가갈 수 있는 학문으로 만들기 위해 끊임없이 노력 중이다. 저서로는 《가짜 자존감 권하는 사회》, 《풍요중독사회》, 《혐오 시대 헤쳐가기》, 《싸우는 심리학》, 《트라우마 한국사회》, 《대통령 선택의 심리학》 등이 있다.
Information Provided By: :

Table of Contents

목차
들어가는 말 = 5 
제1장 프로이트 - 세계관에 대하여 = 11 
 1. 정신분석학과 세계관 = 15 
 2. 과학적 세계관의 가장 큰 적: 종교적 세계관 = 20 
 3. 종교 비판 종결자, 프로이트 = 27 
 4. 프로이트, 이성의 독재를 꿈꾸다 = 31 
 5. 과학적 세계관의 적: 철학적 세계관 = 34 
 6. 마르크스주의(Marxismus) 세계관 = 38 
 7. 러시아의 사회주의혁명에 대하여 = 46 
 8. 과학적인 철학적 세계관 = 49 
제2장 융―무의식에 대한 접근 = 53 
 1. 꿈은 무의식의 발언 = 57 
 2. 상징의 해석이 중요한 까닭 = 62 
 3. 고태의 잔재와 원형 = 68 
 4. 원형이 있어야 할 자리 = 73 
 5. 이율배반적인 무의식 개념 = 78 
 6. 마음의 분열과 무의식화 = 85 
 7. 그림자와 무의식의 보상기능 = 89 
 8. 불가지론과 상대주의 = 94 
 9. 반이성주의와 원시인에 대한 동경 = 98 
제3장 프롬 - 인간의 마음 = 105 
 1. 성선설과 성악설에 대한 심리학의 대답 = 109 
 2. 죽음에 대한 사랑과 죽음 본능 = 115 
 3. 나르시시즘 = 126 
 4. 근친상간적 고착 = 136 
 5. 악의 본성 : 쇠퇴의 증후군 = 145 
 6. 심리학적 관점에서 본 개인의 자유 = 151 
 7. 사람의 본질은 무엇인가 = 156 
제4장 매슬로 - 존재의 심리학을 향하여 = 167 
 1. 동기와 정신병리 = 172 
 2. 결핍동기와 성장동기 = 175 
 3. 인간은 성장하는 존재이다 = 185 
 4. 안전과 성장 그리고 앎 = 189 
 5. 절정경험 = 193 
 6. 절정경험과 B-인식 = 196 
 7. B-인식의 문제점 = 202 
 8. 절정경험이 목적이 될 수 있는가? = 212 
 9. 자아실현에 대하여 = 220 
찾아보기 = 230