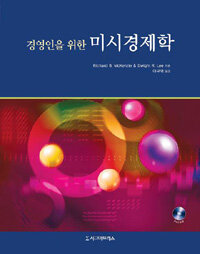 000
01094camcc2200325 c 4500
001
000045690103
005
20120209152519
007
ta
008
110225s2011 ulka b 001c kor
020

▼a

9788958327875

▼g

98320
035

▼a

(KERIS)BIB000012349580
040

▼a

211023

▼c

211023

▼d

244002
041

1

▼a

kor

▼h

eng
082

0

4

▼a

338.5024658

▼2

22
085

▼a

338.5024658

▼2

DDCK
090

▼a

338.5024658

▼b

2011
100

1

▼a

McKenzie, Richard B.
245

2

0

▼a

(경영인을 위한) 미시경제학 /

▼d

Richard B. McKenzie,

▼e

Dwight R. Lee 지음 ;

▼e

이규억 옮김
246

1

9

▼a

Microeconomics for MBAs :

▼b

the economic way of thinking for managers
260

▼a

서울 :

▼b

시그마프레스,

▼c

2011
300

▼a

xxiii, 680 p. :

▼b

삽화 ;

▼c

26 cm
504

▼a

서지적 각주, 참고문헌(p. [655]-671)과 색인(p. [673]-680)수록
650

0

▼a

Microeconomics
650

0

▼a

Managerial economics
653

▼a

경제학

▼a

미시경제학

▼a

경제학이론
700

1

▼a

Lee, Dwight R,

▼e

저
700

1

▼a

이규억,

▼e

역
900

1

0

▼a

멕켄지, 리처드,

▼e

저
900

1

0

▼a

리, 드와이트,

▼e

저
---
Holdings Information
No.
Location
Call Number
Accession No.
Availability
Due Date
Make a Reservation
Service

No.

1

Location

Sejong Academic Information Center/Social Science/

Call Number

338.5024658 2011

Accession No.

151300085

Availability

Available

Due Date

Make a Reservation

Service
Contents information
Book Introduction
저자들은 수학적 설명을 최소화하고 "이윤 최대화를 가장 잘 조장하려면 조직과 유인이 어떻게 구성되어야 하는가?"와 같은 핵심적 의문을 다루면서 직관적인 경제적 사고에 대한 관심을 최대화한다. 이 책을 통해서 저자들은 MBA 학생들이 미래의 경영자로서 직업 목적에 관계될 것이라고 여기는 여러 문제에 대한 경제적 사고방식을 주입하고자 한다.

이 책은 각 장이 두 개의 부로 구성되어 있다. I부에서는 기초 이론을 사회·경제 정책에 대한 응용과 함께 개관하고, II부에서는 이 기초 이론을 경영 문제에 적용하면서 특히 조직경제학의 새로운 분야에 초점을 둔다. 또한 각 장의 '보론'에서는 기업 문제나 정책 문제에 대한 새로운 노선의 주장이나 다른 접근 방법을 제시한다.

첨부된 DVD에는 MBA 학생들이 이해할 필요가 있는 중요한 미시경제학적 개념에 대한 저자들의 강의가 담겨 있다. 저자들은 이 책에서 다루어진 복잡한 주장의 논지를 설명하고 학생들이 시험에 대비하여 복습하도록 도와준다.

저자들은 수학적 설명을 최소화하고 "이윤 최대화를 가장 잘 조장하려면 조직과 유인이 어떻게 구성되어야 하는가?"와 같은 핵심적 의문을 다루면서 직관적인 경제적 사고에 대한 관심을 최대화한다. 이 책을 통해서 저자들은 MBA 학생들이 미래의 경영자로서 직업 목적에 관계될 것이라고 여기는 여러 문제에 대한 경제적 사고방식을 주입하고자 한다.
이 책은 각 장이 두 개의 부로 구성되어 있다. I부에서는 기초 이론을 사회·경제 정책에 대한 응용과 함께 개관하고, II부에서는 이 기초 이론을 경영 문제에 적용하면서 특히 조직경제학의 새로운 분야에 초점을 둔다. 또한 각 장의 '보론'에서는 기업 문제나 정책 문제에 대한 새로운 노선의 주장이나 다른 접근 방법을 제시한다.
첨부된 DVD에는 MBA 학생들이 이해할 필요가 있는 중요한 미시경제학적 개념에 대한 저자들의 강의가 담겨 있다. 저자들은 이 책에서 다루어진 복잡한 주장의 논지를 설명하고 학생들이 시험에 대비하여 복습하도록 도와준다.

이 책과 관련된 웹사이트(http://www.cambridge.org/mckenzie)에 접속하면 경제정책과 경영 문제에 대한 부가적인 비디오 모듈과 평론, 저자들의 관심을 끌었고 학생들에게 팀 문제로 주어질 수 있는 흥미로운 경제와 비즈니스 문제, 경영 관련 출판물에서 발췌한 읽을거리

Information Provided By: :

Author Introduction
리처드 맥킨지
(지은이)
어바인 캘리포니아 대학교 폴 머라지 비즈니스스쿨(Paul Merage Business School)에서 미시경제학을 가르치고 있다. 경제정책에 관한 책을 다수 집필했으며, 특히 마이크로소프트의 독점규제법 위반 소송에 대한 저서는 매우 탁월하다. 최근 저서 《독점에 대한 변호: 시장이 창조적인 생산을 육성하는 방식에 대하여(In Defense of Monopoly: How Market Power Fosters Creative Production)》는 독점규제법 및 법 집행의 이론적 토대에 도전장을 내밀고 있다. 미국의 주요 일간지를 비롯해 지역신문에도 꾸준히 글을 써왔다. 그가 직접 제작한 다큐멘터리 영화 <귀향: 잊힌 고아들의 세계(Homecoming: The Forgotten World of America's Orphanages)>는 공영방송을 통해 전국에 방영되었다.
Dwight R. Lee
(지은이)
미국 조지아대학교 테리 경영대학의 경제학 교수이며 램지 사기업 석좌교수이다.
이규억
(옮긴이)
서울대학교 경제학과를 졸업한 후 뉴욕대학교에서 경제학 석·박사 학위를 받았다. 대학원생 시절 '게임 이론'의 창시자인 모겐스턴의 조교수로서 사사하였고, 일리노이주립대학교 조교수를 지낸 후 귀국하여 한국개발연구원에서 30년 연구 인생을 시작하면서 서울대학교, 고려대학교, 한국과학기술원에서 강의를 하였다. 산업연구원 원장을 거친 다음 아주대학교 경영대학 교수로 정년퇴직하였다. 우리나라에 경쟁과 전략의 학문인 산업조직론과 이를 바탕으로 한 공정거래법제의 도입과 시행을 주도하고, 공정거래위원회 위원과 경쟁정책자문위원장, 한국산업조직학회장을 역임한 그는 국민훈장 모란장(1990)과 정진기 언론문화상(2006)을 받기도 하였다. 20여 권의 책과 50여 편의 논문 등 수많은 저작물을 국내외에 내놓았고, 주요저서로는 「기업과 시장」, 「기업집단과 경제력 집중」, 「싸우지 않고 이기는 리더십:손자병법에서 배우다」, 「경영인을 위한 미시경제학」, 「시장자본주의의 전개」, 「현대자본주의의 이해」등이 있다.
Information Provided By: :

Table of Contents
제1장 미시경제학_기업에 대한 사고방식 
제Ⅰ부 이론과 공공정책 응용 
제Ⅱ부 조직경제학과 경영 

제2장 경쟁적 제품시장과 기업 결정 
제Ⅰ부 이론과 공공정책 응용 
제Ⅱ부 조직경제학과 경영 

제3장 사회와 기업의 합리적 행동의 원칙 
제Ⅰ부 이론과 공공정책 응용 
제Ⅱ부 조직경제학과 경영 

제4장 집단행동의 논리 
제Ⅰ부 이론과 공공정책 응용 
제Ⅱ부 조직경제학과 경영 

제5장 정부 통제_기업 유인에 주는 영향 
제Ⅰ부 이론과 공공정책 응용 
제Ⅱ부 조직경제학과 경영 

제6장 기업과 유인의 존재 이유 
제Ⅰ부 이론과 공공정책 응용 
제Ⅱ부 조직경제학과 경영 

제7장 전통적 시장과 네트워크 시장에서의 소비자 선택과 수요 
제Ⅰ부 이론과 공공정책 응용 
제Ⅱ부 조직경제학과 경영 

제8장 생산비와 기업 결정 
제Ⅰ부 이론과 공공정책 응용 
제Ⅱ부 조직경제학과 경영 

제9장 단기와 장기의 생산비 
제Ⅰ부 이론과 공공정책 응용 
제Ⅱ부 조직경제학과 경영 

제10장 이상적 경쟁조건하의 기업 생산 
제Ⅰ부 이론과 공공정책 응용 
제Ⅱ부 조직경제학과 경영 

제11장 독점력과 기업의 가격결정 
제Ⅰ부 이론과 공공정책 응용 
제Ⅱ부 조직경제학과 경영 

제12장 불완전경쟁 시장조건하의 기업 전략 
제Ⅰ부 이론과 공공정책 응용 
제Ⅱ부 조직경제학과 경영 

제13장 경쟁적 노동시장·수요독점 노동시장 
제Ⅰ부 이론과 공공정책 응용 
제Ⅱ부 조직경제학과 경영 

제14장 집단적 의사결정의 문제 
제Ⅰ부 이론과 공공정책 응용 
제Ⅱ부 조직경제학과 경영 

제15장 국제무역과 국제금융 
제Ⅰ부 이론과 공공정책 응용 
제Ⅱ부 조직경제학과 경영 

참고문헌 
찾아보기