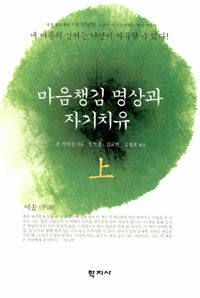 000
01128namcc2200361 c 4500
001
000045688090
005
20120131093129
007
ta
008
120130s2011 ulka 000c kor
020

▼a

9788958910848 (v.1)

▼g

04180
020

1

▼a

9788958910831 (set)
040

▼a

211009

▼c

211009

▼d

244002

▼d

211009
041

1

▼a

kor

▼h

eng
082

0

0

▼a

155.9/042

▼2

22
085

▼a

155.9042

▼2

DDCK
090

▼a

155.9042

▼b

2011z4
100

1

▼a

Kabat-Zinn, Jon

▼0

AUTH(211009)68519
245

1

0

▼a

마음챙김 명상과 자기치유 /

▼d

존 카밧진 지음 ;

▼e

장현갑,

▼e

김교헌,

▼e

김정호 옮김
246

1

9

▼a

Full catastrophe living :

▼b

using the wisdom of your body and mind to face stress, pain, and illness
250

▼a

2판 [실은 3판]
260

▼a

서울 :

▼b

학지사,

▼c

2011
300

▼a

2책 :

▼b

삽화 ;

▼c

23 cm
500

▼a

상. 381 p.
500

▼a

부록수록
500

▼a

내 마음의 상처는 나만이 치유할 수 있다!
650

0

▼a

Stress management
650

0

▼a

Stress (Psychology)
700

1

▼a

장현갑,

▼e

역

▼0

AUTH(211009)64074
700

1

▼a

김교헌,

▼e

역

▼0

AUTH(211009)45195
700

1

▼a

김정호,

▼e

역
900

1

0

▼a

카밧진, 존,

▼e

저
945

▼a

KLPA
---
Holdings Information
No.
Location
Call Number
Accession No.
Availability
Due Date
Make a Reservation
Service

No.

1

Location

Main Library/Monographs(3F)/

Call Number

155.9042 2011z4 1

Accession No.

111655347

Availability

Available

Due Date

Make a Reservation

Service
Contents information
Book Introduction
이 책은 의미 있는 명상을 정통서양의학 장면, 즉 대학병원급의 주요 의료기관에서 보완대체의학 내용으로 채택한 세계 최초의 명상 치유서다. 15년 전 존 카밧진 박사에 의해 Full Catastrophe Living 이라는 제목으로 미국에서 출판됐으며, 8년 후 우리나라에서 번역 출간되었다. 발행 후 개업의, 건강증진센터 운영자, 명상수련을 전문으로 하는 종교인, 일반시민들로부터 주목을 받아 왔으며, 최근에는 정신신경과 전문의 등을 중심으로 실제 임상치료에 적용되고 있다. 2004년 10월, 마음챙김 명상의 실제 의료계 적용 사례 등 최신 발전과정과 최근 문헌정보를 추가한 출간 15주년 기념판이 나왔으며, 이에 추가 정보들과 지난 판에서 누락했던 "작성일기 작성법" 을 추가할 필요성이 있어『마음챙김 명상과 자기치유』라는 이름으로 개정판을 출간하게 되었다.
Information Provided By: :

Author Introduction
존 카밧진
(지은이)
매사추세츠 의과대학의 MBSR(마음챙김에 근거한 스트레스 완화) 프로그램과 스트레스 완화 클리닉(1979년) 및 의학, 의료 및 사회에서의 마음챙김 명상센터(1995년)의 설립자이며 또한 의학 명예교수다. 그는 의료 전문가, 기술 및 비즈니스 커뮤니티 그리고 전 세계 일반 청중을 위한 마음챙김에 관한 워크숍과 집중수련을 지도하고 있다. 그는 사회 정의와 경제 정의를 강력히 지지하고 있다.
장현갑
(옮긴이)
서울대학교 심리학과를 졸업하고, 동대학원에서 심리학 박사 학위를 받았다. 서울대학교와 영남대학교 심리학과 교수, 가톨릭 의과대학 외래교수, 한국심리학회 회장 등을 역임했다. 현재 영남대학교 명예교수, 한국명상학회 명예회장, 한국통합의학회 고문, 마인드플러스 스트레스 대처 연구소 소장 등을 맡고 있다. 또한 직접 개발한 '한국형 마음챙김 명상에 기반한 스트레스 감소(K-MBSR)' 프로그램을 기반으로 명상과 의학의 접목을 시도한 '통합의학'의 연구와 보급에 앞장서고 있다. 2001년부터 세계인명사전인 마르퀴즈 후즈후(Marquis Who's Who) 5개 분야(인 더 월드, 사이언스 & 엔지니어링, 메디슨 & 헬스 케어, 리더스, 아시아)에 걸쳐 9년 연속 등재되었다. 2005년 영국국제인명센터(IBC)로부터 '100대 교육자'에 선정되었고, 2006년 '명예의 전당(Hall of Fame)'에 영구 헌정되었다. 또한 미국인명협회(ABI)로부터 2006년에는 '500인의 영향력 있는 인물', 2009년에는 '2009 Man of The Year 50'으로 선정되었다. 2012년에는 50년간 한국 심리학 발전에 공헌한 업적을 인정받아 한국심리학회에서 수여하는 공로상을 수상했다. 저서로는 『생물심리학』, 『마음 vs 뇌』, 『스트레스는 나의 힘』, 『심리학자의 인생 실험실』(제14회 불교출판문화상 우수상) 등이 있고, 『마음챙김 명상과 자기치유』, 『붓다 브레인』, 『마음이 몸을 치료한다』 등을 번역했다.
김정호
(옮긴이)
현재 덕성여자대학교 심리학과 교수, 한국건강심리학회 산하 마음챙김-긍정심리연구회 회장, 서울심리지원동북센터장으로 있다. 한국심리학회장, 대한스트레스학회 이사장, 한국건강심리학회장, 서울가정법원 조정위원 등을 역임했으며, 한국심리학회 학술상을 수상했다. 주요 저서로는 『스트레스의 이해와 관리』(김정호?김선주 공저) 『조금 더 행복해지기』 『스트레스는 나의 스승이다』 『마음챙김 명상 멘토링』 『나로부터 자유로워지는 즐거움』 『스무 살의 명상책』 『생각 바꾸기』 『마음챙김 명상 매뉴얼』 『일상의 마음챙김 + 긍정심리』 『마음챙김 긍정심리 훈련(MPPT) 워크북』『마음을 공부해야 행복하다』등이 있고, 옮긴 책으로 『받아들임』(김정호?김선주 공역) 『행복 심리학』(김정호 등 공역) 등이 있다. ■ 유튜브(YouTube):MMPT 마음공부 https://www.youtube.com/channel/UCjbp5Xfu_KDVB1vg1xvQTiQ ■ 블로그:마음챙김 긍정심리 훈련(MMPT) https://blog.naver.com/peace_2011
김교헌
(옮긴이)
현재 충남대학교 심리학과 교수이자 한국건강심리학회장이다. 성균관대학교 대학원 심리학과에서 임상건강심리학 전공으로 박사학위를 받았으며, 스트레스와 건강 간의 관계와 중독행동 및 자기조절과 명상 등에 관한 연구를 하고 있다.
Information Provided By: :

Table of Contents
서장 : 스트레스, 고통 그리고 질병 = 27
1부 마음챙김 명상법의 실천
1. 오직 이 순간을 의식하며 살자 = 51
 2. 마음챙김 명상수련의 기초 = 73
 3. 호흡의 힘 = 97
 4. 정좌명상 = 115
 5. 보디 스캔 = 139
 6. 요가명상 = 165
 7. 보행명상 = 191
 8. 명상수련회 = 201
 9. 일상생활 속의 명상 = 221
 10. 명상수련 계획 수립 = 233
2부 건강과 질병에 관한 새로운 생각
11. 새로운 패러다임의 소개 = 245
 12. 전체성의 모습과 개별성의 미망 = 251
 13. 치유에 관해 = 271
 14. 의사, 환자 그리고 사람들 = 297
 15. 마음과 몸 = 319
 16. 연결성 = 349
부록 : 읽을 거리 = 369