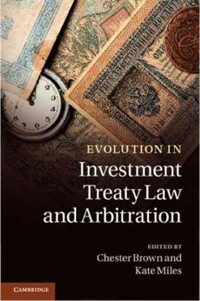 000
05473camuu2200313 a 4500
001
000045687365
005
20120119171453
008
120119s2011 enk b 001 0 eng d
010

▼a

2011018536
020

▼a

9781107014688 (hardback)
035

▼a

(KERIS)REF000016349811
040

▼a

DLC

▼c

DLC

▼d

211009
050

0

0

▼a

K3830

▼b

.E96 2011
082

0

0

▼a

346./092

▼2

22
084

▼a

346.092

▼2

DDCK
090

▼a

346.092

▼b

E93
245

0

0

▼a

Evolution in investment treaty law and arbitration /

▼c

[edited by] Chester Brown and Kate Miles.
260

▼a

Cambridge ;

▼a

New York :

▼b

Cambridge University Press,

▼c

2011.
300

▼a

xlv, 699 p. ;

▼c

24 cm.
504

▼a

Includes bibliographical references and index.
505

8

▼a

Machine generated contents note: Part I. Introduction: 1. Introduction: evolution in investment treaty law and arbitration Chester Brown and Kate Miles; Part II. Shifts in Fundamental Character: 2. Conflict and conflicts in investment treaty arbitration: ethical standards for counsel Philippe Sands; 3. Recent developments in the approach to identifying an 'investment' pursuant to Article 25 of the ICSID Convention David Williams and Simon Foote; 4. Investment treaty interpretation and customary investment law: preliminary remarks Martins Paparinskis; 5. The public-private dualities of international investment law and arbitration Alex Mills; 6. Outline of a normative framework for evaluating interpretations of investment treaty protections Jonathan Bonnitcha; 7. Investment treaty arbitration as global administrative law: what this might mean in practice Daniel Kalderimis; Part III. Actors in International Investment Law: 8. Sovereign wealth funds and international investment law Markus Burgstaller; 9. Investor misconduct: jurisdiction, admissibility, or merits? Andrew Newcombe; 10. The European Union as a global investment partner: law, policy and rhetoric in the attainment of development assistance and market liberalization Paul James Cardwell and Duncan French; 11. The fair and equitable treatment standard and the circumstances of the host state Nick Gallus; 12. The plea of necessity under customary international law: a critical review in light of the Argentine cases Avidan Kent and Alexandra Harrington; 13. Making way for the public interest in international investment agreements Suzanne Spears; 14. The participation of sub-national government units as amici curiae in international investment disputes Andrea Bjorklund; Part IV. The New Significance of Procedure: 15. The new rules on participation of non-disputing parties in ICSID arbitration: blessing or curse? Christina Knahr; 16. The role of procedure in the development of substantive law: the case of Section B of Chapter 11 of NAFTA Sergio Puig; 17. Navigating the parallel universe of investor-state arbitrations under the UNCITRAL rules Judith Levine; 18. The scope of 'amount of compensation' dispute resolution clauses in investment treaties J. Romesh Weeramantry and Claire Wilson; 19. Interference by a local court and failure to enforce: actionable under a bilateral investment treaty? Andrew Stephenson, Lee Carroll and Jonathon DeBoos; 20. Bias challenges in investor-state arbitration: lessons from international commercial arbitration Sam Luttrell; Part V. Engagement with Cross-Cutting Issues: 21. Protecting intellectual property rights under BITs, FTAs, and TRIPS: conflicting regimes or mutual coherence? Henning Grosse Ruse-Khan; 22. Stabilisation clauses and sustainable development: drafting for the future Antony Crockett; 23. A new investment deal in Asia and Africa: land leases to foreign investors Anastasia Telesetsky; 24. Thirst for profit: water privatisation, investment law and a human right to water Emma Truswell; 25. Economic development at the core of the international investment regime Omar Garci;a-Boli;var; 26. Regulatory chill and the threat of arbitration: a view from political science Kyla Tienhaara; Part VI. Conclusions: 27. Evolution or revolution in international investment arbitration? The descent into normlessness M. Sornarajah; 28. Evolution or revolution? Franklin Berman.
520

▼a

"International investment law is in a state of evolution. With the advent of investor-State arbitration in the latter part of the twentieth century - and its exponential growth over the last decade - new levels of complexity, uncertainty and substantive expansion are emerging. States continue to enter into investment treaties and the number of investor-State arbitration claims continues to rise. At the same time, the various participants in investment treaty arbitration are faced with increasingly difficult issues concerning the fundamental character of the investment treaty regime, the role of the actors in international investment law, the new significance of procedure in the settlement of disputes and the emergence of cross-cutting issues. Bringing together established scholars and practitioners, as well as members of a new generation of international investment lawyers, this volume examines these developments and provides a balanced assessment of the challenges being faced in the field"--

▼c

Provided by publisher.
650

0

▼a

Investments, Foreign

▼x

Law and legislation.
650

0

▼a

Arbitration and award, International.
650

0

▼a

Commercial treaties.
700

1

▼a

Brown, Chester,

▼d

1972.
700

1

▼a

Miles, Kate,

▼d

1971-.
945

▼a

KLPA
---
Holdings Information
No.
Location
Call Number
Accession No.
Availability
Due Date
Make a Reservation
Service

No.

1

Location

Main Library/Law Library(Books/B1)/

Call Number

346.092 E93

Accession No.

111654548

Availability

Available

Due Date

Make a Reservation

Service
Contents information
Author Introduction
체스터 브라운
(엮은이)
1960년 캐나다 몬트리올에서 태어났다. 1986년 『탐스러운 털Yummy Fur』이라는 잡지를 자비 출판하며 본격적으로 만화가의 길에 들어섰다. 1989년 발표한 『행복한 광대 에드Ed the Happy Clown』로 이듬해에 하비상 <최고의 그림책>상을, 『탐스러운 털』로 하비상 <최고의 만화가>상을 받았다. 2003년 캐나다 역사상 가장 복잡한 평가를 받은 지도자 루이 리엘의 생애를 다룬 그래픽노블 『루이 리엘Louis Riel』로 대중적 성공을 얻었다. 2011년 발표한 『유료 서비스Paying for It』는 5년간 자신이 경험한 성매매를 솔직하고 사려 깊게 기록해 전 세계 만화계에 화제를 불러일으켰다. 이 외에도 자신의 단편을 엄선해 모은 『똑똑, 리틀 맨The Little Man: Short Strips 1980~1995』을 비롯해 『플레이보이The Playboy』와 『너 좋아한 적 없어I Never Liked You』 등 지금까지 총 10권의 책을 펴냈다. 주로 자전적 내용을 냉소적이면서 우스꽝스럽게 표현하지만, 그 이면에는 등장인물에 대한 세세한 감정과 애정이 숨겨져 있다는 평가를 받는다. 1991년부터 지금까지 드론 앤 쿼털리 출판사를 통해서만 자신의 책을 발행하고 있고, 2016년 발표한 『마리아가 예수의 발에 눈물을 흘리다Mary Wept Over the Feet of Jesus』 역시 이곳에서 출판하였다. 성경 버전의 『유료 서비스』라고 불릴 만한 이 책은 성서 이야기를 그래픽노블로 각색한 작품이다. 성서 속에 나타난 매춘과 종교적 순종을 다루면서 작가는 자신이 생각하는 종교적 신념을 과감하게 밝힌다. 현재 토론토에 살고 있는 체스터 브라운은 캐나다 자유당 의원으로 두 차례 당선된 적이 있다.
Information Provided By: :

Table of Contents
Part I. Introduction: 1. Introduction: evolution in investment treaty law and arbitration Chester Brown and Kate Miles; Part II. Shifts in Fundamental Character: 2. Conflict and conflicts in investment treaty arbitration: ethical standards for counsel Philippe Sands; 3. Recent developments in the approach to identifying an 'investment' pursuant to Article 25 of the ICSID Convention David Williams and Simon Foote; 4. Investment treaty interpretation and customary investment law: preliminary remarks Martins Paparinskis; 5. The public-private dualities of international investment law and arbitration Alex Mills; 6. Outline of a normative framework for evaluating interpretations of investment treaty protections Jonathan Bonnitcha; 7. Investment treaty arbitration as global administrative law: what this might mean in practice Daniel Kalderimis; Part III. Actors in International Investment Law: 8. Sovereign wealth funds and international investment law Markus Burgstaller; 9. Investor misconduct: jurisdiction, admissibility, or merits? Andrew Newcombe; 10. The European Union as a global investment partner: law, policy and rhetoric in the attainment of development assistance and market liberalization Paul James Cardwell and Duncan French; 11. The fair and equitable treatment standard and the circumstances of the host state Nick Gallus; 12. The plea of necessity under customary international law: a critical review in light of the Argentine cases Avidan Kent and Alexandra Harrington; 13. Making way for the public interest in international investment agreements Suzanne Spears; 14. The participation of sub-national government units as amici curiae in international investment disputes Andrea Bjorklund; Part IV. The New Significance of Procedure: 15. The new rules on participation of non-disputing parties in ICSID arbitration: blessing or curse? Christina Knahr; 16. The role of procedure in the development of substantive law: the case of Section B of Chapter 11 of NAFTA Sergio Puig; 17. Navigating the parallel universe of investor-state arbitrations under the UNCITRAL rules Judith Levine; 18. The scope of 'amount of compensation' dispute resolution clauses in investment treaties J. Romesh Weeramantry and Claire Wilson; 19. Interference by a local court and failure to enforce: actionable under a bilateral investment treaty? Andrew Stephenson, Lee Carroll and Jonathon DeBoos; 20. Bias challenges in investor-state arbitration: lessons from international commercial arbitration Sam Luttrell; Part V. Engagement with Cross-Cutting Issues: 21. Protecting intellectual property rights under BITs, FTAs, and TRIPS: conflicting regimes or mutual coherence? Henning Grosse Ruse-Khan; 22. Stabilisation clauses and sustainable development: drafting for the future Antony Crockett; 23. A new investment deal in Asia and Africa: land leases to foreign investors Anastasia Telesetsky; 24. Thirst for profit: water privatisation, investment law and a human right to water Emma Truswell; 25. Economic development at the core of the international investment regime Omar Garcia-Bolivar; 26. Regulatory chill and the threat of arbitration: a view from political science Kyla Tienhaara; Part VI. Conclusions: 27. Evolution or revolution in international investment arbitration? The descent into normlessness M. Sornarajah; 28. Evolution or revolution? Franklin Berman.
Information Provided By: :