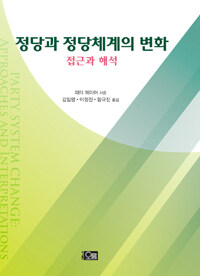 000
01102camcc2200337 c 4500
001
000045684154
005
20111227143701
007
ta
008
111226s2011 ulka b 001c kor
020

▼a

9788977783638

▼g

93340
035

▼a

(KERIS)BIB000012609823
040

▼a

241050

▼c

241050

▼d

211009
041

1

▼a

kor

▼h

eng
082

0

4

▼a

324.2/09409045

▼2

22
085

▼a

324.2094

▼2

DDCK
090

▼a

324.2094

▼b

2011
100

1

▼a

Mair, Peter

▼0

AUTH(211009)135104
245

1

0

▼a

정당과 정당체계의 변화 :

▼b

접근과 해석 /

▼d

피터 메이어 지음 ;

▼e

김일영,

▼e

이정진,

▼e

함규진 옮김
246

1

9

▼a

Party system change :

▼b

approaches and interpretations
260

▼a

서울 :

▼b

오름,

▼c

2011
300

▼a

290 p. :

▼b

삽화 ;

▼c

23 cm
500

▼a

부록: 본문에 수록된 각국의 정당 소개
504

▼a

참고문헌(p. 255-272)과 색인수록
650

0

▼a

Political parties

▼z

Europe

▼x

History

▼y

20th century
651

0

▼a

Europe

▼x

Politics and government

▼y

1945-
700

1

▼a

김일영,

▼e

역

▼0

AUTH(211009)144161
700

1

▼a

이정진,

▼e

역
700

1

▼a

함규진,

▼e

역

▼0

AUTH(211009)17197
900

1

0

▼a

메이어, 피터,

▼e

저
945

▼a

KLPA
---
Holdings Information
No.
Location
Call Number
Accession No.
Availability
Due Date
Make a Reservation
Service

No.

1

Location

Main Library/Monographs(3F)/

Call Number

324.2094 2011

Accession No.

111651961

Availability

In loan

Due Date

2023-12-11

Make a Reservation

Service

No.

2

Location

Main Library/Monographs(3F)/

Call Number

324.2094 2011

Accession No.

111675327

Availability

Available

Due Date

Make a Reservation

Service
Contents information
Book Introduction
정당과 정당체계의 "변화(change)"에 대한 책이며, 그 변화에 대해 어떻게 접근하고, 어떻게 해석할지를 주된 주제로 삼는다. 또한 그런 의미에서, 이 책은 정당과 정당체계의 "안정성(stability)"에 대한 책이라고도 볼 수 있으며, 그 내용이 더 많은 부분을 차지하고 있기도 하다.
1987년 민주화 이후 한국정치의 주된 과제는 "민주주의 이행"의 문제였으며, 그 이후에는 시민사회의 발전과 국가와 시민사회의 관계가 중요한 주제로 부상했다. 정치학자들이나 일반 시민들에게 정당이 중요한 대상으로 인식되기 시작한 것은 선거를 통한 정권교체가 현실화되면서이다. 정당이 정권교체의 주역으로 부상하면서 정당에 대한 관심도 증가한 것이다. 최근 서울시장 보궐선거에서 무소속 박원순 후보가 승리하면서 정당정치의 위기를 지적하는 목소리가 높다. 하지만 대의민주주의 체제에서 정당의 역할은 여전히 중요하며, 시민사회가 이를 대체할 수는 없다. 정당정치의 역동성과 지속성을 보여주는 이 책은 다양한 사회변화에도 불구하고 정당이 어떻게 살아남았는지를 보여준다.
_옮긴이 서문 중에서

정당론에서 살펴야 할 대상은 한이 없다. 제도의 운영에 대해, 가치의 개발에 대해, 이념의 형성에 대해 웬만큼 확실한 안목을 갖지 못했다면, 정당론을 제대로 연구할 수가 없다. … 이 책은 그런 식으로 정당과 정당체계에 접근하지 않는다. 그보다는 정당과 정당체계의 "변화(change)"에 대한 책이며, 그 변화에 대해 어떻게 접근하고, 어떻게 해석할지를 주된 주제로 삼는다. 또한 그런 의미에서, 이 책은 정당과 정당체계의 "안정성(stability)"에 대한 책이라고도 볼 수 있으며, 그 내용이 더 많은 부분을 차지하고 있기도 하다.
_지은이 서문 중에서

Information Provided By: :

Author Introduction
피터 메이어
(지은이)
아일랜드 출신의 비교정치학자로 네덜란드의 라이덴 대학교(Leiden University)에서 "아일랜드 정당체계의 변화(The changing Irish party system)"라는 주제로 박사학위를 받았다. 연구 분야는 정당, 정당체계, 유럽정치, 비교 민주주의로 2001년부터 유럽정치 전문 저널인 『서유럽정치(West European Politics)』의 공동 편집인을 맡고 있다. 현재 플로렌스에 있는 유럽대학연구소(the European University Institute in Florence)에서 비교정치학 교수로 재직 중이다. 저서로는 Representative Government in Modern Europe: Institutions, Parties, and Governments (2005, 공저), Political Parties and Electoral Change: Party Responses to Electoral Markets (2004), The Enlarged European Union: Diversity and Adaptation (2002), Party System Change: Approaches and Interpretations (1997), Identity, Competition, and Electoral Availability: the Stabilisation of European Electorates 1885-1985 (1990, 공저) 등이 있다.
함규진
(옮긴이)
지금도 수없이 발굴되고 새로이 해석되는 방대한 역사의 세계를 우리 삶에 와 닿는 언어로 맛깔스럽게 전하는 역사저술가. 지식으로서의 역사를 넘어 '역사 속에서 살아가는 인간'이라는 무궁무진한 탐구 주제를 가지고 방송, 집필, 온라인 강의 등 다양한 활동을 통해 재미있게 풀어내고자 노력하고 있다. 1969년 서울에서 태어났다. 성균관대학교 행정학과를 졸업하고 같은 학교 대학원에서 정약용의 정치사상을 주제로 정치외교학 박사학위를 받았다. 성균관대학교 국가경영전략연구소 연구원을 거쳐 현재는 서울교육대학교 윤리교육과 교수로 재직 중이다. 동양과 서양, 전통과 현대, 보수와 진보 등 서로 대립되는 듯한 입장 사이에 길을 내고 함께 살아갈 집을 짓는 작업에 열중하고 있다. 지은 책으로는 《30개 도시로 읽는 한국사》, 《108가지 결정》, 《벽이 만든 세계사》, 《개와 늑대들의 정치학》, 《조약으로 보는 세계사 강의》, 《리더가 읽어야 할 세계사 평행이론》, 《세계사를 바꾼 담판의 역사》, 《유대인의 초상》 등이 있다. 옮긴 책으로는 《하버드대학 미·중 특강》, 《후안흑심》, 《피에 젖은 땅》, 《공정하다는 착각》, 《실패한 우파가 어떻게 승자가 되었나》 등이 있다.
김일영
(옮긴이)
성균관 대학교 영문과를 졸업하고 University of Georgia 영문학 석사 학위, University of South Carolina 영문학 박사 학위를 취득했다. 한국 영어영문학회 연구이사, 한국 18세기 영문학회 회장, 한국 근대영미소설 학회 회장을 역임했고, 현재 성균관 대학교 영문과 교수로 재직 중이다. 논문: 「로렌스 스턴의 축소와 확대의 미학」, 「광대의 웃음: 《트리스트람 섄디》에 나타난 스턴의 섄디이즘과 스턴의 탈(반) 도그마적 사고」, 「선정소설에 나타난 여성의 광기와 빅토리아 사회: 오드리 부인의 비밀을 중심으로」, 「필딩의 새로운 글쓰기와 이중적 재현: 조셉 앤드류즈를 중심으로」, 「레베카에 나타난 금지된 지식/실재의 귀환과 가부장제의 비밀」, 「House of Words and Home of Friday」, 「《속죄》에 나타난 트라우마적 오독/"놓친 읽기"와 트라우마에 대한 (미완의) 증언으로서의 글쓰기」, 「Stoker's Dracula as a figure of pharmakos/scapegoat」 외 다수 역서: 《업둥이 톰 존스 이야기》, 《주석달린 드라큘라》 외 다수 저서: 《18세기 영국소설 강의》, 《영미소설 해설 총서: 로렌스 스턴》, 《영국소설과 서술기법》, 《상처와 치유의 서사》, 《기억과 회복의 서사》, 《공포와 일탈의 상상력》 외 다수
이정진
(옮긴이)
성균관대, 세명대, 대전대 강사, 성균관대학교 연구교수를 역임했으며, 현재 국회입법조사처 입법조사관으로 일하고 있다. "17대 국회의원선거와 지역정당체계의 재편", "재편성 개념으로 분석한 한국정당체계의 변화", "한국의 선거와 세대갈등", "지구당 폐지를 둘러싼 담론구조와 법개정 논의" 등의 논문이 있다.
Information Provided By: :

Table of Contents

목차
옮긴이 서문 = 7
지은이 서문 = 11
제1부 서론
 제1장 정당체계의 동결에 대하여 = 25
  Ⅰ. 법칙과 구조 = 26
  Ⅱ. 제약, 통제, 적응 = 32 
제2부 지속과 변화
 제2장 정당의 지속성, 변화, 취약성 = 43
  Ⅰ. 정당은 무엇이며, 어떤 일을 하는가? = 45
  Ⅱ. 좌파, 우파, 그리고 정책 경쟁 = 49
  Ⅲ. 좌파, 우파, 그리고 유권자 배열 = 53
  Ⅳ. 정당의 위기? = 57
  Ⅴ. 포괄 정치와 정당 취약성 = 60
  Ⅵ. 정당조직과 선거 결과의 변화 = 65
  Ⅶ. 조직의 변화 - 연구 과제 = 68
 제3장 정당체계 변화의 문제 = 73
  Ⅰ. 정당 변화와 정당체계 변화 = 77
  Ⅱ. 정당체계 변화 = 80
  Ⅲ. 선거 유동성과 균열의 변화 = 83
  Ⅳ. 선거 변화는 얼마나 큰 폭으로 이루어지는가? = 96
  Ⅴ. 선거의 추이 = 100
  Ⅵ. 핵심적인 문제들 = 103
 제4장 선거 변화에 대한 신화와 '오래된' 정당의 생존 = 105
  Ⅰ. 선거 유동성의 수준 = 108
  Ⅱ. 오래된 정당의 생존 = 111
  Ⅲ. 선거 변화의 신화는 왜 유지되는가? = 116
  Ⅳ. 정당에 대한 무시 = 119
제3부 정당조직과 정당체계
 제5장 정당조직, 정당 민주주의, 그리고 카르텔정당의 등장 = 123
  Ⅰ. 대중정당과 포괄정당 = 124
  Ⅱ. 정당 발전의 단계 = 127
  Ⅲ. 정당과 국가 = 135
  Ⅳ. 카르텔정당의 등장 = 138
  Ⅴ. 카르텔정당의 특징 = 139
  Ⅵ. 민주주의와 카르텔정당 = 144
  Ⅶ. 카르텔정당에 대한 도전 = 146
 제6장 대중적 정당성과 공공 특권 : 시민사회와 국가에서의 정당조직 = 149
  Ⅰ. 정당조직의 발전에 대한 새로운 시각 = 150
  Ⅱ. 정당 민주주의와 정당의 쇠퇴 문제 = 153
  Ⅲ. 정당과 국가 = 165
  Ⅳ. 정당의 변화 = 172
  Ⅴ. 정당과 특권 = 179
제4부 정당체계와 경쟁구조
 제7장 선거 시장과 안정된 국가 = 185
  Ⅰ. 서유럽에서의 발전 추이와 여러 비교점들 = 188
  Ⅱ. 선거 시장과 협의민주주의 = 190
  Ⅲ. 작은 국가와 큰 국가 = 193
  Ⅳ. 새로운 동유럽 민주주의가 보여 주는 몇 가지 함의 = 200
 제8장 탈공산주의 정당체계의 특성은 무엇인가? = 205
  Ⅰ. 신생 정당체계 = 206
  Ⅱ. 탈공산주의 민주화의 특이성 = 208
  Ⅲ. 유권자와 정당의 차이 = 211
  Ⅳ. 경쟁 맥락의 차이 = 218
  Ⅴ. 경쟁 패턴의 차이 = 223
 제9장 정당체계와 경쟁의 구조 = 229
  Ⅰ. 정당체계 분류 방법 = 230
  Ⅱ. 정당체계와 정권 획득 경쟁 = 236
  Ⅲ. 정당체계와 선거 결과 = 245
참고문헌 = 255
[부록] 본문에 수록된 각국의 정당 소개 = 273
색인 = 283
지은이 소개 = 289
옮긴이 소개 = 290