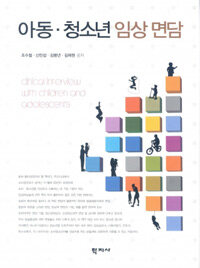 000
00835camcc2200277 c 4500
001
000045678371
005
20111125174743
007
ta
008
101117s2010 ulk b 001c kor
020

▼a

9788963305431

▼g

93180
035

▼a

(KERIS)BIB000012216796
040

▼a

222001

▼c

222001

▼d

244002

▼d

211009
082

0

4

▼a

618.9289

▼2

22
085

▼a

618.9289

▼2

DDCK
090

▼a

618.9289

▼b

2010
245

0

0

▼a

아동·청소년 임상 면담 /

▼d

조수철 [외] 공저
246

1

1

▼a

Clinical interview with children and adolescents
260

▼a

서울 :

▼b

학지사,

▼c

2010

▼g

(2011)
300

▼a

428 p. ;

▼c

25 cm
500

▼a

공저자: 신민섭, 김붕년, 김재원
504

▼a

참고문헌(p. 405-412)과 색인수록
700

1

▼a

조수철,

▼e

저

▼0

AUTH(211009)130584
700

1

▼a

신민섭,

▼e

저

▼0

AUTH(211009)88934
700

1

▼a

김붕년,

▼e

저

▼0

AUTH(211009)82039
700

1

▼a

김재원,

▼e

저
---
Contents information
Book Introduction
이 책은 면담의 일반적인 원리와 정보제공자와의 면담, 발달적 측면을 고려한 면담, 임상적 면담의 기법, 예를 들면 언어적 또는 비언어적인 면담 기법, 정신상태검사, 신경정신과적 면담 및 검사에 대하여 다루고 있으며, 주요 임상증상에 대한 면담술도 따로 다루고 있다. 이 책은 비단 소아 또는 청소년 정신과 의사뿐만 아니라 아동이나 청소년을 도와주어야 하는 모든 분야, 임상심리사 ,사회사업가, 간호사, 특수교육가, 더 나아가서는 소아청소년과를 전공으로 하는 분들께도 유용하게 사용될 수 있는 지침서다.

Information Provided By: :

Author Introduction
조수철
(지은이)
서울대학교 의과대학을 졸업하고 동 대학원에서 박사학위를 취득했으며, 서울대학교 의과대학 교수를 역임했다. 현재 서울대학교 의과대학 명예교수이자, 국군수도병원 정신건강증진센터 센터장으로 재직 중이다. 음악과 인간의 발달에 대해 관심을 가지고 『생물소아정신의학』(공저)과 『아동·청소년 임상 면담』(공저) 등 학술서와 『음악, 인간을 연주하다』, 『베토벤, 그 거룩한 울림에 대하여』 등 음악 관련 저서를 꾸준히 출간하고 있다.
신민섭
(지은이)
서울대학교 의과대학 정신과학교실/서울대학교병원 소아청소년정신과 교수 서울대학교 소비자·아동학과(심리학과 부전공) 학사, 서울대학교 심리학과 석사, 연세대학교 심리학과 박사(임상심리학) 서울대학교병원 신경정신과 임상심리전문가 3년 수련 임상심리전문가 및 정신건강임상심리사 1급 (전) 미국 하버드대학교 의과대학 소아정신과 방문교수/미국 캘리포니아대학교 샌디에이고 의과대학 정신과 방문교수 (전) 한국임상심리학회 회장, 한국인지행동치료학회 회장, 한국자폐학회 회장
김붕년
(지은이)
정신건강의학과·소아청소년정신과 전문의 서울대학교 의과대학 정신과학 박사 현) 서울대학교 의과대학 정신과학교실 교수 서울대학교병원 소아정신과 교수·분과장 서울대학교병원 발달장애인거점병원·행동발달증진센터장 발달장애인거점병원 중앙지원단장 국제소아청소년정신의학회(IACAPAP) 부회장 대한소아청소년정신의학회 차기 이사장 경력) Australia Queensland Brain Institute(QBI) 방문교수 보건복지부장관 표창(소아청소년정신보건 발전 공헌) 교육부장관 표창(학교정신건강 공헌) 저서로는 《나보다 똑똑하게 키우고 싶어요》, 《아이의 뇌》, 《아이의 친구 관계, 공감력이 답이다》, 《공격적인 아동과 청소년을 위한 학교 폭력 치유 프로그램》, 《발달단계별, 특성별로 접근한 자폐부모 교육》, 《산만한 우리 아이 어떻게 가르칠까》 등이 있다.
김재원
(지은이)
어려서 천식을 앓아 남들보다 '죽음'에 관해 일찍 생각하게 된 계기가 의사의 길을 걷게 했다. 서울대학교 의과대학을 졸업하고 동 대학원에서 박사 학위를 받았다. 의사지만 아이러니하게도 '칼'을 무서워해 메스를 사용하지 않는 전공을 선택했다. 서울대학교병원 신경정신과에서 전공의와 전임의 과정을 마쳤다. 2008년부터 서울대학교 의과대학 정신과학교실 교수로 재직 중이다. 2012년부터 2014년까지 미국 피츠버그 대학병원의 객원연구원으로 근무했다. 이때 첫째 딸의 심리와 성장 경험을 《아이를 외국 학교에 보내기로 했다면》이란 책으로 딸과 함께 펴냈다. 현재 서울대학교병원 정신건강의학과와 서울대학교어린이병원 소아정신과 교수로 진료하면서, 소아청소년정신의학을 연구하고 가르친다. 2014년 10월 서울대학교어린이병원에 국내 최초로 어린이·청소년 우울증 전문 클리닉 MAY(Mood and Anxiety clinic of Youth)를 개설해 우울증과 불안증, 자해·자살 위험, 기분 조절 문제로 힘들어하는 아동청소년들을 돌보고 있다. 《팩트체크 아이 정신건강》을 공저했으며 《두근두근 불안불안》을 번역했다. 펜데믹 속 불안과 우울의 긴 터널을 통과하고 있는 우리들이 먼저 내 마음을 제대로 살피고 치유의 힘을 얻어 행복한 일상으로 나아가기를 바라는 마음에서 《밥보다 진심》을 쓰게 되었다. 더불어 타인의 마음도 이해하고 배려해 혐오와 배제, 불통과 소외가 일상이 되어가는 세상을 함께 바꿔가는 데 작은 시작 이 되면 좋겠다.
Information Provided By: :

Table of Contents

목차
머리말 = 3
1장 임상 면담의 기본 개념 = 11
 1. 면담의 일반적인 원리 = 13
  1) 면담 환경 = 13
  2) 정신과적 면담을 위한 준비 = 14
  3) 면담 과정 = 14
  4) 정신과적 평가의 질 = 20
  5) 면담 단계 = 23
  6) 정신과적 평가 모형 = 31
  7) 청소년 전기 아동 면담을 위한 전략 = 33
  8) 청소년 평가 전략 = 35
  9) 면담 과정 = 38
  10) 신체적 접촉 = 40
  11) 정신과적 평가 시의 활동과 구조화 및 지지 = 40
  12) 정신상태 평가에서의 한계 설정 = 42
 2. 정보제공자와의 면담: 기초 = 42
  1) 면담 유형 = 43
  2) 격려와 명료화 = 47
  3) 주제 전환 = 49
  4) 정보 탐색하기 = 50
  5) 기타 정보 = 52
  6) 초기 면담의 일부분 = 54
2장 발달적 측면을 고려한 면담 = 65
 1. 연령 및 발달단계에 따른 특성 = 67
  1) 1세 = 67
  2) 2세 = 70
  3) 3세 = 73
  4) 4세 = 75
  5) 5∼6세 = 78
  6) 7∼8세 = 79
  7) 9∼10세 = 81
 2. 연령에 따른 면담 = 83
  1) 발달의 기본 개념 = 83
  2) 영유아기 면담 = 109
  3) 6세 여아의 놀이 면담 = 120
  4) 7세 남아의 놀이 면담 = 139
  5) 9세 여아의 놀이 면담 = 151
  6) 청소년 면담 = 161
3장 임상적 면담의 기법 = 185
 1. 비언어적인 면담 기법 = 187
  1) 그림 기법 = 188
  2) 놀이 기법 = 195
 2. 정신상태 검사 = 203
  1) 외관, 행동, 언어 = 203
  2) 기분과 정동 = 213
  3) 감각 = 214
  4) 지적 기능 = 215
  5) 사고 = 216
 3. 신경과적 면담 및 검사 = 223
  1) 신경과적 병력의 요소 = 224
  2) 신경과학과 심리사회적 요소 = 224
  3) 신경과적 질환을 가진 소아의 정신상태 검사 수행 = 225
  4) 신경발달학적 평가의 요소 = 226
  5) 자문의뢰와 검사의 적응증 = 232
  6) 신경심리학적 검사의 적응증 = 234
 4. 정신과적 평가 시 특수 상황 = 234
  1) 저항 = 234
  2) 가족 면담 시의 장애물 = 242
 5. 포괄적인 정신과적 사례이해 = 243
  1) 소아청소년 문헌의 재검토 = 244
  2) 포괄적인 정신과적 사례이해 과정의 이론 = 245
  3) 포괄적 정신과적 사례이해의 실제 = 251
  4) 포괄적 사례이해를 시도하려 할 때 흔히 발생하는 문제 = 253
4장 주요 대상별 면담 = 255
 1. 부모-아동 초기 면담 = 257
  1) 부모-아동 면담의 목표 = 257
  2) 부모-아동 면담 실시하기 = 259
  3) 부모-아동 초기 면담 사례 = 259
 2. 부모 면담 = 278
  1) 부모와의 비밀유지와 면담 목적에 대해 토론하기 = 280
  2) 부모 면담 전략 = 281
  3) 비구조화된 부모 면담에서의 주제 영역 = 285
  4) 구조화된 부모 면담 = 292
  5) 부모 면담 마무리 = 295
 3. 아동 면담 = 296
  1) 아동 면담의 전략 = 296
  2) 아동 면담: 활동, 학생생활, 친구들 = 318
  3) 우정과 또래관계 = 326
  4) 아동 면담: 가족관계, 자기-인식, 감정, 청소년기 문제 = 330
5장 주요 임상적 문제를 고려한 면담 = 341
 1. 내현화 증상 = 343
  1) 우울장애의 진단적 면접 = 343
  2) 불안장애의 진단적 면접 = 349
  3) 강박장애의 진단적 면접 = 354
  4) 정신증의 진단적 면접 = 356
 2. 외현화 증상 = 364
  1) 과잉행동 및 충동적 행동의 평가 면접 = 364
  2) 품행문제의 평가 면접 = 367
  3) 양극성장애의 평가 면접 = 371
  4) 반항적 행동 평가 면접 = 377
 3. 아동 학대 = 381
  1) 학대 증상의 평가 면접 = 381
  2) 학대당한 아동의 면담에서 특히 고려할 사항 = 383
  3) 학대당한 아동의 진실성 평가 = 385
  4) 학대 경험이 발달에 미치는 영향 = 387
  5) 해리 증상 = 388
 4. 자살 = 389
  1) 자살 위험 요인, 문제를 가속화시키는 요인과 경고의 징후 = 389
  2) 스트레스 사건 = 391
  3) 자살을 경고하는 신호 = 392
  4) 자살 위험의 평가 = 393
  5) 자살 위험이 높은 청소년들에 대한 즉각적인 개입 = 396
 5. 청소년기 문제 = 398
  1) 알코올과 약물 = 398
  2) 반사회적 행동과 법적 문제 = 400
  3) 연애 = 401
  4) 청소년과의 비밀보장 문제 = 403
참고문헌 = 408
찾아보기 = 413