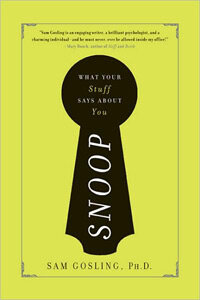 000
01881camuu2200301 a 4500
001
000045677770
005
20111115120052
008
111114s2008 nyuab b 001 0 eng d
010

▼a

2007052071
020

▼a

9780465013821 (pbk.)
020

▼a

9780465027811 (alk. paper)
020

▼a

0465027814 (alk. paper)
035

▼a

(KERIS)REF000014836278
040

▼a

DLC

▼c

DLC

▼d

DLC

▼d

211009
050

0

0

▼a

BF323.S63

▼b

G67 2008
082

0

0

▼a

155.9/1

▼2

22
084

▼a

155.91

▼2

DDCK
090

▼a

155.91

▼b

G676s
100

1

▼a

Gosling, Sam.
245

1

0

▼a

Snoop :

▼b

what your stuff says about you /

▼c

Sam Gosling.
260

▼a

New York :

▼b

Basic Books,

▼c

c2008.
300

▼a

263 p. :

▼b

ill., maps ;

▼c

24 cm.
504

▼a

Includes bibliographical references (p. 233-250) and index.
520

▼a

A provocative look at how our private spaces--from boardroom to bedroom--reveal our personalities. For ten years psychologist Sam Gosling has been studying how people project (and protect) their inner selves. By exploring our private worlds (desks, bedrooms, even our clothes and our cars), he shows not only how we showcase our personalities in unexpected--and unplanned--ways, but also how we create personality in the first place, communicate it others, and interpret the world around us. When it comes to the most essential components of our personalities--from friendliness to flexibility--the things we own and the way we arrange them often say more about us than even our most intimate conversations. If you know what to look for, you can figure out how reliable a new boyfriend is by peeking into his medicine cabinet, or whether an employee is committed to her job by analyzing her cubicle.--From publisher description.
650

0

▼a

Social perception.
650

0

▼a

Personal belongings

▼x

Psychological aspects.
945

▼a

KLPA
---
Holdings Information
No.
Location
Call Number
Accession No.
Availability
Due Date
Make a Reservation
Service

No.

1

Location

Main Library/Western Books/

Call Number

155.91 G676s

Accession No.

111648276

Availability

Available

Due Date

Make a Reservation

Service
Contents information
Book Introduction
컴퓨터 모니터 위에 달려 있는 싸구려 장식품들은 컴퓨터 주인에 대해 어떤 사실을 말해주고 있을까? 왜 장식품들이 모두 방문객용 의자 쪽을 향하고 있을까? 화장대 거울 위에 붙여놓은 포스트잇 이면에는 어떤 의미가 숨어 있을까? 이 책은 인간에 대한 '엿보기' 심리분석서로, 특정 개인과 관련된 장소를 통해 개인의 성향이나 이미지를 파악할 수 있는 노하우를 다양한 사례를 들며 소개하고 있다.

저자는 지난 10년 동안 수많은 사람들의 침실과 사무실을 과학적으로 관찰하고, MP3 플레이리스트를 확인하며, 개인 블로그를 엿보는 일련의 연구를 통해, 소지품을 살펴보는 것만으로도 그 사람에 대해 얼마나 많은 사실을 알아낼 수 있는지 검증해냈다. 이 연구 성과는 국내에도 알려져 'EBS 다큐프라임'〈당신의 성격〉편에서 집중적으로 조명된 바 있다.

상대의 성격을 꿰뚫어보고 싶다는 욕구는 인간의 본능이다. 상대의 지적 수준, 취향, 성향 등을 미리 알면 보다 원활히 소통할 수 있기 때문이다. 이를 역으로 활용하면 상대가 나를 '내가 원하는 모습의 나'로 보게 할 수도 있다. 이 책은 사람을 꿰뚫는 예리한 안목을 키워줄 것이다.

Examines and explores the personalities and characteristics of people through observations of common behaviors, such as objects displayed in plain view and the organization style of a work space or office, that give away insight to the inner workings and feelings of its owner.
Information Provided By: :